In the Kitchen with Sigona's Featuring: Cauliflower
Sicilian-Style Cauliflower and Fresh Gemelli Pasta
Can you get any more Sicilian than this? Pasta and cauliflower is a traditional combination of our Sicilian ancestors. If my grandmother were around to know you planned to make this dish, she would be proud; this is Sicilian comfort food at its core! Boiled right along with the pasta, the cauliflower takes on a luscious, creamy texture, giving it a lovely mouth feel; not at all like its crisp crunch when served raw. Serves 2 to 4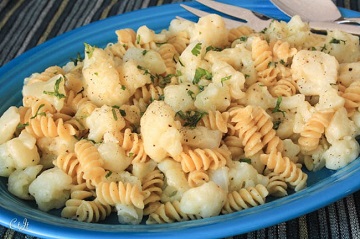 What you need:
1 pkg. fresh, locally-made gemelli or spiral-cut pasta from Saporito Pasta (found at Sigona's)
1 head of cauliflower (half or more, to suit your preference)
Salt and pepper, to taste
1 to 2 Tbsp butter
1 to 2 Tbsp Sigona's Fresh Press Extra Virgin Olive Oil
Freshly grated Parmigiano Reggiano, at least a ½ cup, plus more for sprinkling
Reserved pasta cooking water, about ¼ to ½ cup
Optional: fresh chopped parsley
Directions: Rinse the cauliflower and remove the core. Break the head into small florets. You can use half or all of the florets, it's up to you. I prefer using nearly the whole head so there is more cauliflower than pasta.
Bring a large pot of well-salted water to boil. Add the cauliflower and cook for about 4 or 5 minutes, then add the fresh pasta and cook to al dente, about 3 to 4 minutes.
Meanwhile, in a large skillet, melt the butter and oil over medium heat.
Reserving a bit of cooking liquid, drain the pasta and cauliflower. Add the cauliflower mixture to the skillet, season with salt and pepper, then add about 1/3 to ½ cup of the grated cheese and about ¼ cup of the pasta cooking liquid. Gently stir to melt and incorporate the cheese; this will make a bit of a creamy sauce. Add more liquid if necessary.
Transfer the mixture to a serving dish and top with more cheese, if desired. Sprinkle on chopped parsley as a garnish, if using. Serve.
Roasted Cauliflower Steaks with a Sun-dried Tomato & Olive Relish
Roasting cauliflower gives the vegetable an almost sweet, nutty flavor. The texture is hearty, yet smooth, holding on to just a little of the crispness it has when in its raw state. This dish, complete with the briny flavor of the kalamatas and the sweetness of the sun-dried tomatoes makes for a perfect side to grilled pork chops. Inspired by Bon Appetit. Serves 4.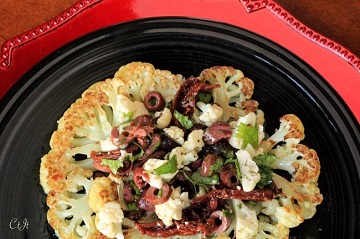 Ingredients:
1 large head of cauliflower
½ cup pitted Kalamata olives, chopped (find them in the Sigona's olive bar)
3 sun-dried tomatoes, thinly sliced
4 Tbsp Sigona's Fresh Press Extra Virgin Olive Oil, plus more for drizzling, if desired
2 Tbsp chopped flat-leaf parsley
1 tsp fresh lemon juice
Salt and pepper, to taste
Directions: Remove leaves and trim stem end of cauliflower, leaving core intact. Place cauliflower core side down on a work surface. Using a large knife, slice cauliflower into four 1/2" 'steaks' from center of cauliflower (some florets will break loose; reserve). Finely chop enough loose florets to measure ½ cup.
Transfer chopped florets to a small bowl and mix with olives, sun-dried tomatoes, 2 tablespoons oil, parsley and lemon juice. Season relish with salt and pepper, set aside.
Preheat oven to 400°. Heat 1 tablespoon olive oil in a large heavy ovenproof skillet over medium-high heat. Working in 2 batches, cook cauliflower steaks until golden brown, about 2 minutes per side, adding 1 tablespoon oil to pan between batches. Transfer steaks to a large rimmed baking sheet and roast cauliflower until tender, about 15 minutes.
Carefully transfer cauliflower to a serving dish. Top with reserved relish, drizzle with a bit more olive oil, if desired, and serve.
Cauliflower Fried Rice with Pastured Eggs, Carrots & Peas
Love fried rice with your takeout? This is just as good and is much healthier! Cauliflower "rice" is exactly what it sounds like: Cauliflower pulsed in a food processor until it resembles rice. This cruciferous vegetable takes on the flavors its cooked with so it works well as a substitute for carb-heavy rice. Serves 4 to 6.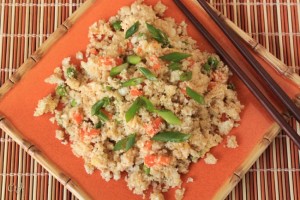 Ingredients:
1 head of cauliflower
¾ cup diced onion
1 large carrot, diced
½ cup frozen or fresh peas
Salt and pepper, to taste
2 cloves garlic, minced
2 to 3 Tbsp soy sauce, or to taste
2 to 3 eggs, lightly beaten such as pastured eggs from Wattle & Comb, found at Sigona's
3 green onions, sliced on a diagonal
Directions: Slice the cauliflower in half and remove the leaves and core. Rinse the cauliflower, shake off excess water and pat dry with paper towels. Cut the cauliflower into florets, then trim off any excess stalk from the florets.
Working in two batches, pulse the cauliflower in a food processor until it resembles rice or bigger crumbs. Do not pulse into fine crumbs. Set cauliflower "rice" aside.
Heat sesame oil in a large skillet or wok over medium heat. Add the onion, carrot and peas. Cook, stirring, about 5 minutes or until veggies are tender. Add the garlic and cook, stirring, 1 minute more. Scoot the vegetables to the side to create a well in the middle. Add the beaten eggs and use a spatula to scramble them. Once scrambled, mix with the veggies.
Add the cauliflower rice to the pan and gently stir to combine. Drizzle in 2 to 3 tablespoons soy sauce and stir to incorporate. Cook the mixture, stirring until the cauliflower is heated through, about 3 to 5 minutes.
Transfer mixture to a serving dish and to with green onions. Serve warm.