Robbie's Produce Tips: Diamond Ray Nectarines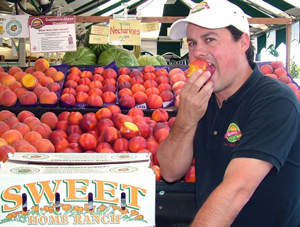 The Diamond Ray nectarine is my favorite fruit from Paul Buxman's Sweet Home Ranch (a certified California Clean Grower). These are an absolute must, if you like nectarines or stone fruit in general.
With a deep yellowish/orange flesh, it's one of the uglier varieties, as it has a lot of (what Paul likes to call) "sugar dots," but it's one of the best of the year. These nectarines are dense with an intense sweet flavor with just the right amount of tang to it!  They're very juicy, too.
When choosing from these nectarines:
Choose nectarines that have those "sugar dots" on them.
It's important to look at the background color. It should have a nice yellow color, not green. Don't get fooled by other nectarines out there that have a nice red blush but have a green background.
Go ahead and turn it over and look at the stem end. Either choose ones that have give to them, or leave on your counter until ripe. They taste best at room temperature. Don't worry, these won't mush up, so it's okay to let them ripen a little.
Robbie Sigona is our produce buyer. He works with local farmers and scours the market for the very best in fresh fruits and vegetables – some you won't find anywhere else.