Robbie Sigona's Produce Tips: Fiddlehead Ferns
Fiddlehead season is short so get them while you can!
Choose fiddleheads that are fresh and green.
They tend to turn a darker brown when older.
Choose those that are firm versus older fiddleheads that get a little rubbery.
They don't store all that well so it's best to eat them soon after purchasing.
If you're going to store them in the fridge, wrap them in a paper towel before placing them in a plastic bag.
Check out the video below for more info about this unique item!
Looking for a great fiddlehead fern recipe? Keep scrolling for a nice dish made with fiddleheads.
Robbie Sigona is our produce buyer. He works with local farmers and scours the market for the very best in fresh fruits and vegetables — some you won't find anywhere else.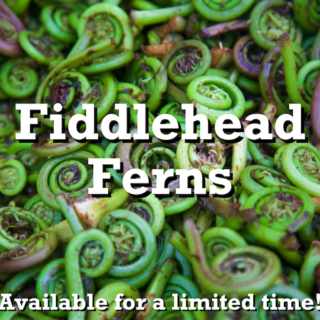 Fiddlehead Ferns with Whole Wheat Pasta and Black Truffle Oil
This is an exquisite recipe including fiddlehead ferns, which are a hard-to-find spring favorite—fiddleheads add a touch of wildness to the overall flavor. Recipe inspired by Emeril Lagasse.
Ingredients
Ingredients
1

pound

fiddlehead ferns

1

pound

whole wheat pasta

3

tablespoons

Sigona's Fresh Press Extra Virgin Olive Oil

see note

2

green onions

thinly sliced

1

teaspoon

red pepper flakes

1

tablespoon

Sigona's Black Truffle Olive Oil

see note

Salt and freshly ground pepper

Freshly grated Parmigiano Reggiano

for garnish
Instructions
In a large pot of boiling salted water, blanch the fiddleheads until they are crisp-tender, about 3 to 5 minutes. Remove the fiddleheads from the water and shock them in a bowl of ice water (unless you are going to use them immediately).

Drop whole wheat pasta into the same pot of boiling water used for fiddleheads. Boil for 3 to 5 minutes or until al dente.

Meanwhile, in a large skillet, heat olive oil. Sauté fiddlehead ferns, green onions, and red pepper flakes for 2 minutes and lightly season. Drain pasta and add to skillet. Toss with truffle oil and salt and pepper. Divide pasta among 4 plates and garnish with grated cheese.