John's Pick of the Week: California Jumbo Thompson Raisins
 From The Coachella Valley, California…THE BEST PRICE IN TOWN!!!
 99¢/ 10 oz. Container
Reg. $2.99
Besides a great out of hand snack; these are perfect in so many other ways including:
Cereals
Vegetable and Fruit salads
Broccoli salads
Rice Pudding
Breads
Scones
Chicken recipes—Curry or Spanish Chicken, for example
 SOME HEALTH BENEFITS:
High in iron
High in potassium
High in fiber
As a natural sweetener
BANANA-RAISIN-COCONUT DELIGHT
Here's a healthy, fresh dessert recipe—it only takes a minute to make!
Serves 1-2 deserving people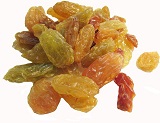 Ingredients:
1 large banana
Pinch of ground cinnamon
Shredded coconut (optional)
Honey Hole Honey (optional)
Directions: In a flat dish mash banana, until smooth and creamy. Sprinkle with a bit of cinnamon and top shredded coconut and Jumbo Thompson raisins. (Optional) Drizzle a bit of honey and enjoy this healthy delicious desert!