In the Kitchen with Sigona's Featuring: Fresh Pappardelle Pasta with Zucchini and a Spinach Pesto
Fresh Pappardelle Pasta with Zucchini and a Spinach Pesto
The large pappardelle noodles are almost as wide as the zucchini, which makes it seem as though the zucchini is just another piece of pasta. This is a delicious summer pasta dish that comes together quickly and pairs nicely with chardonnay. Adapted from Food & Wine. Serves about 6.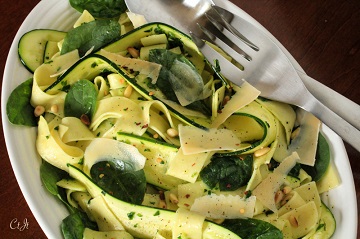 Ingredients:
1/4 cup pine nuts
4 cups (about 4 oz.) packed spinach leaves or a mix of spinach and arugula, divided
3/4 cup Sigona's Fresh Press Extra Virgin Olive Oil, plus more for drizzling
1 clove garlic, minced
A pinch or two red pepper flakes
1/2 cup freshly grated Parmigiano-Reggiano cheese, plus shavings for garnish
Salt and pepper, to taste
12 oz. fresh, locally made pappardelle from Saporito Fine Pasta, available at Sigona's
3 firm, fresh medium zucchini, very thinly sliced lengthwise on a mandoline
3 Tbsp. fresh lemon juice
Directions: In a small skillet, toast the pine nuts, shaking the skillet occasionally, over moderately low heat until golden, about 5 minutes. Set aside 1 tablespoon and place the remainder in a large bowl.
Get a large pot of salted water heating to a boil on the stove.
In a food processor, pulse 2 cups of the spinach until finely chopped; scrape into the large bowl with the pine nuts. To the same bowl, add the olive oil, garlic, red pepper flakes and Parmigiano-Reggiano. Season with salt and pepper and stir to combine.
Cook the pappardelle according to package directions. Once cooked and drained, stir the pasta into the pesto mixture. Add the zucchini and toss carefully to coat everything evenly.
Stir in the lemon juice and remaining 2 cups of spinach.
Transfer the pasta mixture to a serving platter. Sprinkle on the remaining pine nuts and then add a few shavings of Parmigiano-Reggiano. Serve.