In the Kitchen with Sigona's Featuring: Sweet Grass Dairy
Jessica & Jeremy Little, owners and operators of Sweet Grass Dairy based in Thomasville, Georgia, began making cheese in 2000. They specialize in world-class, grass-based, and incredibly flavorful cheese using old-world processes and new world techniques. The cheesemaking couple has really made a name for themselves in the cheese industry, having won more than 30 awards, both domestically and internationally. Enjoy some of these serving suggestions!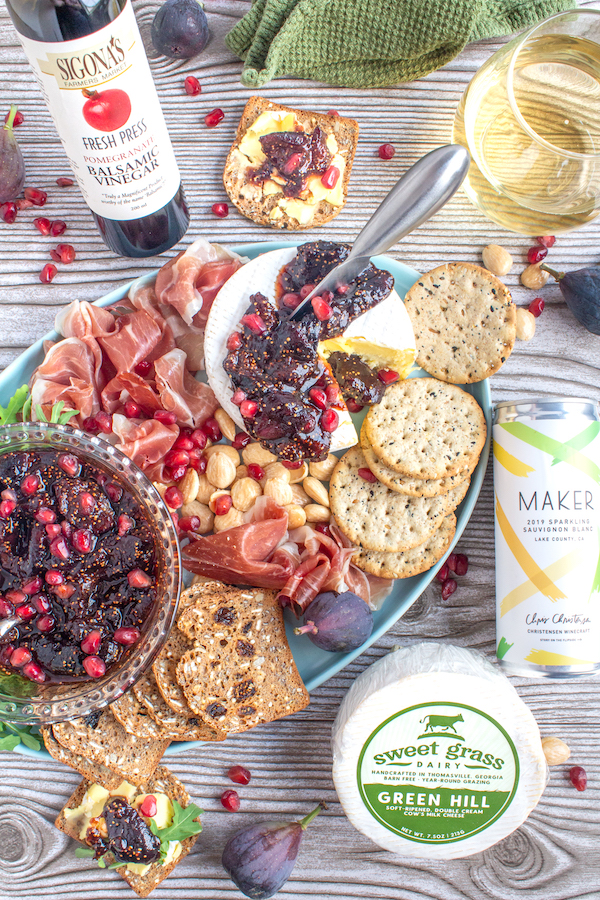 Pomegranate Balsamic Stewed Figs Served with Sweet Grass Dairy's Green Hill Double Cream Cheese
Why not stew figs with fig balsamic? Well, you could, but the pomegranate adds just the right of tart, to help temper the sometimes surprisingly strong sweetness of the figs, and it also brings another layer of flavor to this simple but delectable spread. Serve this on a charcuterie board along with Sweet Grass Dairy's Green Hill cheese, dollop it on ice cream or pair it with a grilled pork chop. Inspired by The Oil & Vinegar Lover's Handbook. Makes about 2 cups.
Ingredients:
1 lb. fresh figs, preferably Black mission figs (if you can't find fresh figs, you can use dried figs using this conversion chart. Reconstitute in hot water.
1/4 cup Sigona's Pomegranate Balsamic
2 Tbsp honey, such as raw, local Honey Hole Honey Co. honey found only at Sigona's
2 Tbsp water
For serving:
One round of Sweet Grass Dairy's Green Hill double cream cow's milk cheese
Crackers
Arugula
Fresh pomegranate arils
Directions: Rinse and pat dry the figs. Remove the stems and quarter the fruit. Add figs to a heavy-bottomed saucepan along with the balsamic, honey and water. Use a wooden spoon to gently mush the figs a bit to release some of their seeds and juices.
Bring to a simmer over low/medium-low heat. Continue to simmer, stirring frequently, for 20 minutes. The finished mixture should be thicker with a syrup-like consistency.
Allow to cool to room temperature before serving. Before serving, sprinkle with some pomegranate arils, if desired.
To enjoy, spread some of the Green Hill on a cracker, top with a leaf or two of arugula and finish with some of the stewed figs.
Store in an airtight container in the fridge for up to 1 month.
---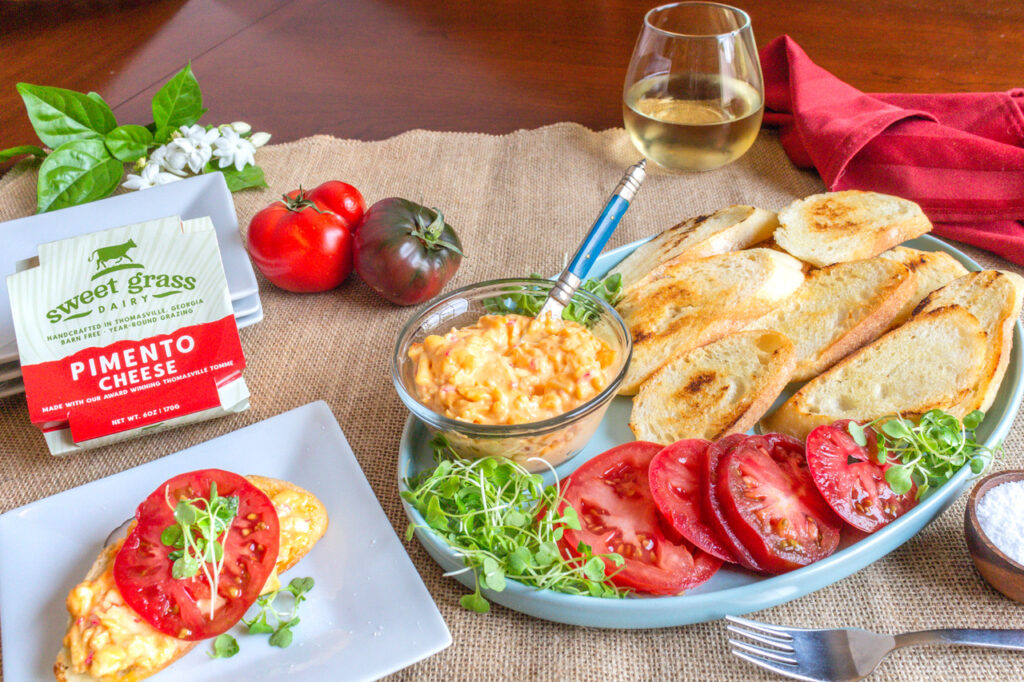 Crostini Topped with Heirloom Tomatoes & Sweet Grass Dairy Pimento Cheese
Savory, summery and finishing with a slight, sweet-pepper kick, these simple crostini are perfect for a backyard get together, especially paired with a chilled white wine, such as a sauvignon blanc. Sweet Grass Dairy pimento cheese spread is made with shredded the diary's Thomasville Tomme. It's fantastic! Serves 4 to 8.
Ingredients:
8 slices of a baguette, cut on the diagonal, such as a demi baguette
1 tub (6 oz) pimento cheese spread from Sweet Grass Dairy (available at Sigona's)
1 to 2 medium heirloom tomatoes, sliced (large slices halved)
Micro greens of choice, for garnish
Flaky sea salt, for sprinkling
Directions: Preheat a large skillet or griddle over high heat. Lightly brush both sides of the baguette slices with olive oil. To create a crostini with a crisp, toasted outside and a soft, chewy inside, add the slices to the hot griddle and cook for just 1 minute a side, flipping once, or until lightly toasty. Transfer to a serving tray.
We suggest providing the ingredients and allowing guests to create their own crostini just before eating, to keep the toasts from becoming soggy.
To serve: Spread some of the pimento cheese onto a toasted crostini. Top with a slice or two of tomato and garnish with greens. Finish what a sprinkling of salt and serve immediately.
---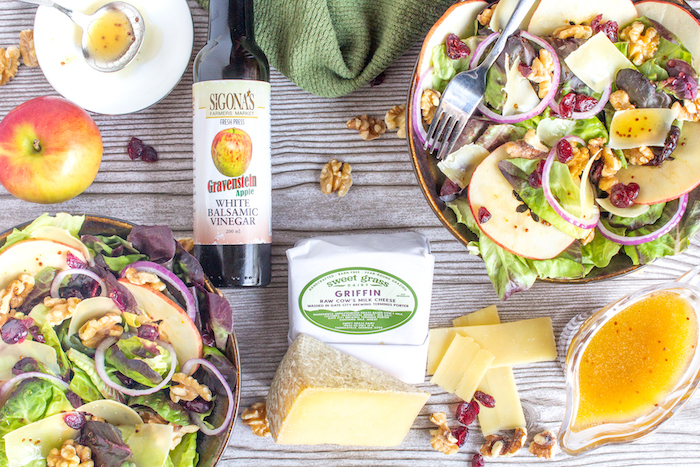 Apple & Walnut Harvest Salad with Sweet Grass Dairy Griffin and a Gravenstein Vinaigrette
Sweet Grass Dairy describes its porter-soaked Griffin cheese as having aromas of malt, earth, maple syrup and coffee beans – all of which can be considered flavors of fall – making this cheese an appetizingly appropriate addition to our apple & walnut harvest salad. The hints of porter in the Griffin perfectly compliment the Gravenstein apple balsamic vinaigrette. Makes about 2/3 cup vinaigrette; serves 4 to 6.
Gravenstein Apple Vinaigrette:
1/4 cup Sigona's Gravenstein Apple White Balsamic (up to 1 Tbsp more, if desired, to taste)
1 Tbsp honey, such as Honey Hole Honey Co., raw, local, unfiltered honey, available only at Sigona's (up to 2 tsp more, if desired, to taste)
1 Tbsp grainy mustard
Salt and pepper, to taste
A pinch of allspice or nutmeg
For the salad:
Red butter lettuce, about two handfuls per serving
Thinly sliced apple, about 5 to 6 slices per serving
Raw, shelled walnuts, about 3 Tbsp per serving
Thinly sliced red onion,* a few rings per serving
Dried cranberries, about 2 Tbsp per serving
Shaved Sweet Grass Dairy Griffin cheese, as much as you'd like!
Directions: In a medium bowl, whisk together the vinaigrette ingredients until emulsified. Taste; adjust as desired (aim for a sweet-tart flavor that finishes with distinct, lingering notes of the Gravenstein apple balsamic).
Arrange the lettuce and remaining salad toppings on individual dishes. Allow guests to drizzle on the vinaigrette just before eating.
*Chef's note: to take some of the heat out of red onions, soak slices in ice water for at least 5 minutes. Drain and pat dry.
---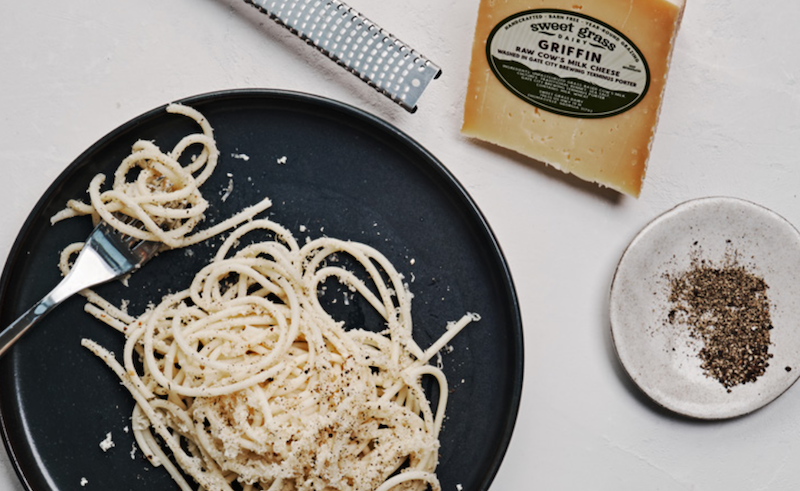 Cacio e Pepe with Griffin Cheese by Sweet Grass Dairy
Griffin cheese is made in the style of a French farmhouse cheese, but the curds are washed Terminus Porter from Gate City Brewing in Roswell, Georgia, giving it a malty, hoppy flavor with a bit of a sharper finish. It's perfect for this simple, yet peppery, dish. Special thanks to Sweet Grass Dairy for sharing their cheese and the recipe it with our store. Serves 4 small entrée portions.
Ingredients:
1 box (16 oz) spaghetti
Kosher or sea salt, to taste, for seasoning pasta water
3 Tbsp Sigona's Fresh Press Extra Virgin Olive Oil
1⁄2 sweet yellow onion, finely chopped
1 clove fresh garlic, minced
3 Tbsp unsalted butter
2 tsp freshly ground black pepper
1 tsp freshly ground white pepper
8 oz Griffin cheese by Sweet Grass Dairy, rind removed, finely grated, divided
1 Tbsp fresh lemon juice
Directions: Cook pasta in well salted according to package directions. Drain, reserving about 1/2 cup of the pasta cooking water.
Meanwhile, warm a large sauté pan over medium heat. Add olive oil to the pan, let it swirl around for a minute and then add your minced onion. Cook onion over medium heat, stirring frequently until translucent, about 5 minutes. Add garlic to the pan, stir to incorporate then remove from heat. Add butter to the pan, stirring constantly until butter is incorporated.
When pasta is cooked, add it to the sauté pan with the onion mixture; toss to combine. Add the reserved pasta water, ground black and white pepper, lemon juice and half of the grated cheese to the mixture. Gently toss to incorporate.
To serve, divide pasta evenly between individual serving dishes and top each with some of the remaining grated cheese, to taste.
---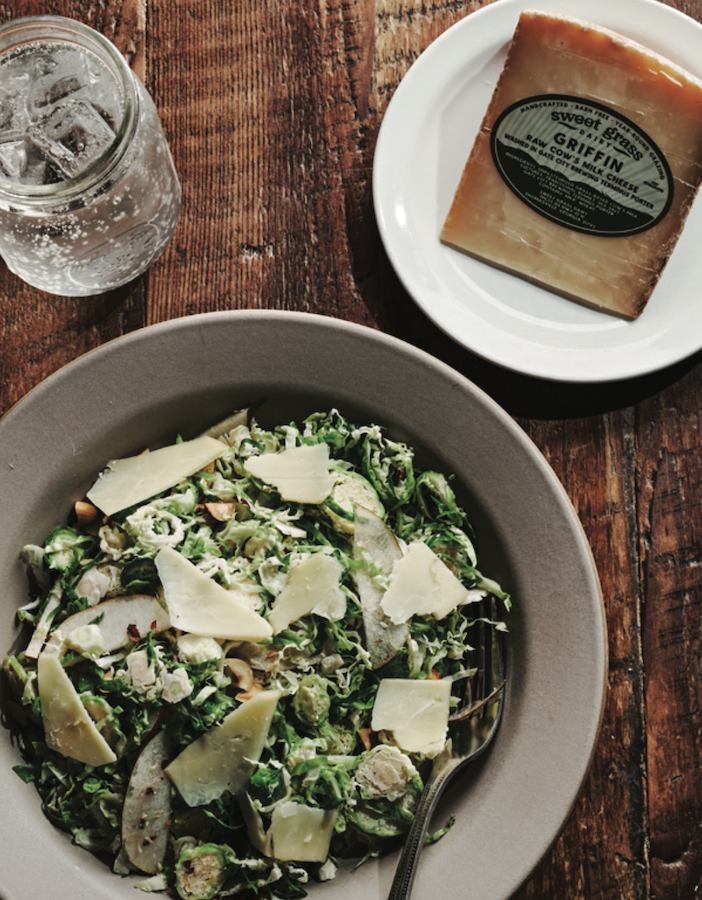 Shaved Brussels Sprouts Salad with Griffin Cheese by Sweet Grass Dairy
Griffin cheese is made in the style of a French farmhouse cheese, but the curds are washed Terminus Porter from Gate City Brewing in Roswell, Georgia, giving it a malty, hoppy flavor with a bit of a sharper finish. Adding sliced Griffin to this dish is a simple and delicious way to serve Brussels sprouts. Special thanks to Sweet Grass Dairy for sharing this recipe. Serves 2 to 4.
Ingredients:
16 oz fresh Brussels sprouts
4 oz raw, whole hazelnuts
1 Tbsp grapeseed oil
3 oz Griffin cheese by Sweet Grass Dairy, at room temperature
1 Anjou pear
1/3 cup Sigona's Fresh Press Extra Virgin Olive Oil
2 Tbsp Sherry vinegar
Directions: Preheat oven to 350°F. Bring a large pot of water to a simmer over medium-high heat; add 1 tablespoon of sea salt. Prepare an ice bath for Brussels sprouts; set aside.
In a small bowl, toss hazelnuts in the grapeseed oil. Spread out hazelnuts in a single layer on a rimmed baking sheet and roast in the oven for 8 to 9 minutes until the skin is dark brown and they begin to look oily. Remove them from the oven and let them cool.
Trim Brussels sprouts bottoms and remove any discolored or older leaves. Add the Brussels sprouts to the simmering water to blanch for about 3 to 4 minutes, stirring occasionally. They're ready when they've turned bright green. Use a slotted spoon to transfer them to the ice bath.
Once sprouts are cool, use a sharp knife or a grater and slice/shred the sprouts, stopping about a 1⁄2" from the stem (this part will be more tough and bitter). Transfer shredded sprouts to a mixing bowl. Add the olive oil and toss to coat. Add the Sherry and toss to coat. Transfer to a serving bowl.
Using the backside of a sauté pan, or implement of choice, roughly break up the toasted hazelnut; sprinkle hazelnuts evenly over the shredded Brussels sprouts.
Quarter and core the pear then cut into thin slices (we prefer to leave the skin on for color and texture); arrange pear slices on top of the salad. Slice the Griffin into thin pieces and layer around the top of the salad. Serve.
---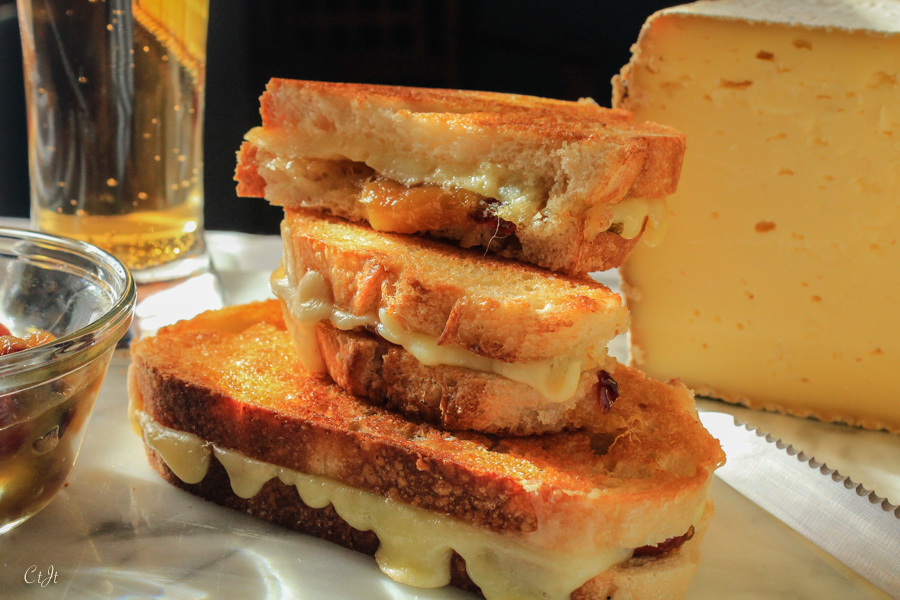 Gooey Grilled Cheese with Thomasville Tomme and Mango-Cranberry Chutney
Thomasville Tomme cheese from Sweet Grass Dairy is a fantastic melting cheese. It makes for a beautifully gooey grilled cheese. Adding some mango-cranberry chutney takes a basic grilled cheese up a notch, adding a sweet-savory factor. Tomme has a subtle, yet complex, earthy flavor that's liked by kids and grown-ups alike. Serving size: one sandwich.
What you need:
Sliced bread (we like sourdough)
Butter, for brushing
Sweet Grass Dairy Thomasville Tomme cheese, sliced, as much as your heart desires
Mango Chutney with Cranberry Pear Balsamic (recipe follows)
Directions: Heat a skillet or griddle over medium-low heat.
Brush butter on one side of each slice of bread, place them butter-side-down. Top half of the slices with cheese, spread about 2 tablespoons of the chutney on the remaining slices. Place the chutney-chutney-spread slices, butter-side-up, upon the slices with cheese.
Add the sandwiches to the skillet to toast for a couple minutes on each side, flipping once. Pro tip: tent the sandwiches with foil to help the cheese melt without over-toasting your bread. Your sandwich is done when the cheese is melted throughout and the bread is toasted to your liking. Serve with extra chutney, if desired.
Mango Chutney with Cranberry Pear Balsamic
Ingredients: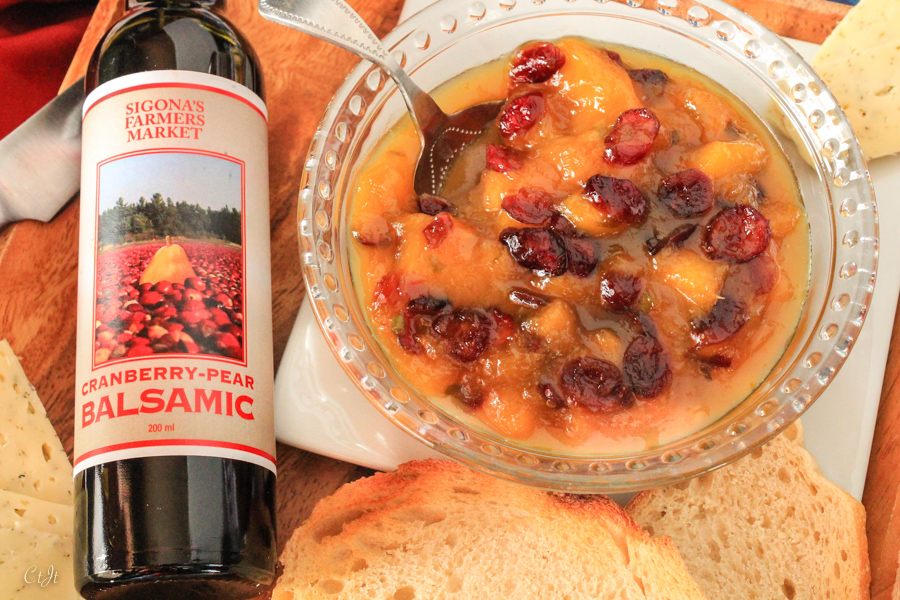 2 Tbsp Sigona's Meyer Lemon Olive Oil
5 green onions, white and light green parts chopped
2 mangos, peeled and chopped
1/3 cup East Coast dried cranberries (look for them in our dried fruit & nut section)
2 Tbsp honey, such as raw, local, unfiltered honey from Honey Hole Honey Co., available only at Sigona's
Optional: a pinch of ground cinnamon or ginger
Directions: Heat the olive oil in a medium skillet or frying pan over medium heat. Add the green onions and cook, stirring occasionally, until tender and soft, about 3 minutes.
Add the mango, cranberries, honey and balsamic. Bring the mixture to a gentle boil, stirring occasionally, then reduce heat to a simmer and cook until the mixture has thickened and the cranberries have plumped a bit, about 7 to 10 minutes.
Allow to cool a bit before serving. May be used warm, chilled or at room temperature. Will keep, sealed and refrigerated, for up to a week.