John's Dried Fruit and Nut Pick of the Week: California Whole Raw (Jumbo Size) Pistachio Meats
California Whole Raw (Jumbo Size) Pistachio Meats
BEST PRICE IN 5 YEARS!!!
$3.99 (6 oz)
Reg. $7.99
(Available from Oct. 7-13, 2015)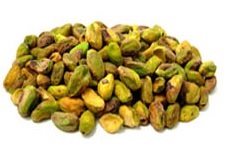 Our raw pistachio meats are simply the best from Terra Bella, in the Central Valley of California. They were picked at full maturity for full flavor and peak health benefits.
This GREAT PRICE will not last long and will not be repeated anytime soon. I suggest you load up on this excellent buy. You can store our raw pistachios in the refrigerator for at least 3 months or freeze them for at least 6 months.
Reasons why pistachios, ESPECIALLY RAW, are so good for you:
A (1) oz. serving of raw pistachios provides 10% of the daily value for:
Dietary Fiber
Vitamin B6
Thiamin
Phosphorus
Copper
Raw pistachios are rich in:
Phytosterols, which directly aid in lowering cholesterol levels
Monounsaturated (healthy) Fats
High quality plant source of protein, providing essential and non-essential amino acids
Use our raw pistachio meats in:
Fresh made pesto. Use pistachio meats instead of pine nuts
Fresh fruit or vegetable smoothies
Trail mixes
All types of salads
Stuffing
Focaccia bread,  use the pistachios after heating to keep them raw for best nutritional benefits
Pizza, after it's baked to keep the pistachios raw so they'll retain all nutritional benefits
In baking goodies, such as cookies