In the Kitchen with Sigona's Featuring: Comice Pear Salad with Frisée and Belgian Endive
Concorde Pear Salad with Frisée and Belgian Endive
The sweetness of the Concorde pear works well with the slight bitterness of the two greens: the frisée and the Belgian endive. The burst of sweet-tart from the pomegranate seeds makes for the perfect bite. Adapted from Food & Wine. Serves 2 to 3.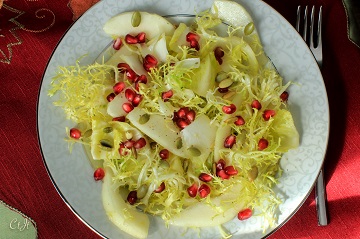 For the Vinaigrette:
2 Tbsp. Sigona's red wine vinegar
2 tsp. fresh lemon juice
1 tsp. Dijon mustard
1 tsp. honey, such as Mountain Bloom by Honey Hole Honey Co., available at Sigona's
1/4 cup Sigona's Fresh Press Extra Virgin Olive Oil, such as Picual from Chile
Salt and pepper, to taste
For the Salad:
1 large Concorde pear
1 tsp. fresh lemon juice
2 small Belgian endives, cored and sliced 1 inch thick
1 head of frisée, core and darker green leaves discarded, white and light green leaves chopped into 2-inch pieces (to yield about 3 cups)
Salt and pepper, to taste
About 1/4 cup pomegranate seeds
1/4 cup roasted, salted pepitas (pumpkin seeds), look for them in the Sigona's dried fruit & nut section
Make the Vinaigrette: In a small bowl, combine the vinegar, lemon juice, mustard and honey. While whisking constantly, slowly drizzle in the oil until well emulsified. Season with salt and pepper to taste.
Make the salad: Peel, core, quarter and thinly slice the pear. Immediately toss the slices with 1 teaspoon of fresh lemon juice to keep them from browning.
In a large bowl, toss the endives, frisée and pear with about 2 tablespoons of the vinaigrette; season with salt and pepper. Divide the salad among 2 salad plates and top with pomegranate seeds and pepitas. Serve the remaining vinaigrette on the side.