In the Kitchen with Sigona's Featuring: Black Truffle Oil Mashed Potatoes
Mashed potatoes make the perfect side to many dishes. They can be doctored up in a number of ways, and our favorite as of late is to mash them with our black truffle oil. Truffle oil is strong; a little goes a long way, so you don't need much to give these potatoes incredible flavor. Serves 4 to 6 as a side.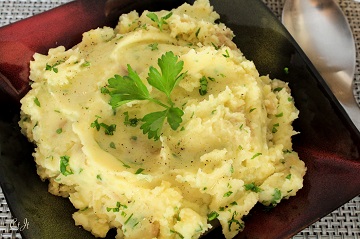 Ingredients: 
2 lbs. Yukon Gold potatoes, quartered
1/4 cup milk
At least 2 1/2 tsp. Sigona's Black Truffle Oil, divided
Salt and pepper, to taste
2 Tbsp. minced parsley, optional
Directions: To a medium pot, add potatoes and cover with cold water by about 2 inches. Add salt to the water and bring to a boil over high heat. Reduce heat and simmer over medium-low for about 20 to 25 minutes or until fork tender. Drain.
Return potatoes to the pot with milk, 2 teaspoons truffle oil, salt and pepper. Using a potato masher, mash the ingredients together to reach the consistency desired. Stir in all but about 1 teaspoon of the minced parsley. Taste potatoes; season with additional truffle oil, salt or pepper if needed. Transfer potatoes to a serving dish.
Drizzle the remaining half teaspoon of truffle oil over the top of the mashed potatoes, sprinkle with remaining minced parsley and serve.