In the Kitchen with Sigona's Featuring: Local Black Mission Figs
Roasted Pork Tenderloin with a Fresh Figs and a Balsamic Reduction
Just typing out this recipe makes my mouth water. While the ingredients and preparation are simple, the flavors are fantastic, making this a great dish for a quick weeknight dinner or an impressive one that will suit dinner guests. Serves 2 to 4.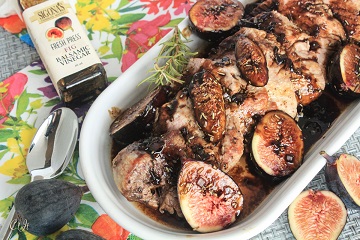 Ingredients:
1 pork tenderloin (about 1 pound), excess fat and silver skin removed
Salt and pepper, to taste
2 Tbsp. unsalted butter
1 large shallot, diced
1 Tbsp chopped fresh rosemary
4 to 6 fresh, locally grown Black Mission figs, halved lengthwise
1/4 cup Sigona's Fig Balsamic
Directions: Preheat the oven to 400°F.
Rub pork with salt and pepper. Heat oil in a large, oven-safe skillet over medium-high heat. When hot, add pork to pan and cook, rotating about every 2 minutes, to brown all sides.
Roast pork in the oven for about 20 to 25 minutes or until a thermometer registers between 145°F and 160°F (it will still be slightly pink). Set aside and let stand for 10 minutes before cutting.
While pork is done and resting, begin the fig and balsamic sauce.
Add butter to a skillet over medium-high heat. When melted, stir in the shallots and rosemary and cook for one minute. Add the figs and balsamic; increase heat to high and bring to a light boil. Reduce heat to a simmer and cook, stirring occasionally, for about 5 minutes. The mixture will thicken a bit as it reduces. Turn off the heat and allow the mixture to sit for about 5 minutes, while you slice and plate the pork.
Slice the pork on the diagonal into one-inch slices and arrange on a serving platter. Drizzle the fig and balsamic mixture over the sliced pork, serve immediately.
Fresh Figs Over Vanilla Bean Gelato with a Rum Drizzle
A simple, seasonal, and flavorful dessert. While the macerated figs add a beautiful color, flavor and texture, the rum or brandy takes the dish to the next level. Inspired by How to Pick a Peach. Serves 2.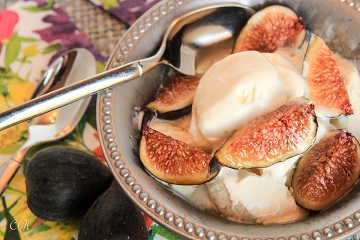 What you need:
2 or 3 fresh, locally grown Black Mission Figs, quartered or more lengthwise
Brown sugar, for sprinkling
Vanilla Bean Gelato, such as Gelato Massimo, available at Sigona's
2 tsp. rum or brandy
Directions: Add sliced figs to a bowl and lightly sprinkle with a little brown sugar, just a few pinches. Gently stir once or twice, then allow the figs to sit and macerate for about 5 minutes.
Scoop desired amount of gelato into two serving dishes. Top with figs and drizzle with rum or brandy. Serve immediately.
Frangelico Figs with Creamy Blue Cheese and Toasted Hazelnuts
Frangelico is a hazelnut liqueur that is not overly sweet like some dessert liqueurs. It pairs deliciously with the salty cheese, adding to the silky texture and natural sweetness of figs. This comes together in minutes, yet is still impressive, even with minimal ingredients. Recipe from Luisa Ormonde of Luisa's Catering in San Carlos. Makes 16 pieces.
Ingredients:
1 cup Frangelico or other hazelnut liqueur
8 fresh figs, such as locally grown Black Mission figs, stems removed, cut in half lengthwise
8 oz. Montbriac cheese, at room temperature, cut or crumbled into at least 8 equal pieces (there will be more if using crumbled); Cheese substitutes: use Cambozola or Le Petit Bleu
3/4 cup hazelnuts, toasted and coarsely chopped
Directions: In a sauté or saucepan just large enough to hold the figs in one layer, bring the Frangelico to a boil, then turn the heat to medium-low. Add the figs, cut side down, and cook for 5 minutes, or until they begin to feel soft but not squishy.
Reserving the liquid, use a slotted spoon to remove the figs. Arrange figs on a serving tray, cut side up, and immediately top with the cheese (so it will begin to melt).
Meanwhile, increase the heat of the reserved liquid to high. Reduce the liqueur until it is a syrupy consistency, about 1 to 2 minutes. Watch carefully to make sure it doesn't burn.
Sprinkle the hazelnuts over the figs and drizzle the Frangelico reduction on top.  Serve right away.