Fire-Roasted Tomato & Roasted Butternut Squash Soup with Basil Oil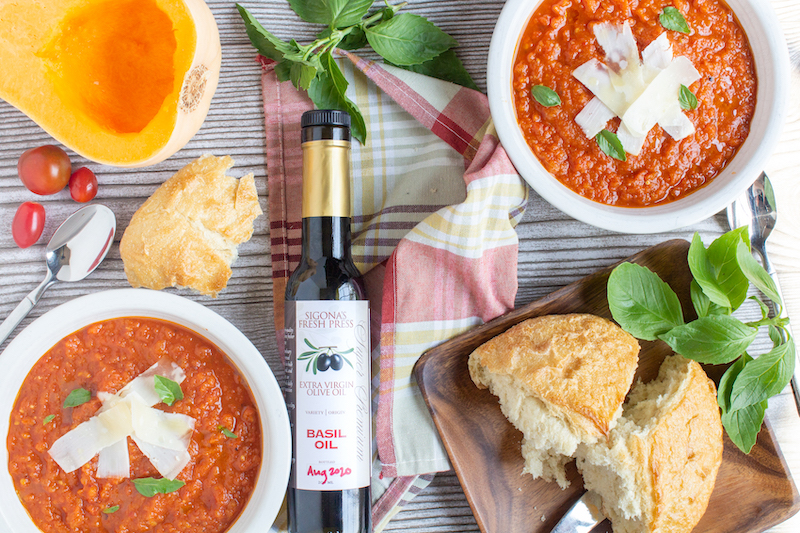 Sometimes homemade soup is the perfect comfort food. This tomato & butternut squash soup is rich and nutritious and shines with a drizzle of our infused Basil olive oil.
We recommend you either serve this with a slice of Moo-Na Lisa Cheese & Herb Bread or use the loaf to make DIY Moo-Na Lisa Cheese & Herb Bread Croutons.
Moo-Na Lisa Cheese Bread is made exclusively for Sigona's using a cheese that's also made exclusively for Sigona's. You really can't get much more one-of-a-kind than that!

Mac McConnell, master baker at The Midwife & The Baker in Mountain View, and his baking team use savory herbs, freshly milled flour and our Moo-Na Lisa Cheese, made for Sigona's by Reggie Jones of Central Coast Creamery, to make and bake us loaves of this incredible bread.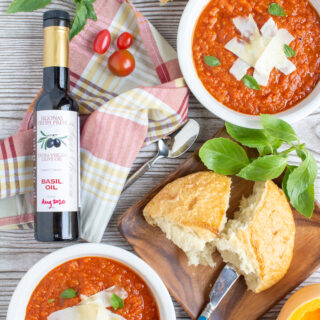 Fire-Roasted Tomato & Roasted Butternut Squash Soup with Basil Oil
It's simple to fire-roast your own tomatoes, but if you run out of time, you can pick up a can of Muir Glen crushed or diced fire-roasted tomatoes, available at Sigona's! This soup is perfect with a chunk of crusty bread. You can even use this as a pizza or marinara sauce, if you'd like! Serves 4.
Ingredients
Ingredients:
Half of a 2 1/2 to 3 lb. butternut squash

seeded

2

Tbsp

Sigona's Basil Oil

plus more for drizzling, see note

Flaky salt

to taste

Black pepper

to taste

About 1/8 tsp cinnamon

About 1/8 tsp chili powder

Half a large yellow onion

diced

2 to 3

cloves

garlic

minced

18 to 20

Roma tomatoes

or about 2 lb. of another variety, or a 28 oz. can of crushed, fire-roasted tomatoes

1 1/2 to 2

cups

vegetable broth
For serving:
Shaved Parmigiano Reggiano

Crusty bread

such as a locally made loaf by Midwife & The Baker
Instructions
Preheat the oven to 375°F. With a fork, poke holes in the cut side of the squash. Brush the cut side with 1 tablespoon of the basil oil. Sprinkle with salt, pepper, cinnamon and chili powder. Place on a baking tray, cut side up, and roast for 45 minutes to an hour, or until the center of the squash is fork tender. Allow to cool to about room temperature.

If fire-roasting your own tomatoes, preheat an outdoor grill over medium heat. Brush the grates with oil and add the tomatoes. Grill, covered, over medium heat, rotating the tomatoes every 8 to 9 minutes or until all sides are charred and roasted. Remove to a bowl and cover with foil for about 5 to 10 minutes. Remove the skins and discard. Set tomatoes aside.

Heat remaining olive oil in a large soup pot over medium heat. Add onions and sauté until translucent. Add garlic and cook until fragrant, about 30 seconds. Place the onion mixture along with the tomatoes, canned or DIY, in a food processor (working in batches if necessary) and puree until smooth (a little chunky is ok). Return mixture to the soup pot over low heat.

Scoop butternut squash out from its shell. Add squash and 1/2 cup of broth in a food processor and process until smooth (add a little more broth if necessary). Add squash puree and remaining broth to the soup pot.

Bring mixture to a boil over high heat; reduce to a simmer. Cover and simmer for 20 minutes, stirring occasionally. Add more broth if desired.

To serve, ladle into bowls, drizzle each individual serving with a teaspoon of basil oil and top with shaved parmesan. Serve with crusty bread for dipping.