Pack It and Snack It: School Lunch Ideas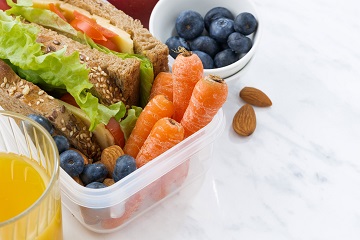 Diane Rezendes, food writer
It's official: now that Labor Day has come and gone (though we refuse to put away our summer whites just yet!), pretty much everyone is back in school.  We got to thinking you might like some healthy and tasty lunch ideas as we kick off the new school year.
By the way, there isn't anything horribly wrong with the sandwich-chips-cookie-fruit standby. But there isn't anything particularly inspiring about it either. With a bit more creativity, you can pack way more variety, flavor, and nutrition in that lunch, whether you're filling a Bento box, a brown bag, or a Hello Kitty lunchbox.
Think fun, think easy to eat, and think colorful (because color in produce = more nutrients).
If you're making a sandwich for your little ones, get creative and turn it into a woodland creature or marine animal. Such as:  for an owl, cut the bread into a circle (double benefit: make the crust-hating child more likely to eat said sandwich). For its eyes, try cucumber or cheese rounds topped with a raisin; a carrot cut into a triangle can be its beak.  Ideas abound online.
Burritos are sure to please. Amy's Organic Light & Lean Burritos are a nice choice.  Pair them with some of our pre-cut jicama, carrot, and celery sticks on the side, some sliced avocado or guacamole (squeeze a little lemon on the top to keep it nice and green). Finish it with an orange or some cut-up mango. (Our dried mango is also nice – travels well and not the least bit messy.)
Vegetable sushi or rice balls rolled in sesame seeds are fun to eat. Complement it with cut-up teriyaki chicken for tasty, savory protein.  For crunch, include some mild red radishes or a crispy iceberg-and-carrot salad; for dessert, watermelon would be very nice.  Not only is it colorful, we bet none of it comes back home!
Inspired by fall coming on? How about a turkey rollup as the centerpiece item? Use flat bread or large leaf lettuce and mayonnaise.  Add dried cranberries (the wee ones might prefer them separate from the rollup).  Include a fresh apple (check out the Baby Sweetie snack size apples!) and some veggie sticks from our bulk bins or some Snapea Crisps.
And there's always last night's leftovers. Build lunch around it. If you had a Mediterranean-style chicken, why not pack it with some grape tomatoes, carrots to dip into hummus along with pita chips (we carry Stacy's if you are looking), and grapes? By the way, we've noticed that teardrop grapes are very popular with kids right now.
After School Not-so-special: The Hungry Horrors
You've seen it: children and teens with that thousand-yard stare, looking longingly into the open refrigerator; or else it's the cabinet-by-cabinet search, combing for treats as if it's CSI-Kitchen. Here are a couple of alternatives to a bag of Doritos or a handful of Mega-stuf Oreos.  In addition go-to snacks like  mozzarella sticks and apples, carrots and hummus, or cheese and crackers, we have a couple frozen treat ideas you might not have thought of.
Banana Wookies.  Slice up a ripe banana.  Dunk it in yogurt – we like strawberry or vanilla.  Roll it in granola.  Insert a popsicle stick or straw cut in half. Freeze.  They are so creamy good!  And the natural sugar in the ripe fruit will satisfy any sweet tooth.
Grape Pops.  Choose any variety of seedless grapes.  A recent favorite is cotton candy grapes. They actually taste like the wispy spun candy, according to Maria Abad-Guillen, Sigona's marketing manager. "Just close your eyes first, and pop one into your mouth," she says. "It'll remind you of your childhood when you went to the fair or a carnival with your family.  If you haven't tried them, I highly recommend them."