In the Store with Sigona's Featuring: Brussels, Then and Now
Brussels Sprouts, Then and Now
Diane Rezendes, food writer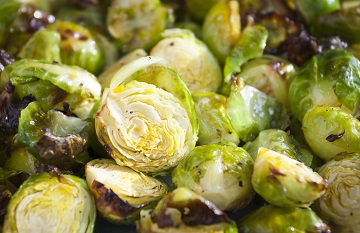 I'm writing this as I muse on last week's observance of Veteran's Day – thinking about my Dad (Korea), my friends Chris (Iraq, Afghanistan), Doug (Navy Seabees), and Jim (Navy SEAL, Vietnam) – and the service they rendered,
Today I'm also thinking about Brussels sprouts. Bear with me for a minute here.
Dad didn't like Brussels sprouts. He liked to tell us that during World War II, if a pilot had to crash-land, the joke was that he'd aim for a field of Brussels sprouts – killing off the enemy of a different sort: preparations of a boiled-to-death, creamed-on-toast and waterlogged unappealing grey mess.
But prepared thoughtfully and cooked the way they want to be cooked, Brussels sprouts have the power to seduce and delight – browned, crispy edges of delicate brilliant green leaves, a subtle, nutty sweetness from caramelized sugars that emerge, the canvas they offer to a host of savory flavors from apple to bacon to cheese.
Some say the humble Brussels sprout helped save Britons from starvation during the war; to this day they eat the most per capita. Here in the US, almost all of the crop comes from our home state – specifically the cool, foggy coastal counties of Monterey, Santa Cruz, and San Mateo, where growing conditions are ideal.
Ours come from Moss Beach, and they are wonderfully fresh, ready for your best fall recipes – and if you don't know where to start, or simply want to add to your recipe repertoire, check out In the Kitchen with Sigona's.
Choosing and Using
Look for Brussels sprouts that are a rich green color, without any yellow or wilted leaves. They should be firm and compact. (See Robbie's tips for more.)
Cut off any extra stem at the bottom and pull off any loose leaves along the surface. You can steam them or boil them, but the current trend is to roast or sauté for a richer, more complex flavor – often with the addition of complementary ingredients. Some people say they taste best when cut into small pieces because more surface area exposes the little cabbages to the other flavors in your recipe. For smaller sprouts, halves or quarters work nicely; for larger sprouts, cutting into chiffonade (slivers) is a good option. Some ideas to consider, depending on the rest of your menu:
With butter and Parmesan cheese;
With Sigona's Fresh Press extra virgin olive oil and finished with black pepper and coarse sea salt or pink Himalayan salt;
Sauté with mild sweet onion, chicken-apple sausage (or bacon) and cut-up apple;
Roast in olive oil and finish with pine nuts or pistachio. Finish with Sigona's Balsamic vinegar and your favorite salt and black pepper.
If you're in a hurry, or don't have time to cook, come by on Tuesday, Thursday, or Saturday to our Redwood City store. The Roli Roti Gourmet Rotisserie truck is here with their succulent chicken, fingerling potatoes, and delicious Brussels sprouts – slow cooked and delicately infused with chicken flavor.
Take a tip from one who knows: come early – they often sell out!