In the Kitchen with Sigona's Featuring: Brussels sprouts
Shredded Brussels Sprouts with Fuyu Persimmons, Blenheim Apricots and Walnuts
A delicious dish for Thanksgiving which incorporates the seasonal persimmon with sweet apricots, toasted walnuts and the trendy Brussels sprout. This recipe is courtesy of food guru Stephanie Stiavetti, of the food blog Fearless Fresh. Stephanie grew up in Redwood City where she remembers shopping at Sigona's. We're honored to share her recipe with you! Check out her blog for recipes, cookbooks, services and more. Serves 6.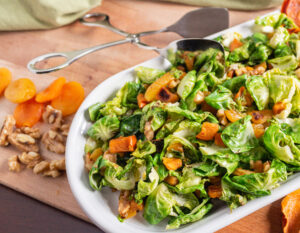 Ingredients:
1/4 cup dried Blenheim apricots, chopped coarsely (available in Sigona's dried fruit & nut department)
1/2 cup warm water
1 pound fresh Brussels sprouts, outer/yellow leaves removed and ends trimmed
1/4 cup coarsely chopped walnuts
3 Tbsp. Sigona's Fresh Press Extra Virgin Olive Oil, bacon fat or butter
1/2 tsp. sea salt
1/2 tsp. freshly ground black pepper
2 Fuyu persimmons, chopped
Directions: Place apricots in a bowl with warm water and let sit for 20 minutes. Drain apricots and set aside, discarding water.
Wash and dry Brussels sprouts. Slice thinly using either a knife or the disk attachment of your food processor.
Heat a small frying pan over medium heat and add walnuts, gently shaking the pan occasionally. Toast until they darken in color a bit and become fragrant, about 3 minutes. Set aside.
In a medium sauté pan, melt bacon fat (or oil of your choice). Add the Brussels sprouts, salt, pepper, persimmon, and apricots, stirring well, cooking just until the Brussels sprouts turn bright green and are tender to the bite, about 5 to 7 minutes. Stir in walnuts and cook for 1 minute. Serve hot.
Shredded Brussels Sprouts with Bacon and a Maple Balsamic Vinaigrette
The maple and bacon in this are likely to make a Brussels sprout lover out of even those most adamantly opposed to this Brassicaceae-family vegetable. Topped with sweet pear and Gorgonzola, this is a perfect way to incorporate Brussels sprouts to your Thanksgiving menu. Serves 4 to 6 as a side.
Ingredients:
1 to 1 1/2 lbs. Brussels sprouts, outer/yellow leaves removed and ends trimmed
4 slices of bacon
1 shallot, diced
Salt and pepper, to taste
1 Tbsp. Sigona's Dark Maple Balsamic
1 tsp. fresh lemon juice
1/2 tsp. Dijon mustard
2 to 4 oz. crumbled Gorgonzola
Half of one red pear, such as a Red D'Anjou, thinly sliced*
1/4 cup pecans, optional (candied or regular)
Directions: Begin by shredding the Brussels sprouts using either a sharp knife or a food processor fitted with a thin slicing disc. Set aside.
In a large, deep skillet, cook the bacon until crispy. Leaving the drippings in the skillet, remove bacon from skillet to a paper-towel lined plate and allow to cool to the touch. When cool, chop and set aside.
Reduce heat to low and add the shallot to the bacon drippings; season with salt and pepper. Sauté, stirring, until soft, about 3 minutes. Add the shredded Brussels sprouts to the skillet and stir to coat well in the bacon drippings. Increase heat to medium-low and cook, stirring, for 5 minutes. Remove the Brussels sprouts to a large bowl.
Meanwhile, prepare the vinaigrette in a small bowl. Whisk together the balsamic, lemon juice and Dijon. While whisking, drizzle in the olive oil. Season with salt and pepper.
To the large bowl of Brussels sprouts, add the bacon and about half to a third of the vinaigrette; toss well to coat. Transfer the mixture to a serving platter.
Top the Brussels sprouts mixture with crumbled Gorgonzola, sliced pear and pecans, if using. Drizzle with remaining vinaigrette and serve.
*You can chop the pear and sprinkle it over the top instead of laying on slices. You can also toss the chopped pear with the sprouts.
Puff Pastry Pizza with Brussels Sprouts, Apple, Bacon and Parmigiano Reggiano
Talk about a fantastic fall appetizer! If you're looking for a low-carb option, skip the pastry and top seasoned chicken breasts or pork chops with the Brussels sprout mixture and bake at 350°F for 30 minutes, uncovered. Recipe and photo courtesy of Luisa Ormonde of Luisa's Catering. Makes 2 rectangular pizzas, serves about 6 to 8.
Ingredients:
3/4 cup raw walnut halves (available in Sigona's dried fruit & nut department)
1/4 cup freshly grated Parmigiano Reggiano cheese
1 Tbsp. chopped Bay Area Herbs fresh lemon thyme
Sea salt and black pepper, to taste
1 Tbsp. unsalted butter
1 shallot, thinly sliced
1 lb. fresh Brussels sprouts, trimmed and thinly sliced
1 large Fuji apple, cored and thinly sliced
1 Tbsp. Sigona's Dark Maple Balsamic
2 Tbsp. Sigona's East Coast Dried Cranberries
1/2 package Niman Ranch uncured maple bacon, cooked and sliced
Fresh zest from one lemon
2 puff pastry sheets, thawed according to package directions
Directions: Preheat oven to 425ºF.
Put the walnuts, cheese, olive oil and lemon thyme in a food processor and process until crumbly. Season with lightly salt and pepper.
Heat the butter in a large skillet over medium heat. Add the shallot and cook for about 5 minutes, until softened. Stir in the Brussels sprouts and apple slices; cook about 10 minutes more, or until apples and sprouts are beginning to brown. Stir in the maple balsamic and cranberries, then remove from heat and season to taste with salt and pepper.
Place the puff pastry on baking sheets lined with parchment paper; roll the pastry out to about 9 x 12 inches**. Prick all over with fork and bake for 8 to 10 minutes, or until the pastry is puffed and golden brown.
(**Before baking, you can trim the pastry to be circular, though it would allow excess pastry go to waste.)
Gently press down the center of the pastry, leaving a 1-inch margin on all sides. Sprinkle some of walnut pesto onto the crust, then top with the sprouts mixture and cooked bacon pieces (you might have some of the walnut pesto leftover.)
Return to the oven for 5 more minutes to melt the cheese, then top with the fresh lemon zest. Garnish with additional lemon thyme.
Slice into desired sized pieces and serve warm or room temperature.