In the Kitchen with Sigona's Featuring: Brussels sprouts
Fresh, tender Brussels sprouts are delicious! The fresher, the better! They can be eaten raw or cooked, and you can leave them whole or try them shaved, halved or quartered!
Robbie Sigona's Produce Tips for Brussels Sprouts:
Choose Brussels sprouts that are green, older sprouts will turn yellow.
They should have a white stem end.
Choose consistent sizes as they are easier to work with when cooking.
Remove the stem ends before cooking.
Enjoy both raw or cooked.
Check out some of our serving suggestions below:
Shredded Brussels Sprouts with Fuyu Persimmons, Blenheim Apricots and Walnuts
A delicious dish for Thanksgiving which incorporates the seasonal persimmon with sweet apricots, toasted walnuts and the trendy Brussels sprout. This recipe is courtesy of food guru Stephanie Stiavetti, of the food blog Fearless Fresh. Stephanie grew up in Redwood City where she remembers shopping at Sigona's. We're honored to share her recipe with you! Check out her blog for recipes, cookbooks, services and more. Serves 6.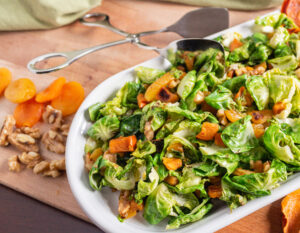 Ingredients:
1/4 cup dried Blenheim apricots, chopped coarsely (available in Sigona's dried fruit & nut department)
1/2 cup warm water
1 pound fresh Brussels sprouts, outer/yellow leaves removed and ends trimmed
1/4 cup coarsely chopped walnuts
3 Tbsp. Sigona's Fresh Press Extra Virgin Olive Oil, bacon fat or butter
1/2 tsp. sea salt
1/2 tsp. freshly ground black pepper
2 Fuyu persimmons, chopped
Directions: Place apricots in a bowl with warm water and let sit for 20 minutes. Drain apricots and set aside, discarding water.
Wash and dry Brussels sprouts. Slice thinly using either a knife or the disk attachment of your food processor.
Heat a small frying pan over medium heat and add walnuts, gently shaking the pan occasionally. Toast until they darken in color a bit and become fragrant, about 3 minutes. Set aside.
In a medium sauté pan, melt bacon fat (or oil of your choice). Add the Brussels sprouts, salt, pepper, persimmon, and apricots, stirring well, cooking just until the Brussels sprouts turn bright green and are tender to the bite, about 5 to 7 minutes. Stir in walnuts and cook for 1 minute. Serve hot.
---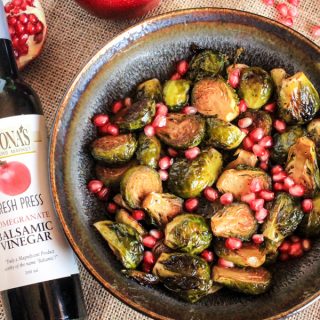 Pomegranate Balsamic Roasted Brussels Sprouts
A beautiful dish for fall that's great for your Thanksgiving menu. The sweetness of the pomegranate balsamic takes on an even more sweeter, caramelized flavor as it roasts with the Brussels sprouts. This dish is dairy-free, gluten-free and vegan friendly. You'll love it! Serves about 4.
Ingredients
Ingredients:
1

lb.

Brussels sprouts

dark outer leaves removed and ends trimmed

2

Tbsp

Sigona's Pomegranate Balsamic

2

Tbsp

Sigona's Fresh Press Extra Virgin Olive Oil

Salt and pepper

to taste

1/2

cup

fresh pomegranate arils
Instructions
Preheat oven to 400 F. Line a rimmed baking sheet with parchment paper or foil.

Slice Brussels sprouts in half lengthwise.

In a large bowl, whisk together the balsamic and olive oil. Add the Brussels sprouts and toss to coat well. Season with salt and pepper to taste.

Dump the Brussels sprouts onto the baking sheet and spread out in a single layer. Place in the oven to roast for 20 to 30 minutes, shaking pan at the 10 to 12 minute mark. Roast until Brussels sprouts are tender-crisp and nicely browned.

Transfer Brussels sprouts to a serving bowl and top with pomegranate arils. Serve warm.
---
Puff Pastry Pizza with Brussels Sprouts, Apple, Bacon and Parmigiano Reggiano
Talk about a fantastic fall appetizer! If you're looking for a low-carb option, skip the pastry and top seasoned chicken breasts or pork chops with the Brussels sprout mixture and bake at 350°F for 30 minutes, uncovered. Recipe and photo courtesy of Luisa Ormonde of Luisa's Catering. Makes 2 rectangular pizzas, serves about 6 to 8.
Ingredients:
3/4 cup raw walnut halves (available in Sigona's dried fruit & nut department)
1/4 cup freshly grated Parmigiano Reggiano cheese
1 Tbsp. chopped Bay Area Herbs fresh lemon thyme
Sea salt and black pepper, to taste
1 Tbsp. unsalted butter
1 shallot, thinly sliced
1 lb. fresh Brussels sprouts, trimmed and thinly sliced
1 large Fuji apple, cored and thinly sliced
1 Tbsp. Sigona's traditional balsamic
2 Tbsp. Sigona's East Coast Dried Cranberries
1/2 package Niman Ranch uncured maple bacon, cooked and sliced
Fresh zest from one lemon
2 puff pastry sheets, thawed according to package directions
Directions: Preheat oven to 425ºF.
Put the walnuts, cheese, olive oil and lemon thyme in a food processor and process until crumbly. Season with lightly salt and pepper.
Heat the butter in a large skillet over medium heat. Add the shallot and cook for about 5 minutes, until softened. Stir in the Brussels sprouts and apple slices; cook about 10 minutes more, or until apples and sprouts are beginning to brown. Stir in the balsamic and cranberries, then remove from heat and season to taste with salt and pepper.
Place the puff pastry on baking sheets lined with parchment paper; roll the pastry out to about 9 x 12 inches**. Prick all over with fork and bake for 8 to 10 minutes, or until the pastry is puffed and golden brown.
(**Before baking, you can trim the pastry to be circular, though it would allow excess pastry go to waste.)
Gently press down the center of the pastry, leaving a 1-inch margin on all sides. Sprinkle some of walnut pesto onto the crust, then top with the sprouts mixture and cooked bacon pieces (you might have some of the walnut pesto leftover.)
Return to the oven for 5 more minutes to melt the cheese, then top with the fresh lemon zest. Garnish with additional lemon thyme.
Slice into desired sized pieces and serve warm or room temperature.
---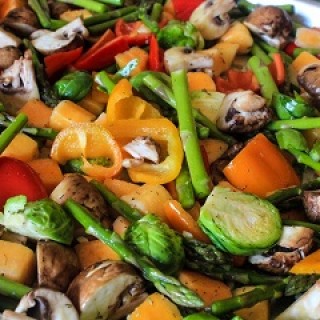 Roasted Vegetable Medley
You can use any combination of vegetables in this medley; we've adapted this recipe from The Pioneer Woman where she includes eggplant and red onion. The Herbes de Provence Olive Oil infuses flavors of rosemary, thyme, marjoram, savory and oregano, which season the vegetables beautifully. Try another of Sigona's infused oils to incorporate a different flavor, such as our Garlic Olive Oil, Smokey Chipotle Olive Oil or the Tuscan Herb Olive Oil. Serves 6 to 8.
Ingredients
Ingredients:
12

mini sweet peppers

assorted colors, halved, seeded and quartered, if large

12 to 15

brussels sprouts

peeled and halved

1

bunch organic asparagus

ends trimmed, stalks cut into thirds

8

oz.

cremini

aka baby bella mushrooms, quartered

2

cups

cubed butternut squash

about 1-inch cubes

3

cloves

garlic

minced

1/3

cup

Sigona's Fresh Press Herbes de Provence Olive Oil

1/2

tsp

onion powder

optional

1/4 to 1/2

tsp

dried dill

Sea salt

for finishing
Instructions
Preheat oven to 450°F.

Spread out the prepared peppers, Brussels sprouts, asparagus, mushrooms, squash and garlic on a rimmed sheet pan. Drizzle with olive oil and sprinkle on the dill and onion powder, if using. Gently toss the mix until well coated.

Roast for 30 to 40 minutes, shaking the pan about every 7 to 10 minutes. Veggies should be tender and lightly browned. Sprinkle the roasted vegetables with a bit of sea salt , to taste, to finish the dish. Serve warm.
---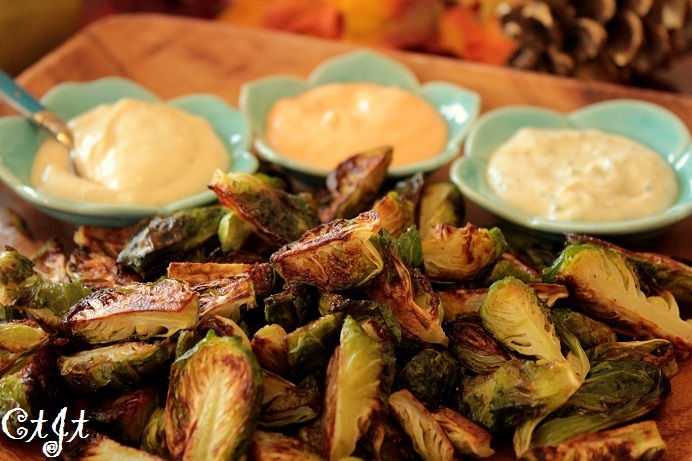 Local Roasted Brussels Sprouts with an Aioli Trio
The crispy, golden edges and rich, roasted flavor in these Brussels sprouts will tempt anyone as an appetizer. The addition of the aioli is bound to interest even those who may be skeptical of Brussels sprouts. Inspired by Pinterest. Serves 6 to 8.
Ingredients
Ingredients:
1 1/2

lbs.

Brussels sprouts

roughly 30 pieces, cut into wedges

2

TBL Sigona's Fresh Press extra virgin olive oil

Salt & pepper

to taste
Garlic-Chive Aioli
1/3

cup

light mayonnaise

1

TBL diced fresh chives

1/2

tsp.

Dijon mustard

2

cloves

garlic

pressed

A pinch of white pepper

or to taste

A few dashes hot sauce

or to taste

1

TBL lemon juice
Dijon Aioli
2

cloves

garlic

pressed

1/3

cup

light mayonnaise

1

tsp.

lemon juice

1

TBL Dijon mustard

plus up to 1 tsp. more, to taste, if desired

Ground white pepper

to taste
Spicy Sriracha Aioli
1

TBL Sriracha

plus up to 1 tsp. or so more, to taste, if desired

1/3

cup

light mayonnaise

3

garlic cloves

minced

1

tsp.

lime or lemon juice

Ground white pepper

to taste
Instructions
For the Aiolis: In a blender or small food processor, mix together all the ingredients for the aioli of your choosing until well blended (about 1 minute). Taste and adjust seasoning as desired (for example, more Dijon or more Sriracha, etc). Pour into a small bowl, cover and refrigerate for at least an hour before serving.

For the Brussels Sprouts: Preheat oven to 400F degrees. Toss Brussels sprout wedges in olive oil and season with salt & pepper. Spread on a baking sheet in a single layer and bake for about 15 minutes or until at least one side is golden brown.

Serve the aiolis with the warm Brussels sprouts as dipping sauces.