Turmeric and Smokey Chipotle Roasted Cauliflower
Turmeric and Smokey Chipotle Roasted Cauliflower
Roasting a whole head of cauliflower is so simple, beautiful and delicious. The process also gives the vegetable a smooth texture and mellow flavor, which pairs well with bright turmeric and the smokey chipotle from our infused oil. Recipe inspired by Bondi Harvest. Serves about 6.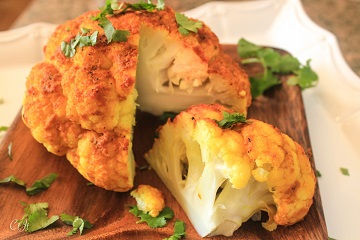 Ingredients:
1 whole cauliflower
1/4 cup of Sigona's Smokey Chipotle Olive Oil
1 navel orange
1 Tbsp. turmeric
Salt and black pepper
Chopped cilantro, for garnish
Optional: Plain yogurt, for serving
Directions: Preheat oven to 400°F.
In a small bowl, whisk together the olive oil, orange zest, turmeric, salt and black pepper.
Slice the orange into 1/4-inch discs and lay them in a single layer in the bottom of a tall, oven-proof pot or sauce pan wide enough so the cauliflower fits, but not much wider than the head itself.
Place the cauliflower on top of the orange slices and slowly pour or spoon the olive oil mixture over the cauliflower. Make sure the entire cauliflower head is covered.
Cover the pot with a lid or foil and place in the oven for 20 minutes. Uncover and cook for another 20 minutes.
To serve, either slice the cauliflower into steaks or wedges. Sprinkle with cilantro and add a dollop of yogurt, if desired.