In the Kitchen with Sigona's Featuring: Hass Avocados
Creamy Avocado & Lemon Pasta with Garlic and Basil
All the comforts of a creamy pasta dish with fewer calories and better-for-you fats! This is a delicious pasta dish that relies on blended avocados to give it an irresistible creaminess, without the use of cheese or dairy. Serves 4 to 6.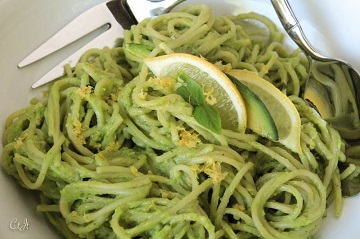 Ingredients:
•   10 to 12 oz. dry pasta (spaghetti is a nice choice)
•   2 medium California Hass avocados, halved, pitted, removed from peel and roughly chopped
•   3 garlic cloves, smashed
•   1/4 cup Sigona's Fresh Press Meyer-Lemon Fusion Olive Oil
•   About 3/4 cup loosely packed basil leaves
•   Juice and zest of one lemon, separated
•   Salt and pepper, to taste
•   Optional garnish: Freshly grated Parmigiano Reggiano
•   Note: You'll need 1/2 cup reserved pasta-cooking water
Directions: Cook pasta according to package directions, until al dente. Reserve about 1/2 cup cooking water.
While the pasta cooks, add the chunked avocado, garlic, oil, basil, lemon juice, salt and pepper to a blender or food processor. Blend for a couple minutes until creamy and smooth, scraping the sides and blending again as needed. Set aside.
Once drained, place pasta in a large bowl. Stir the avocado mixture into the pasta, adding a couple tablespoons of reserved pasta-cooking water at a time, or as needed, to help the mixture incorporate well. Season with salt and pepper, to taste.
Transfer the pasta to a serving bowl. Sprinkle with lemon zest and Parmigiano Reggiano, if desired. Serve immediately.
Roasted Shrimp Spring Rolls with Avocado & Quinoa
Filled with avocado, quinoa and shrimp, these protein-packed rolls are healthy and filling. Don't be intimidated by rice paper if you haven't tried it before. You might need to practice with a few sheets before you get into a good groove with the rolls. Don't worry, we had to, too. If you prefer, add in or substitute any of the veggies with julienned bell pepper. Adapted from damndelicious.net (the author recommends a spicy peanut sauce for dipping). Makes 6 rolls.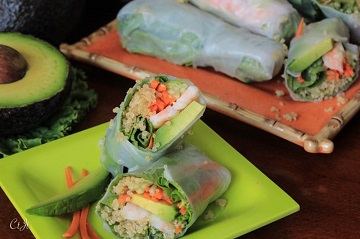 Ingredients:
•   9 raw large shrimp, peeled and deveined; if frozen, thawed
•   6 sheets of rice paper wrappers (16- or 22-cm)
•   Half of a California Hass avocado, pitted, peeled and sliced lengthwise into at least 6 slices
•   6 medium leaves green leaf lettuce, tough ends and ribs removed
•   3/4 to 1 cup cooked quinoa
•   1 medium carrot, julienned
•   Half of a cucumber, peeled and julienned
•   Optional: Half a small bell pepper, julienned
Directions: Preheat oven to 400°F.
Line a baking sheet with parchment paper. Place raw shrimp on the parchment and roast until just pink, about 6 to 8 minutes. Cool slightly then slice shrimp down the back, creating two equal halves.
Fill a large bowl with warm water. Working one at a time, wet rice paper for 10 seconds and transfer to a work surface (it may not seem fully pliable, but it will become so as you work). Place lettuce leaf in the center of each wrapper and top with 2 heaping tablespoons of cooked quinoa, about 6 or so slices each of cucumber and carrot, a few slivers of optional bell pepper, 1 slice of avocado and 3 shrimp halves, cut sides down.
As if you're folding a burrito, bring the bottom edge of the wrap tightly over the filling; fold in the sides and then roll it forward to the remaining edge of the paper (all while being careful not to tear the paper). Set aside, seam-side-down, then repeat with remaining wrappers and filling.
Slice in half, if desired, and transfer to a serving dish. Serve immediately with your favorite Asian dipping sauce.
Baked Eggs in Avocado Cups with a Quick, Fresh Tomato Salsa
If you get any foodie magazines or spend any time on Pinterest, it's likely you've recently seen many an egg baked in an avocado. Well, we decided to  take a crack at it (pun intended) ourselves, and added a quick salsa for a fresh factor. You'll love this easy, hearty egg dish; it's perfect for breakfast or brunch. If you don't care for the salsa, simply top the baked eggs with chopped chives. Serves 2 to 4.
Ingredients:
•    2 medium or large California Hass avocados
•    4 eggs, such as Wattle and Comb pastured eggs, found at Sigona's
•    Salt and pepper, to taste
•    2 to 3 tsp fresh lime juice, from about half a lime
•    About 1 1/2 cup quartered grape tomatoes, look for the mixed medley tomatoes, they add a nice pop of color
•    1 shallot, diced
•    Optional: 1 small clove garlic, minced
•    Optional: Tabasco
•    Special equipment: Aluminum foil, 4 large ramekins or bowels (a 16 oz. Corningware is perfect), rimmed baking sheet
Directions: Set out 4 ramekins on a rimmed baking sheet. Set aside.
Preheat oven to 425ºF.
Slice each avocado in half and remove the seed. Using a large spoon, scoop out a well in each half, leaving about a 1/2-inch thick layer of avocado in the skin. Reserve the removed avocado.
Set each avocado half in a ramekin on the baking sheet. If they don't sit level without tipping, use bits of wadded aluminum foil to prop up the avocado; you want it to sit level in the dish so the egg doesn't escape.
As if separating the yolk from the egg white, crack one egg into each avocado, surrounding the yolk with just enough of the egg white to fill it to the brim (reserve any remaining egg white for another use). Season each egg with a bit of salt and pepper.
Place the baking sheet holding the filled bowls in the oven; bake the eggs for 15 to 20 minutes, or until they reach desired doneness. Keep in mind the eggs will set a bit more once removed from the oven.
Meanwhile, chop the reserved avocado; place in a medium bowl with the lime juice. Add the tomatoes, shallots and garlic, if using, then gently stir to mix. Season to taste with salt and pepper.
When the eggs are baked to your liking, carefully transfer the avocados to a serving dish. Dot with a few shakes of Tabasco, if desired, then spoon the salsa over the top. Serve immediately.