In the Kitchen with Sigona's Featuring: Bibb Lettuce
Fresh Veggie & Quinoa Lettuce Cups with a Honey-Ginger-Soy Dipping Sauce
You can add any veggies you have on hand to these cups. I love to have lots of different veggies chopped, julienned or shredded in the fridge that are easy to grab if I'm in a hurry. I love the crisp freshness of the veggies and the punch of flavor from the dipping sauce. Making lettuce cups takes no time at all, and you can dip them in any sauce you please; either make your own or find your favorite store-bought dressing or dip. Makes 2 to 4 cups, depending on leaf size.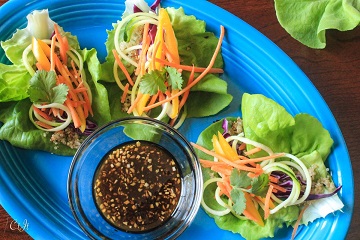 Ingredients:
2 to 4 leaves from a head of Pescadero-grown Suncrest™ Bibb lettuce, separated
About 3/4 cup cooked quinoa
1 medium carrot, halved, julienned or shredded
1/3 cup julienned red cabbage
Half a zucchini or cucumber, halved and julienned or spiraled
Half a bell pepper, julienned
A little fresh cilantro, for garnish
Optional Additions:
Grilled chicken
Sliced avocado
Radishes
Italian or summer squash
Roasted shrimp or prawns
Tofu
Mango
Various chilis if you like some heat
Mushrooms
Black or other beans
Dipping Sauce (makes more than you'll need):
1/4 cup Sigona's Honey-Ginger White Balsamic
2 Tbsp. Sigona's Toasted Japanese Sesame Oil
1 tsp. minced fresh garlic
2 Tbsp. tamari soy sauce
Directions: Divide the prepared ingredients evenly between each lettuce leaf. Set aside.
In a small bowl mix together the ingredients for the dipping sauce. Divide among two small serving bowls.
To eat the lettuce cups, fold the leaves as if you're folding a burrito: Fold the bottom end up over some of the filling, leaving the stem end out to use as a sort of handle, and then fold in the sides and roll it forward. Place them seam-side-down to serve.
Serve with dipping sauce.
Fresh Fruit Salad with a Honey & Poppy Seed Dressing on a Bibb Lettuce Bed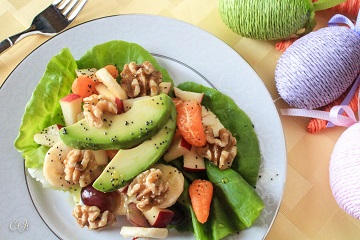 If you're looking for a salad everyone will love for Easter, look no further. This is a simple, healthy and delicious fruit salad with a fantastic honey dressing; a combination worthy of resting upon its very own bed of lettuce. These will look elegant on salad plates at your Easter tablescape. Inspired by Food Network. Serves 4.
Ingredients:
1 apple, cored and diced
1 banana, sliced
2 mandarins, peeled, segments separated
1/3 cup halved red grapes
Juice from one lemon, divided
1/3 cup honey, such as orange blossom honey from Honey Hole Honey Co., available at Sigona's
1/4 cup Sigona's Fresh Press Extra Virgin Olive Oil (Mix it up! Use Sigona's Meyer-Lemon Fusion Oil or Sigona's Blood Orange Fusion Oil for more flavor!)
1/4 cup orange juice
2 tsp. poppy seeds
1/2 tsp. Dijon mustard
Salt, to taste
4 leaves from a head of Pescadero-grown Suncrest™ Bibb lettuce, separated
1/2 to 1 avocado, peeled and cut lengthwise into about 8 or 12 slices
About 1/3 cup walnuts
Directions: In a medium bowl, toss together the apple, banana, mandarins and grapes with all but 1 teaspoon of lemon juice. Set aside.
In a small bowl, whisk together the honey, oil, orange juice, the remaining one teaspoon lemon juice, poppy seeds, Dijon and salt, to taste.
Place one lettuce leaf on each of four salad plates. Divide the fruit mixture evenly between the four lettuce cups. Just before serving, fan out 2 to 3 slices of avocado on each of the salads and top with a few walnuts. Drizzle the salads with the dressing, serve any remaining on the side.
Thai Turkey Lettuce Cups with Ginger, Garlic, Basil and Green Onion
The aromatics, the ginger and garlic, for example, in this dish are so inviting and mouth-watering. When browning the turkey, make sure you get it really browned — that's the secret to flavorful ground turkey! If you wanted to kick the heat up a notch, sauté your favorite spicy chili with the onions. Makes about 6 lettuce cups.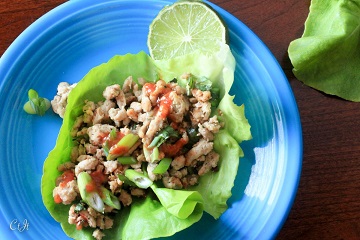 Ingredients:
2 Tbsp. Sigona's Fresh Press Extra Virgin Olive Oil (Mix it up! Try Sigona's Basil Oil or Sigona's Persian Lime Oil or Sigona's Garlic Oil!)
About a 1/4 of an onion, diced
1 lb. ground turkey
Salt and pepper, to taste
1 tsp. grated fresh ginger
2 cloves garlic, minced
1 tsp. fresh lime zest
1 tsp. fresh lime juice
About 1/4 cup minced fresh cilantro or to taste
3 to 4 basil leaves, finely chopped
4 to 6 large leaves from a head of Pescadero-grown Suncrest™ Bibb lettuce, separated
Optional: 2 green onions, thinly sliced on the diagonal
Optional: Sriracha or other hot/chili sauce
Directions: Heat olive oil in a large skillet over medium heat. Add the onion, season with salt and pepper, and cook, stirring, until onions have softened and are translucent, about 4 minutes. Add the turkey and cook, breaking up the large pieces, until cooked through. Get it good and browned — the brown is where the flavor is!
To the cooked turkey add the ginger and garlic, stirring for about 2 minutes. Remove from heat and stir in the lime zest, juice, cilantro and basil.
To serve, scoop even amounts of the turkey into individual lettuce leaves. Top with green onions and dress with Sriracha, or other sauce, if desired.