June Olive Oil & Balsamic Must-Try Recipes
For the entire month of June, enjoy sales on three fantastic oil & balsamics both in-store & online: Mango White Balsamic, Cherry Balsamic, & Meyer Lemon Fusion Oil!
Tropical Granola With Sigona's Mango Balsamic & Meyer Lemon Fusion Olive Oil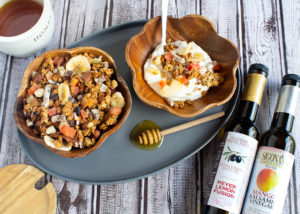 This tasty little mixture is perfect for sprinkling over yogurt or even a smoothie bowl to add a little crunch. Feel free to add various fruits and nuts, or even experiment with a different balsamic and oil combination! Adapted from The Olive Oil & Vinegar Lover's Handbook. Makes about 4 cups, easy to double.
Ingredients:
2 cups rolled oats
1/2 cup mixed raw nuts
1/4 cup ground flaxseed
2 Tbsp Sigona's Mango Balsamic
2 Tbsp honey, such as Honey Hole Honey Co. honey, available at Sigona's
2 medium egg whites (or 1 large/ex large), lightly beaten until just frothy
1 cup Sigona's Tropical Trail Mix (includes date bits, bananas, coconut, sunflower seeds, papaya, pineapple and raisins)
Directions: Line a large rimmed baking sheet with parchment paper and preheat an oven to 325°F.
Stir together the oats, nuts and flax in a large mixing bowl. Set aside.
Stir together the balsamic, honey and oil in a small saucepan over low heat. Cook, stirring occasionally, until the honey has dissolved, about 2 minutes. Drizzle this over the oat mixture and toss to coat well. Add the beaten eggs to the oat mixture and gently incorporate with a fork.
Spread the mixture out in a single layer on the baking sheet. Bake for 15 minutes then remove and flip the granola around with a large spatula. Bake another 15 to 20 minutes, shaking once, until toasty golden.
Allow the mixture to come to room temperature. Add the granola to a large mixing bowl and gently fold in the dried fruit mix.
Store in an air-tight container at room temperature for up to 3 weeks.
---
Red Cherry Hot Fudge Sauce
This is an absolutely easy and luscious fudge sauce that's perfect for drizzling over ice cream and can also be used as a frosting. The subtle tang from the balsamic enhances the cherry flavor, making this sauce even more delectable. Adapted from The Olive Oil & Vinegar Lover's Cookbook. Makes about 2 cups.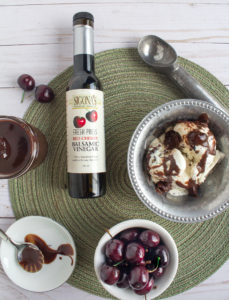 Ingredients:
3/4 cup whipping cream
1/4 cup Sigona's Red Cherry Balsamic
3 Tbsp to 1/4 cup granulated sugar (to taste)
About 2/3 cup chopped fresh cherries, pitted
8 oz. unsweetened chocolate, chopped
Directions: Whisk together the cream, balsamic, sugar and cherries in a heavy-bottomed saucepan, set over medium heat. Bring to a gentle simmer, stirring occasionally; be careful not to let it come to a boil. Just as the mixture begins to steam, remove from heat and add the chocolate, allowing it to sit for about 3 minutes before stirring.
Whisk the mixture together until the chocolate has melted and the sauce is smooth.
Transfer the sauce to a mason jar or glass bowl and allow to cool to room temperature before serving (it will thicken as it cools). Store in the fridge for up to 5 days. To use after it has chilled, warm briefly in the microwave to bring it to a drizzling state.