Roasted Poblano Peppers Stuffed with Quinoa, Corn, Tomatoes and Black Beans
Poblanos are perfectly designed for stuffing. You could add some slices of avocado for a creamy factor and to add another layer of healthy fats. We like serving these alongside some fried eggs, which is great for breakfast or dinner. Serves 2 to 4.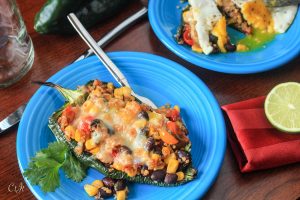 Ingredients:
2 poblano peppers
1/4 cup uncooked quinoa
Chicken or vegetable stock, enough to cook the quinoa (about 1/2 cup)
1 Tbsp. Sigona's Fresh Press Extra Virgin Olive Oil
1/4 cup diced onion
Salt and pepper, to taste
2 cloves garlic, minced
3/4 cup corn kernels (fresh or canned)
1/2 teaspoon cumin
1/2 teaspoon chili powder
3/4 to 1 cup diced tomatoes (use a variety of cherry tomatoes for a pop of color)
1/2 cup black beans, drained and rinsed
1 Tbsp. fresh lime juice
1/4 cup chopped fresh cilantro
Shredded or crumbled cheese, such as pepper jack, Monterey jack, Feta, crumbled goat, or cotija
Optional: eggs, fried sunny-side-up
Directions: Preheat the oven broiler with the rack about 6 inches away from the element. Cook the quinoa in the stock according to package directions. When cooked, set aside; keep warm.
Meanwhile, slice the peppers in half lengthwise, remove the seeds and ribs. Place the sliced peppers in a broiler-safe baking dish, skin-side-up, and broil for about 7 minutes (the skin will blister a bit). Flip and broil 7 minutes more. Remove from oven and set aside.
Heat the olive oil over medium to medium-high heat in a large skillet. Add the onion, season with salt and pepper, and sauté for about 3 minutes. Add the garlic and cook for about 30 seconds. Add the corn, cumin and chili powder. Sauté the corn for about 3 minutes then add the black beans and tomatoes. Sauté another 3 minutes then remove from heat and add the lime juice, cilantro and cooked quinoa. Season to taste with salt and pepper.
Divide the mixture among the roasted peppers, about 1/3 to 1/2 into each. Top the stuffed peppers with cheese and return to the oven to broil for about 2 minutes or until the cheese is melted and bubbly.
Serve hot alongside eggs fried sunny-side-up, if desired.
Creamy Poblano Chicken Tacos with Pinto Beans and Grilled Chayote
Introduce a new taco to your group for Taco Tuesday. The texture of this taco is great, not to mention the subtle heat from the peppers. Radishes and grilled chayote add a nice, fresh crunch. Adapted from Cooling Light. Serves 2 to 3.
4 large poblano chiles
1 small chayote, optional
2 tsp. plus 2 Tbsp. Sigona's Fresh Press Extra Virgin Olive Oil, divided
1 large cooked chicken breast**, shredded
1/2 a medium red onion, cut into 1/4-in. slices
2 to 3 cloves garlic, minced
1/3 cup Mexican crema or sour cream thinned with a little milk
Salt and pepper, to taste
6 (5-in.) corn tortillas, warmed
1/4 cup sliced radishes
1/2 cup pinto beans, rinsed
Fresh cilantro, for garnish
Optional: sliced avocado
**If you'd prefer to leave the chicken out, you can used sautéed mushrooms as a substitute
Directions: Preheat broiler to high with oven rack 6 inches from heat. Broil poblanos for about 8 minutes or until blackened, turning frequently. Place peppers in a large zip-top plastic bag and let sit about 15 minutes. Peel off the skin, slice in half and remove the seeds. Slice peppers into long strips about 1/4-inch wide. Set aside.
Preheat an indoor or outdoor grill over medium-high heat. Slice the chayote into quarter wedges. Cut out the core and seed by slicing off the inside of the wedge. Slice each quarter into fourths so they're about a half-inch wide. Drizzle the wedges with 2 teaspoons olive oil and a little salt; toss to coat. Grill the chayote on all sides for about 5 to 7 minutes a side until tender and nice grill marks show. Cooking makes the skin tender, but you can peel it off if desired. Dice and set aside.
Meanwhile, heat the remaining olive oil in a skillet over medium-high. Add onion and sauté, stirring occasionally, about 5 minutes. Add sliced poblanos and the garlic; sauté for 2 minutes. Stir in the crema or thinned sour cream and season with salt and pepper; cook 1 minute.
Add some chicken to each tortilla and top with the poblano mixture. Garnish with radishes, pintos, diced chayote and a little cilantro. Drizzle with more crema, if desired. Avocado is also nice, if you wish.