Baked Pears Topped with Annabella Dulce De Leche and Chopped Pecans
All the flavors of fall are in this dish! Annabella Dulce de Leche is an incredibly smooth, caramel-like dessert topping that makes this baked pear dish simply irresistible. Adapted from Annabella Creamery. Serves 4.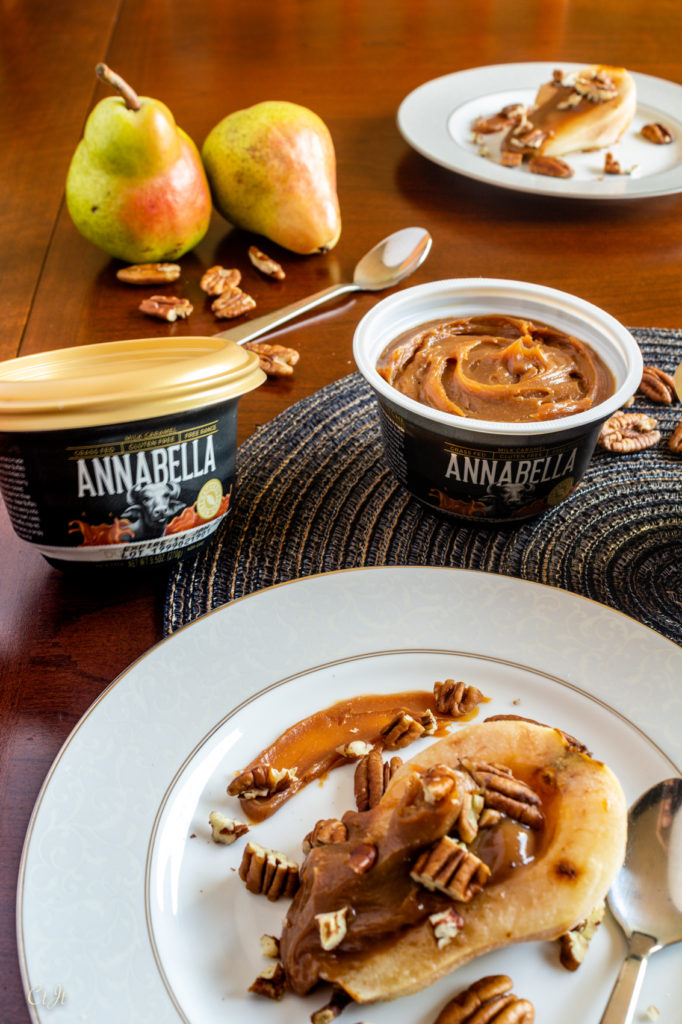 Ingredients:
2 Comice or Bosc Pears
2 tbsps Unsalted Butter
Optional: 1 1/2 Tbsp sugar
1 container Annabella Dulce de Leche
1/3 cup pecans, chopped (plain or candied)
Special equipment:
Directions: Preheat oven to 375°F. Peel, halve and core the pears (a melon baller works well for coring). Place pears cut-side-up in an ovenproof baking dish. Dot with the butter and sprinkle with sugar, if using. Bake pears for 20 to 30 minutes, occasionally brushing with pan juices. Pears are done when easily pierced with a knife at the thickest part.
Meanwhile, put a dime-size dollop of the dulce de leche in the middle of each of the 4 dessert plates (to serve as an anchor for the pear half). When pears are done, immediately remove the pears from the dish and place one half, cut-side-up, on on top of each dollop.
Finish the dish by adding a large dollop of the dulce de leche on the center of each pear (the residual heat will warm it and make it deliciously gooey). Sprinkle with pecans and serve immediately.