February 2022 Olive Oil & Balsamic Sale Recipes
We choose new infused olive oils and balsamics each month to feature at a sale price so everyone has a chance to try something new! This February we are offering the following on sale both in our markets and online at www.sigonas.com:
Cilantro & Roasted Onion Infused Olive Oil
Elderberry Balsamic
Lemongrass Mint Balsamic
Organic Balsamic
Spicy Calabrian Pesto Olive Oil
Here are some recipes to try:
Ricotta & Parmesan Dip with Sigona's Cilantro & Roasted Onion Oil
This is a deliciously herbaceous and addictive dip for crudites or slices of toasted baguette. Makes about 2 cups.
Ingredients:
1 lb. fresh ricotta
3/4 cup finely grated Parmesan cheese
1 tsp lemon zest
3 Tbsp fresh lemon juice
1 clove garlic
1/4 cup fresh mixed herbs, such as parsley, chives, tarragon and/or mint
1/4 cup Sigona's Cilantro & Roasted Onion Infused Olive Oil, plus more for drizzling
Kosher salt and black pepper, to taste
Red pepper flakes – optional – for garnish
For serving:
Fresh chopped veggies or grilled veggies
Slices of lightly toasted baguette
Directions: In a food processor, puree the ricotta, Parmesan, lemon zest, lemon juice, garlic and herbs. Pulse to incorporate. Add the olive oil and process until smooth. Transfer to a serving bowl, drizzle with about 1 additional tablespoon of olive oil and sprinkle with red pepper flakes, if desired. Serve chilled or at room temperature.
---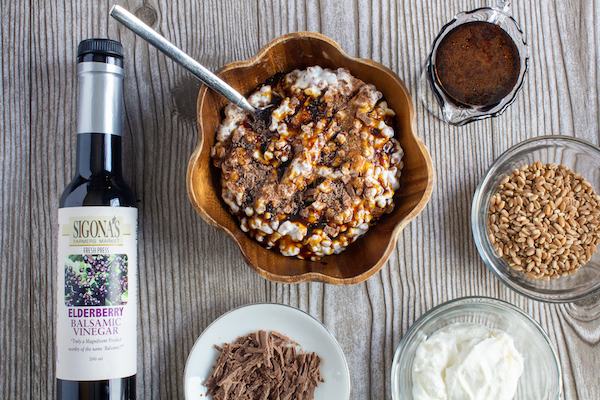 Cuccia – Sicilian Wheat Berry & Ricotta Pudding with an Elderberry Balsamic Reduction
Cuccia, or Cuccia Con Ricotta, is a traditional Sicilian dessert served on St. Lucy's Day, which falls on December 13. It can be found topped with candied fruit, but we think a balsamic reduction adds just the right amount of sweetness and gives just the right amount of tart to cut the richness of the ricotta. It's perfection with shaved chocolate and cinnamon on top. Serves about 4.
Ingredients:
1 cup dried wheat berries, such as Jovial
1/4 tsp kosher salt
13 oz (1 1/2 cups) fresh whole-milk ricotta
2 TBSP sugar
1/8 tsp vanilla extract
200 ml Sigona's Elderberry Balsamic (new!)
A few shakes of ground cinnamon, for garnish
Dark chocolate, shaved with a knife, vegetable peeper or microplane, for garnish
Directions: Place wheat berries in a medium saucepan and cover with water by 2 to 3 inches. Stir in salt and bring the mixture to a boil over high, then reduce to a simmer. Cook, uncovered, for about 50 to 60 minutes or until wheat berries are tender. Strain the berries using a fine-mesh strainer and then rinse with cool water to chill. Set the strainer in a large bowl and set aside so they continue to drain as you prepare the rest of the ingredients.
Add the balsamic to a small saucepan and bring to a boil over medium-high heat. Once boiling, reduce heat to a simmer and cook, stirring occasionally, for about 5 to 10 minutes or until the balsamic has reduced by about half. Remove from heat and allow to cool for about 10 to 15 minutes or until it thickens to a desired consistency (somewhat like a thick chocolate syrup). Keep in mind it will continue to thicken when removed from heat.
Meanwhile, in a blender or other processor, whip together the ricotta, sugar and vanilla until smooth. Transfer to a medium bowl and stir in the cooled wheat berries.
To serve, add servings to individual bowls. Use a vegetable peeler or grater to shave some chocolate over the top of each dish. Sprinkle with a little cinnamon and finish with a drizzle of the balsamic reduction.
It's meant to be served chilled or at room temperature, similar to a rice pudding.
---
Lemongrass Mint Balsamic Mojito
This is a light, refreshing drink that's a great to serve with foods that have a spicy kick! Serves 1.
Ingredients:
6 fresh mint leaves, plus a sprig for garnish
1 1/2 Tbsp simple syrup (see below)
1 Tbsp fresh lime juice, plus a lime slice for garnish
1 Tbsp Sigona's Lemongrass Mint White Balsamic
2 oz light Rum
club soda
Directions: Place mint, simple syrup, lime juice and balsamic in a tall, wide glass. Using a wooden spoon or a muddler, muddle the ingredients together for about 30 seconds. Add ice cubes, the rum and top with club soda. Garnish with a sprig of mint and a slice of lime.
Simple Syrup
Stir together the water and sugar in a small saucepan. Bring to a boil over medium-high heat then remove from heat and allow to cool to room temperature. Store in the fridge for up to 1 month.
---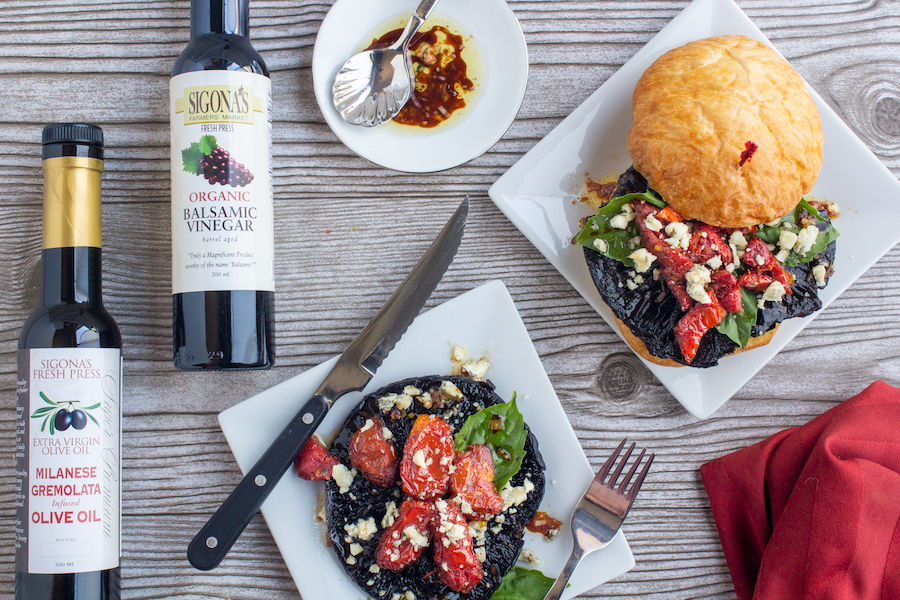 Organic Balsamic Marinated Portobello Mushrooms with Sun Dried Tomatoes and Crumbled Smokey Blue
Make this into a burger or leave off the bun for a delicious and satisfying gluten-free meal! Marinating the portobellos in a combination of Sigona's organic balsamic and our new Milanese Gremolata infused olive oil adds layers of savory and slightly sweet flavor that, once when on the grill, will get the neighbors peeking over the fence to see what's cookin'. Gremolata is a traditional Italian herbal condiment consisting of fresh lemon zest, minced garlic, Italian flat leaf parsley and a hint of mint. It's perfect for this dish! Serves 2.
Ingredients:
1/3 cup Sigona's Milanese Gremolata Infused Olive Oil
2 Tbsp Sigona's Organic Balsamic
1 clove garlic, minced
1 Tbsp minced shallot
Salt and freshly ground pepper, to taste
2 portobello mushrooms, wiped and brushed cleaned, stems removed
1/4 cup crumbled blue cheese, such as Rogue Creamery Smokey Blue
6 to 8 sun-dried tomatoes (oil packed), drained and halved, if necessary
Optional: 2 rolls or buns of choice, lightly toasted
Fresh basil leaves, for serving
Directions: Place prepared mushrooms in a shallow, rimmed dish. In a bowl whisk together the oil, balsamic, garlic, shallot, salt and pepper. Reserve 2 tablespoons of the marinade. Pour the remaining marinade over the mushrooms and allow to marinade at room temperature for 1 hour, flipping after 30 minutes.
Preheat an outdoor grill or indoor grill pan over medium-high heat. Lightly oil the grates with cooking oil. Remove mushrooms from marinade and add to the grill; cook for 2 to 4 minutes a side, flipping once, until they're tender and show grill marks.
With buns: Brush the cut sides of the buns with the reserved marinade. Add the mushroom and top with tomatoes, crumbled blue and a few basil leaves. Drizzle any remaining marinade on top, if desired.
Without buns: Plate the mushrooms and top with tomatoes, crumbled blue and basil leaves. Drizzle some reserved marinade on top.
---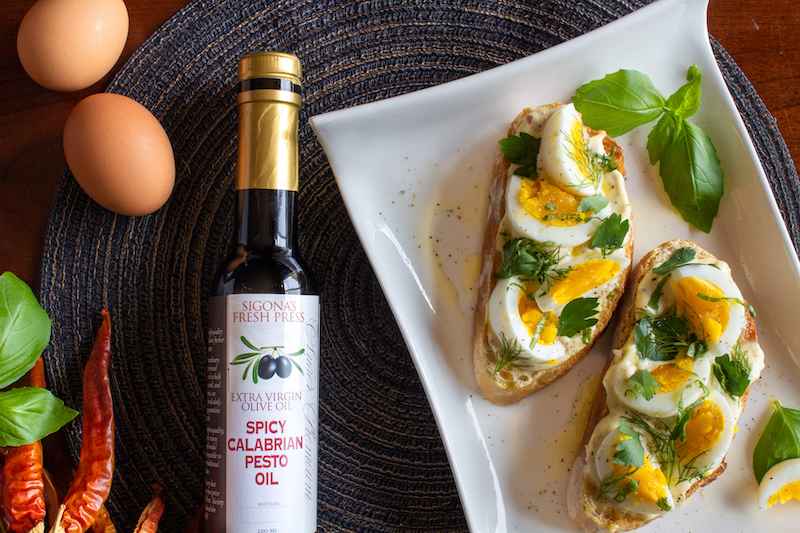 You've heard of pesto eggs, but this takes the idea up to a whole new level! Our new Spicy Calabrian Pesto Oil has a little kick from the pepper but is overall bright and flavorful with the basil pesto shining through. Drizzling on this oil as a finisher adds just what's needed to round out this dish. Adapted from Local Dirt. Serves 2
Fresh Herb and Egg Salad on Toast with Sigona's Spicy Calabrian Pesto Oil
Ingredients:
2 eggs
2 Tbsp mayonnaise
1 tsp minced shallot
2 tsp Dijon mustard
Freshly ground black pepper
2 slices of rustic bread or a baguette, sliced on an extreme bias
Butter or oil of choice, for brushing
2 large basil leaves, chiffonade
1 Tbsp fresh dill fronds, torn
1 Tbsp roughly chopped fresh parsley
Sigona's Spicy Calabrian Pepper Pesto Olive Oil, for drizzling
Coarse salt, for sprinkling
Directions: Bring a small saucepan full of salted water to a boil. Add the eggs and reduce heat just enough so the water remains in an active simmer. Boil eggs for 8 minutes. Meanwhile, prepare an ice bath. Remove eggs with a slotted spoon and plunk them directly into an ice bath. When cool, peel the eggs and set aside.
In a small bowl, mix together the mayo, shallot and Dijon. Season to taste with pepper.
Preheat a large skillet or grill pan over high. Lightly brush both sides of the bread with oil or butter and place on the skillet. Toast each side for just one minute so the outside is crisp but the inside remains soft. Allow to cool for about 2 minutes, then spread with the mayonnaise mixture.
Slice the eggs into thin wedges then nestle the wedges into the mayo mixture on top of the bread. Sprinkle each toast with fresh herbs and a light pinch of salt. Drizzle on some of the Calabrian pepper pesto oil and finish with freshly ground pepper. Serve.