Sigona's Guacamole
Some like it hot, some do not! Add as much jalapeño as you wish. Remember, the white veins and seeds are what pack a punch, so scrape them out to lower the heat. This recipe makes A LOT of guac, so have some chips or sliced veggies ready!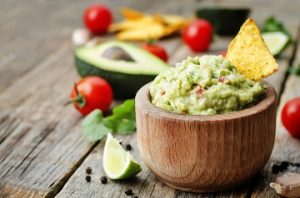 Ingredients:
1/4 cup finely diced white onion
1/4 cup finely diced red onion
1 to 2 jalapeños, finely chopped (seeds and ribs removed or left in, depending on how hot you like your guacamole)
2 clove garlic, minced
Salt and pepper, to taste
6 PeeWee, ripe avocados, removed from skin and coarsely chopped
2 Tbsp. fresh-squeezed lime juice
Directions: Mix onions, jalapeños, garlic and salt in a medium-sized glass bowl. Add the avocados and gently stir. Pour in the lime juice and stir. Season with some black pepper and salt, if needed, to taste. Then…you're done. Yep – it's that easy.