Shaved Asparagus & Herbed Cheese Flatbread with Wild Patagonian Red Shrimp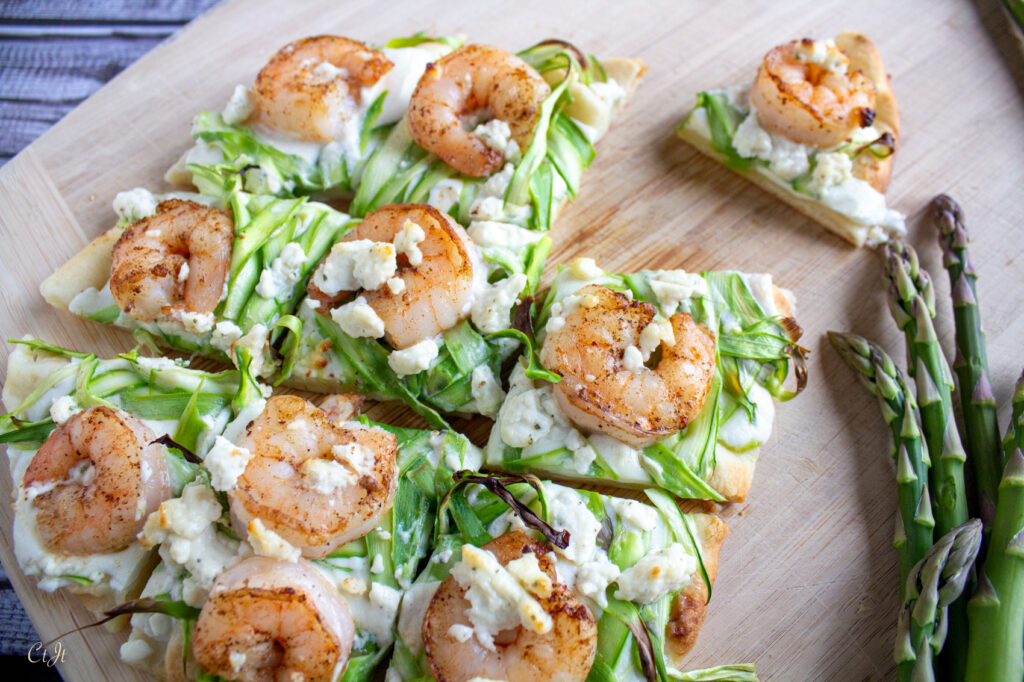 We love spring for many reasons, but especially because that's when local asparagus is in season! Asparagus is best when it's fresh-picked asparagus, just like corn, begins to convert its sugars to starch from the moment it's picked. So, the sooner you eat it after it's picked the sweeter and more tender it will be, especially compared to asparagus that traveled a distance to the store.
So when you see that we have locally grown asparagus, now you'll know it's about as fresh as it can be unless you grow it yourself. A lot of our local asparagus comes from Salinas, Calif., and is known as Delta-grown asparagus – a regional specialty that is world-renowned for its quality produce because of its rich soil and ideal weather.
It's a combination, really, of travel distance, weather and soil that makes for our region's outstanding asparagus. The weather and soil here make for ideal growing conditions, all of which contribute to sweetness.
In addition to knowing where asparagus is grown, one of the telltale signs of fresh asparagus is its squeak. Perfectly fresh asparagus squeaks a bit when lightly squeezed, not unlike the way a good artichoke squeaks when squeezed. Check out Robbie Sigona's tips for how to select asparagus to learn more!
Fun fact: Did you know that asparagus is a member of the lily family? It was first grown in the Mediterranean region more than 2,000 years ago. We're glad this spring veggie made its way to the Americas with early settlers.
Shaving asparagus is a different and interesting way to use the spears. Simply hold onto the tip and use a vegetable peeler to shave off strips working in a downward motion. You can use the shavings in pasta, salads or on this flatbread, for example. If you'd like to keep this a vegetarian dish, just leave off the shrimp – it's still just as delicious!
This shaved asparagus & herbed cheese flatbread with wild Patagonian shrimp is great as an appetizer, for happy hour or even for brunch or lunch. Hosting a viewing party for The Bachelor or The Bachelorette? This is the perfect snack.
We have many asparagus recipes on our blog, so be sure to use the search bar for more ideas!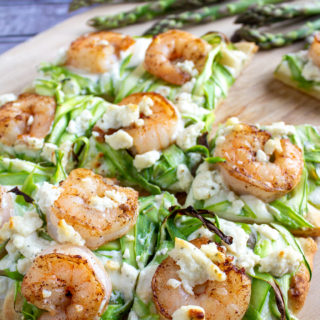 Shaved Asparagus & Herbed Cheese Flatbread with Wild Patagonian Shrimp
This is perfect for book club or "The Bachelor" party nights! The creamy herbed cheese pairs deliciously with in-season asparagus, and the shrimp add the perfect touch. Inspire by Tasty Kitchen. Serves about 4.
Ingredients
Ingredients:
1

large piece of naan

1

Tbsp

butter

8 to 10

wild Patagonian red shrimp

Salt and pepper

to taste

4

oz.

fresh mozzarella

sliced

Half a bunch of fresh local asparagus

ends trimmed, stalks shaved into strips with a vegetable peeler

About 2.5 oz a spreadable herbed cheese

such as Boursin garlic & fine herbs or Nicasio Valley Foggy Morning with garlic & basil
Instructions
Preheat oven to 450°F.

Heat a large skillet over medium-high heat. Toast the naan bread for about 1 to 2 minutes a side so it's lightly toasted. Set aside.

To the same skillet, add the olive oil and butter over medium-high heat. Season the shrimp with salt and pepper and add to the hot skillet. Cook for about 1 min a side, flipping once; remove to a plate (shrimp will finish cooking in the oven).

Add sliced mozzarella to the flat bread in a single layer. Add the shaved asparagus and then the shrimp. Dot the top generously with the herbed cheese.

Bake the flatbread on a rimmed baking sheet for 8 to 10 minutes or until the cheese is melty and lightly toasted. Allow to rest about 3 minutes then slice into 8 to 10 pieces.