Pomegranate Quince Balsamic Recipe Roundup
This beautiful, red-hued balsamic is a unique and magical combination. It has great pomegranate flavor with a hint of quince, and makes a refreshing salad dressing, vinaigrette or marinade. Distinctly fruity.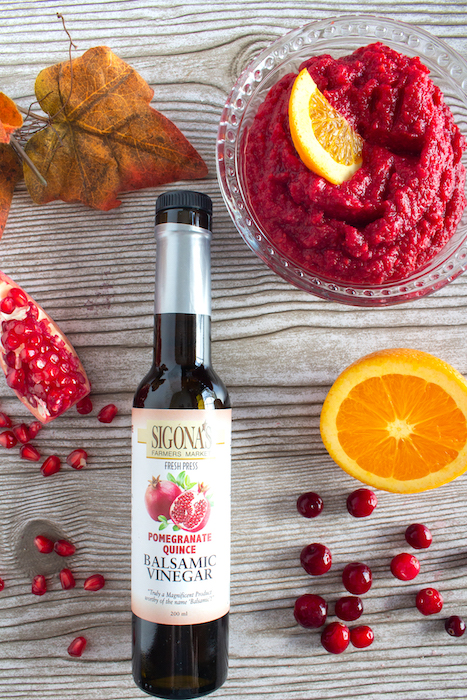 Fresh Cranberry & Orange Relish with Pomegranate-Quince White Balsamic
This beautiful, no-cook condiment is a staple at every holiday table, but it's also great to have in the fridge throughout the year for turkey sandwiches, sprucing up breakfast waffles or just slathering on a dinner roll for something special. Our Pomegranate-Quince white balsamic is tangier than our regular, richly flavored pomegranate, yet it adds just the right amount of sweetness to this relish that there is no need for added sugar. Original recipe from The Olive Oil & Vinegar Lover's Cookbook. Makes about 2 ½ cups.
Ingredients:
Directions: Place the orange (yes, peel and all), cranberries and balsamic in a food processor or blender. Begin by pulsing a few times to break up the larger pieces, then puree the mixture until completely combined. It will still be a little chunky in texture.
Let relish to sit at room temperature for 2 hours before serving, to allow the balsamic to develop the flavors. Taste; add more balsamic by the teaspoonful if necessary.
Store in the fridge in an airtight container for up to one week.
---
Roasted Beet Salad with Creamy Camembert and a Grainy Mustard & Pomegranate Quince Balsamic
A lively, bright salad. Serves 6 to 8.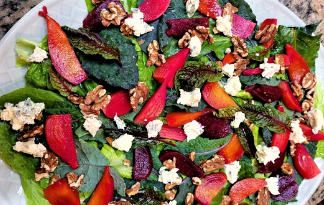 Ingredients:
4 to 5 medium beets, scrubbed
10 cups mixed baby greens
1/2 cup Sigona's Pomegranate-Quince White Balsamic
1/3 cup Sigona's Fresh Press Extra Virgin Olive Oil
2 tsp grainy mustard
1/2 cup toasted walnuts, coarsely chopped (look for fresh, California grown walnuts in our Dried Fruit & Nuts department)
4 oz. camembert cheese, such as Green Hill, (or other semi-soft cheese), torn or sliced into pieces
Salt & pepper, to taste
Directions: Preheat oven to 350°F. Wrap the cleaned beets in a square of foil, creating a sealed packet, and roast for 25 min.
Remove the beets and open the packet to allow the beets to cool. Once they are cool enough to handle, gently rub the skin from the beets and cut them into 1/2″ thick slices.
Add the sliced beets and balsamic to a large bowl. Toss to coat and allow the beets to marinate for 20 minutes. Remove the beets and reserve the marinade.
Whisk 1/3 cup of the reserved beet marinade with the grainy mustard, a pinch of salt to taste, and freshly cracked pepper until well blended.
Slowly drizzle in the oil, whisking constantly until emulsified. In a large bowl, toss the greens with the vinaigrette.
Arrange the dressed greens on a platter. Top with toasted walnut pieces, cheese and beet slices. Serve immediately