Grilled Vegetable and Goat Cheese Pizza
Roasted Veggie Pizza with Laura Chenel's Chives & Shallots Goat Cheese Spread
Simple, flavorful, light and satisfying. This new cheese from Laura Chenel lends excellent herbaceous flavor to a roasted veggie pizza. We love the combo on Stonefire's naan pizza crust. Recipe adapted from Stonefire Authentic Flatbreads. Serves 4.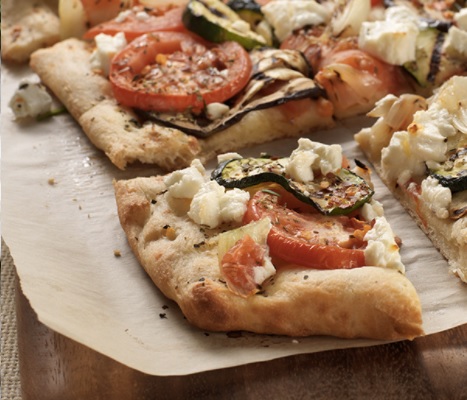 Ingredients:
1 Stonefire Artisan Thin Pizza Crust round
1 medallion (3.5 oz.) Laura Chenel's pure goat cheese with chives & shallots
2 cups assorted chopped grilled or roasted vegetables – mushrooms, eggplant, zucchini, red onions, red peppers, etc. (Need some roasting instructions? Check out our roasted vegetables recipe.)
1/2 cup shredded mozzarella
If needed: A2 Tbsp. Sigona's Fresh Press Extra Virgin Olive Oil
Salt and freshly ground pepper, to taste
Directions: Preheat oven to 450°F degrees.
Remove one pizza crust from packaging and spread evenly with as much of the goat cheese medallion as you wish.
Roughly chop the grilled veggies into 1/2-inch pieces and toss. If the veggies were previously roasted and could use a bit of freshening up, toss the veggies in some olive, salt and pepper.
Spread the veggies out over the pizza in a single layer. Top with shredded mozzarella.
Bake pizza on a baking sheet for 8 to 10 minutes or until the cheese is melted to your liking. Allow to rest about three minutes; slice and serve.