In the Kitchen with Sigona's Featuring: Local Asparagus
Herbes de Provence Roasted Asparagus and Vegetable Medley Finished with Ancient Sea Salt
You can use any combination of vegetables in this medley; we've adapted this recipe from The Pioneer Woman where she includes eggplant and red onion. The Herbes de Provence Olive Oil infuses flavors of rosemary, thyme, marjoram, savory and oregano, which season the vegetables beautifully. Try another of Sigona's infused oils to incorporate a different flavor, such as our Garlic Olive Oil, Smokey Chipotle Olive Oil or the Tuscan Herb Olive Oil. Serves 6 to 8.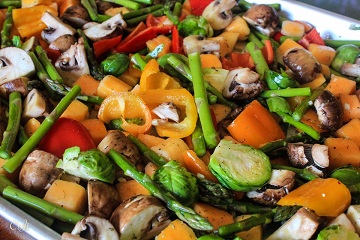 Ingredients:
12 mini sweet peppers, assorted colors, halved, seeded and quartered, if large
12 to 15 brussels sprouts, peeled and halved
1 bunch organic asparagus, ends trimmed, stalks cut into thirds
8 oz. cremini (aka baby bella) mushrooms, quartered
2 cups cubed butternut squash, about 1-inch cubes
3 cloves garlic, minced
1/2 tsp onion powder, optional
1/4 to 1/2 tsp dried dill
Ancient sea salt, for finishing (we recommend Iburi-Jio Cherrywood Smoked Salt or the Salfiore di Romagna Salt, all of which are from Salt of the Earth, available at Sigona's)
Directions: Preheat oven to 450°F.
Spread out the prepared peppers, Brussels sprouts, asparagus, mushrooms, squash and garlic on a rimmed sheet pan. Drizzle with olive oil and sprinkle on the dill and onion powder, if using. Gently toss the mix until well coated.
Roast for 30 to 40 minutes, shaking the pan about every 7 to 10 minutes. Veggies should be tender and lightly browned. Sprinkle the roasted vegetables with a bit of sea salt , to taste, to finish the dish. Serve warm.
Asparagus & Bacon Tart with Herbed Cream Cheese and Fresh Lemon Zest
Deliciously lovely for brunch, an appetizer or as a side for dinner, this asparagus dish may quickly become your go-to for entertaining guests. Serves 3 to 6.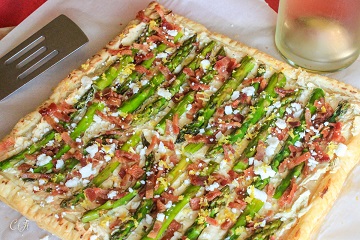 Ingredients:
1 sheet puff pastry, thawed according to package directions
1 bunch organic asparagus
2 tsp. Sigona's Fresh Press Extra Virgin Olive Oil
4 oz. cream cheese or goat cheese, at room temperature
1 green onion, minced
1 large clove of garlic, minced
2 1/2 tsp. fresh lemon zest, divided
Salt and pepper, to taste
2 to 3 slices bacon
2 Tbsp. crumbled Feta
Directions: Preheat the oven to 400°F.
Place the thawed sheet of puff pastry on a parchment-paper lined baking sheet. Using a sharp knife, lightly score a border about a 1/2 inch in from the edge of the pastry, being careful not to cut all the way through. Place in the oven to bake for about 12 minutes (this is to give the pastry a head start on baking to ensure the it will cook all the way through once it's loaded with toppings).
Meanwhile, in a small bowl, blend together the cream cheese, green onion, garlic, 1 1/2 teaspoons lemon zest and pepper, to taste. Set aside.
Cut the asparagus into pieces about 3 to 4 inches long, from the top down. Save the bottoms for another use (such as a stir fry, quiche, etc.). Toss the spears with the olive oil and season with salt.
Spread the cream cheese mixture over the puff pastry, avoiding the scored border. Lay the asparagus on the pastry in a single layer, using a pattern if desired (we made two columns of asparagus, alternating the direction of each spear).
Place the pastry back in the oven to bake for 12 to 16 minutes until the asparagus is tender and the pastry is cooked and lightly browned.
While it's baking, cook the bacon in a large skillet until crisp. Remove bacon to a plate lined with a paper towel and allow it to cool to the touch. Crumble or chop it into small pieces.
Finish the baked tart with an even sprinkle of crumbled bacon, Feta and remaining lemon zest.
Spring Risotto with Asparagus, Carrots, Peas, Leeks and Chives
Risotto is a dish that lends itself nicely to any season. Whether loaded with fresh green vegetables in the spring or festive orange butternut squash in the fall, it's always a comfort dish that's worth the time and patience. Serves 4 to 6.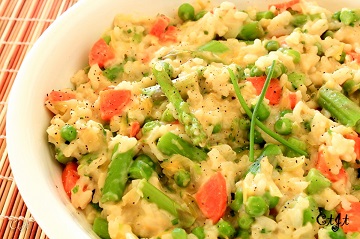 Ingredients:
8 oz. (about 1/2 a bunch) organic asparagus, ends trimmed, remaining stalks cut on the diagonal into 1- to 2-inch pieces
4 cups chicken stock
2 Tbsp. Sigona's Fresh Press Extra Virgin Olive Oil
1 cup sliced leeks or ramps (wild leeks), sliced on the diagonal, white and medium-green parts only
1 to 2 carrots, peeled and chopped (about 1 cup)
Salt and pepper, to taste
1 cup uncooked Arborio rice
1/2 cup dry white wine
1 cup green peas or shelled and blanched fava beans
3/4 cup freshly grated Parmigiano Reggiano
3 Tbsp. to 1/4 cup chopped fresh chives, to taste
Optional: Sigona's Basil Oil, for drizzling
Directions: Blanch the asparagus pieces in boiling water for about 3 minutes. Drain and place immediately in an ice bath. When cool, drain from the ice water and set aside.
In a small saucepan, warm the chicken stock over low heat.
In a large, deep skillet, heat olive oil over medium heat. Add the leeks/ramps and the carrot, season with salt and pepper. Sauté, stirring occasionally, for about 4 to 5 minutes or until veggies just become tender.
To the veggies, add the Arborio rice and cook about 1 minute, stirring occasionally. Add the wine and cook about 30 seconds or until the liquid is almost absorbed. Reduce heat to low, medium-low and add 1 cup of the warmed stock. Cook, stirring constantly, for about 3 to 4 minutes or until the liquid is nearly absorbed.
Adding a 1/2 cup at a time, add the remaining stock, stirring constantly, adding more only when the liquid is nearly absorbed each time. This process will take a while, about 20 to 30 minutes.
When 1/2 cup of broth remains, add in the blanched asparagus and peas to the mix when the broth is added to the rice.
When the liquid is nearly absorbed and the risotto is nice and creamy, remove from heat and add in the cheese and chives. Stir well to combine. Season with salt and pepper to taste.
If desired, drizzle with Sigona's Basil Oil. Serve warm.