In the Kitchen with Sigona's Featuring: Acorn Squash
Roasted Acorn Squash and Apple Soup with Wild Mushroom & Sage Olive Oil
Roasting all the veggies brings out their natural sweetness, which is enhanced by the addition of apple in this soup. The wild mushroom and sage olive oil adds a lovely herbaceous and earthy note to this festive soup. It's kid-friendly, too! Serves 4.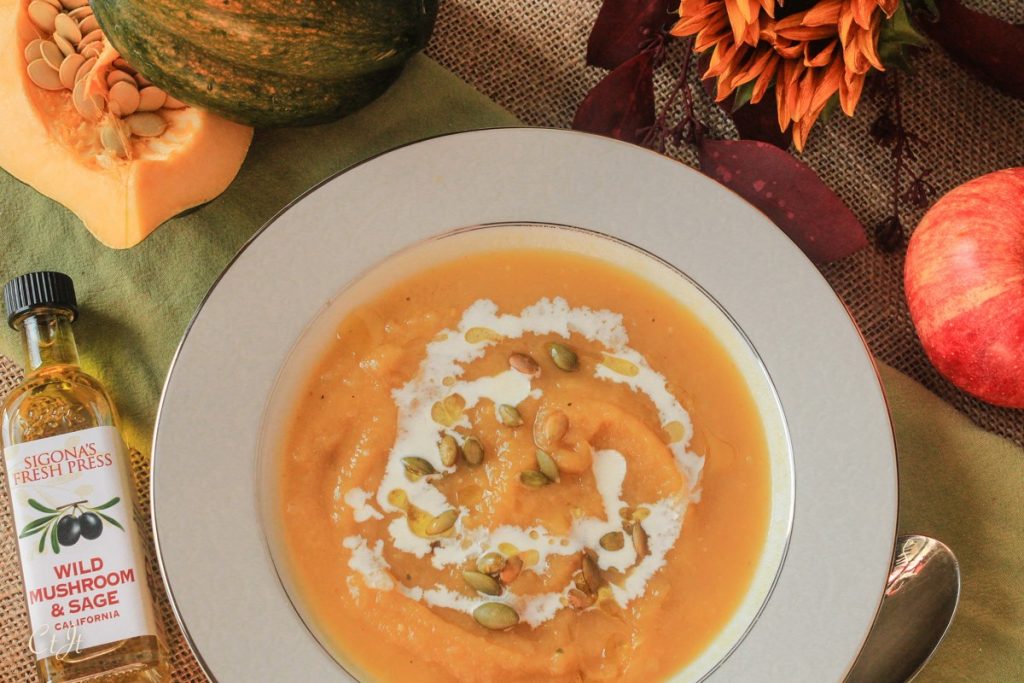 Ingredients:
1 acorn squash, halved, seeded, sliced and chopped into 3-inch chunks
1 large apple, peeled, cored and chopped, such as a Fuji, Rome or a Mutsu
Half a yellow onion, chopped
2 cloves garlic, peeled and lightly smashed
Salt and pepper, to taste
A pinch or two ground chili or cayenne powder, to taste
2 Tbsp. Sigona's Wild Mushroom and Sage Olive Oil, plus more for garnish
At least 4 cups vegetable or chicken stock, add more to thin the soup consistency, if desired
2 Tbsp. roasted salted pepitas, for garnish
Optional: Half & Half, for drizzling
Directions: To a large bowl, add the chopped squash, onion, apple and garlic. Season with salt, pepper and a pinch or two of chili or cayenne powder. Add the olive oil and toss to coat all ingredients well.
Spread the ingredients out on a baking sheet in a single layer. Roast for about 40 minutes, or until the squash is tender, shaking the pan to jostle the ingredients after 20 minutes.
Use a spoon to scoop the squash from the skin, discarding the skin. (Tip: Hold the squash pieces in a towel in one hand while scooping with the other. The towel will help protect hands from heat.) Place the peeled squash and remaining ingredients in a soup pot. Add the stock and bring to a boil over high. Cover and lower heat to a simmer; cook for 10 minutes.
Using an immersion blender, food processor or blender, carefully puree the ingredients until smooth, working in batches if necessary. If desired, add more stock to thin the soup to your liking.
Ladle the soup into 4 individual serving bowls. If desired, drizzle a little half & half over each serving. Top with pepitas and drizzle with additional olive oil. Serve warm.
Brown Sugar and Maple Roasted Acorn Squash with Crushed Pecans
Roasting this dish in the oven makes the whole house smell like Thanksgiving. It's truly a comforting use of acorn squash; you'll love it. serves 4.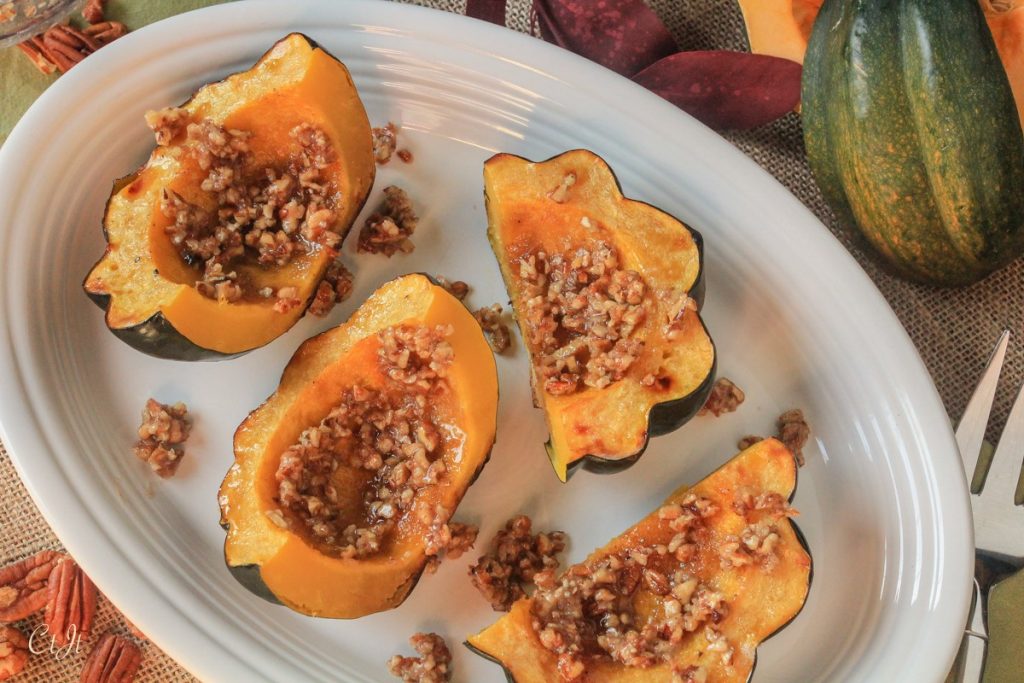 Ingredients:
1 acorn squash
2 Tbsp. brown sugar
2 Tbsp. butter at room temperature
2 Tbsp. real maple syrup, plus more for drizzling, if desired
Salt and pepper, to taste
1/4 cup pecans
Directions: Preheat oven to 400°F. Line a rimmed baking sheet with aluminum foil.
Slice the acorn squash in half horizontally. Scoop out the seeds and discard. If the squash halves don't sit nearly upright when placed cut-side up on a baking sheet, trim the bottoms to make a flat surface, being careful not to cut any holes in the cavity.
In a bowl, mix together the brown sugar, butter and maple syrup. Season with a bit of salt and pepper. Rub the mixture evenly over the insides of the squash, and up along the cut surface. Place squash on the baking sheet and roast for 50 to 60 minutes or until tender.
Carefully pour the melted brown sugar and butter mixture from the squash halves into a food processor (if the mixture has leaked out of the squash while roasting, add a little more of the mixture ingredients to the food processor). Add the pecans and pulse the mixture a few times until the pecans are finely chopped.
Slice the roasted squash halves in half once more, creating 4 wedges. Transfer the squash to a serving platter and top each wedge with the pecan mixture. Serve warm, drizzled with a little more maple syrup, if desired.
Pumpkin-Pie-Spiced Acorn Squash Stuffed with Quinoa, Kale and Pomegranate
You'll be delighted with the flavors of this side dish. The pumpkin pie spice gives the squash a warm depth of flavor that is simply delicious with the quinoa stuffing. The pomegranate arils provide a perfect burst of tart-sweet that brings it all together. Adapted from Cooking Light. Serves 2 to 4 as a side.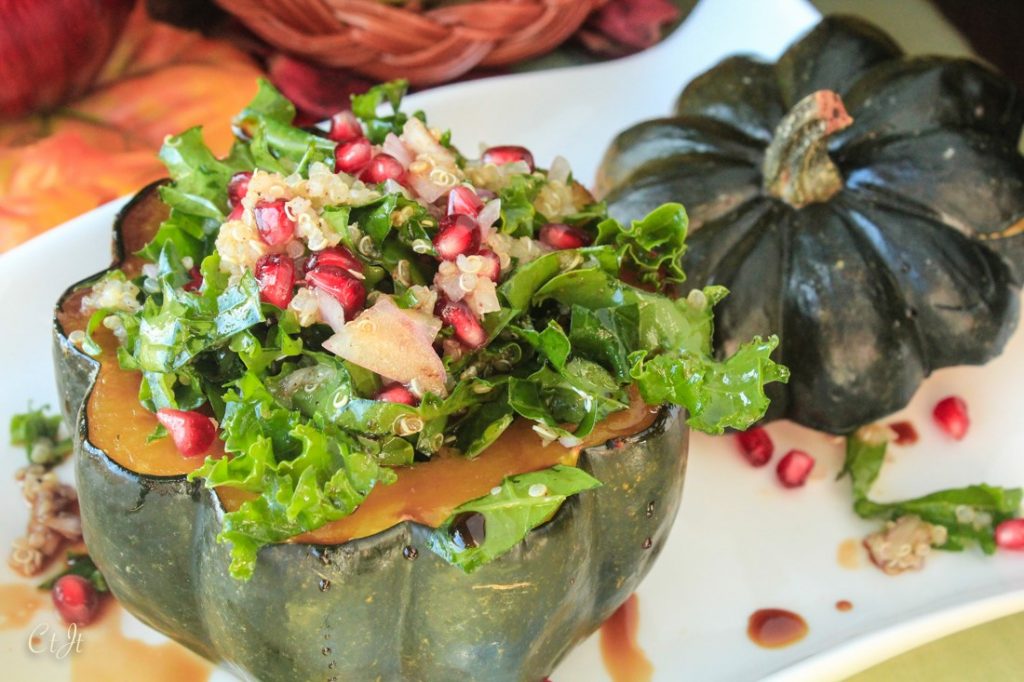 Ingredients:
1 acorn squash
1 1/2 Tbsp. Sigona's Fresh Press Extra Virgin Olive Oil, divided
1/2 tsp. pumpkin pie spice, divided
Salt and pepper, to taste
2 Tbsp. uncooked quinoa
2 Tbsp. fresh lemon juice
1 large leaf of green kale, tough stem discarded, greens thinly sliced and roughly chopped (about 1 to 1 1/2 cups)
1/4 cup pomegranate arils
2 Tbsp. minced shallot
1 tsp. honey, such as Wild flower honey by Honey Hole Honey Co., available at Sigona's
1 Tbsp. Sigona's Pomegranate Balsamic
Directions: Preheat oven to 350°F. Line a baking sheet with parchment paper.
Since the stem end off of the acorn squash, about 1 inch down, to create a lid. Slice a little off the opposite end so the squash will sit upright. Scoop out and discard the seeds and membrane. Rub the inside of the squash and lid 1/2 tablespoon of olive oil and sprinkle with 1/4 teaspoon pumpkin pie spice; season with salt and pepper to taste.
Place the squash and the lid cut-side down on the baking sheet and roast for 55 minutes or until tender.
Meanwhile, cook the quinoa according to package directions.
In a large bowl, whisk together the lemon juice, remaining pumpkin pie spice and olive oil. Season with salt and pepper to taste. Add kale, cooked quinoa, pomegranate and shallot; toss well to coat.
In a small bowl, mix together the honey and balsamic; set aside.
Scoop the kale stuffing into the hollow of the cooked squash and place on a serving dish.
Drizzle half of the balsamic and honey mixture over the stuffed squash and serving dish. The squash lid can be used as decorative garnish; the flesh can be scraped out and eaten if desired.
To serve, slice the squash in half or quarters, making sure each piece is served with an equal amount of the stuffing. Drizzle with remaining balsamic and honey mixture.