In the kitchen with Sigona's Featuring: Cauliflower
Raw Cauliflower Tabbouleh Salad with Tomatoes and English Cucumber
Tabbouleh is traditionally made with a grain, generally bulgar. If you're grain-free, try this raw cauliflower twist! Tabbouleh is mainly veggies in a lemon and olive oil dressing, so replacing the grain with cauliflower makes it even more packed with freshness and nutrients. Recipes courtesy of Luisa Ormonde of Luisa's Catering. Serves 6 to 8.
Ingredients:
1 head of cauliflower, core removed, chopped into florets
1 bunch finely chopped parsley
Handful finely chopped fresh mint, to taste
2 cups finely diced tomatoes
1 bunch green onions, thinly sliced (or rinsed red onion, finely diced)
1 English cucumber, peeled and finely diced
Fresh lemon juice, to taste (a couple tablespoons at least)
Sea salt and freshly ground black pepper, to taste
Optional: 1 half an avocado per serving
Directions: Place the cauliflower florets in a food processor; pulse until the cauliflower is riced (small, rice-sized bits).
Place the riced cauliflower in a large bowl and add the parsley, mint, tomatoes, green onions and cucumber. Gently stir to incorporate.
In a small bowl, whisk together the olive oil, lemon juice, salt and pepper. Pour over the salad and stir to coat well. Chill before serving.
Serving option: Slice an avocado in half, remove the pit and carve a little well in the center, larger than the pit hole. Carefully use a spoon to scoop the fruit from the skin, leaving the half intact. Scoop tabbouleh into the well and garnish with some of the avocado that was carved out.
Individual Pizza Margherita on Cauliflower Crust
Diners young and old will love this sneakily healthy pizza crust. Dress the crust with your favorite toppings or use our suggestion and try the Margherita style. It's simple and delicious. Makes 8 individual size pizzas.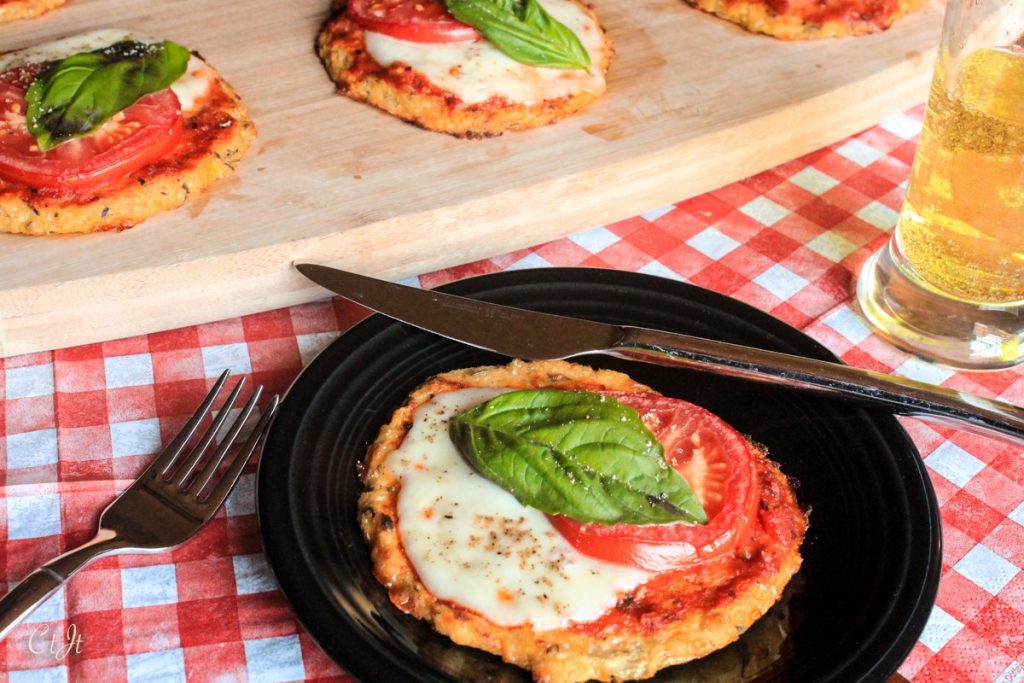 Ingredients:
1 head of cauliflower, cut or torn into florets
1 teaspoon dried thyme
1 teaspoon dried oregano
1 teaspoon garlic powder
1 teaspoon dried basil
Salt and pepper, to taste
2 eggs
At least 4 Tbsp. marinara or pizza sauce
2 Roma or on-the-vine tomatoes, sliced (at least 8 slices)
1 (8 oz.) ball fresh mozzarella, sliced (at least 8 slices), such as BelGioioso
8 large fresh basil leaves
Directions: Preheat oven to 425°F.
Working in batches, place the cauliflower in a food processor and process until it resembles fine grain. Place the processed cauliflower in a large, microwave-safe bowl and cover with plastic wrap. Poke a couple holes in the plastic and then microwave the cauliflower for 5 minutes. Fluff with a fork and allow to cool 5 to 10 minutes, fluffing occasionally.
Working in two or three batches, place the cauliflower in a clean tea towel, then twist and squeeze to wring out as much liquid as possible. The drier the better, or the crusts will be soggy. Discard the liquid.
Add the thyme, oregano, garlic powder, basil, salt and pepper to the cauliflower and fluff with a fork until well incorporated. Add the eggs and mix until combined. Pat down the mixture and divide into 8 equal portions.
Scoop out one portion at a time, rolling it into a ball. Place the ball on a parchment-lined baking sheet and gently pat out into a flat circle about 4 inches in diameter. (You can easily fit 4 per baking sheet.) Bake the crusts for 15 to 18 minutes until lightly browned on top and around the edges. The middles should feel cooked through.
Spread a heaping 1/2 tablespoon of marinara or pizza sauce on top of each baked crust. Add a slice of cheese followed by a slice of tomato. Bake pizzas for about 5 to 8 minutes or until cheese is melty. Remove from the oven and place one basil leaf atop of each pizza; season with a little black pepper.
Allow pizzas to rest about 5 minutes before serving.
Turmeric and Smokey Chipotle Roasted Cauliflower
Roasting a whole head of cauliflower is so simple, beautiful and delicious. The process also gives the vegetable a smooth texture and mellow flavor, which pairs well with bright turmeric and the smokey chipotle from our infused oil. Recipe inspired by Bondi Harvest. Serves about 6.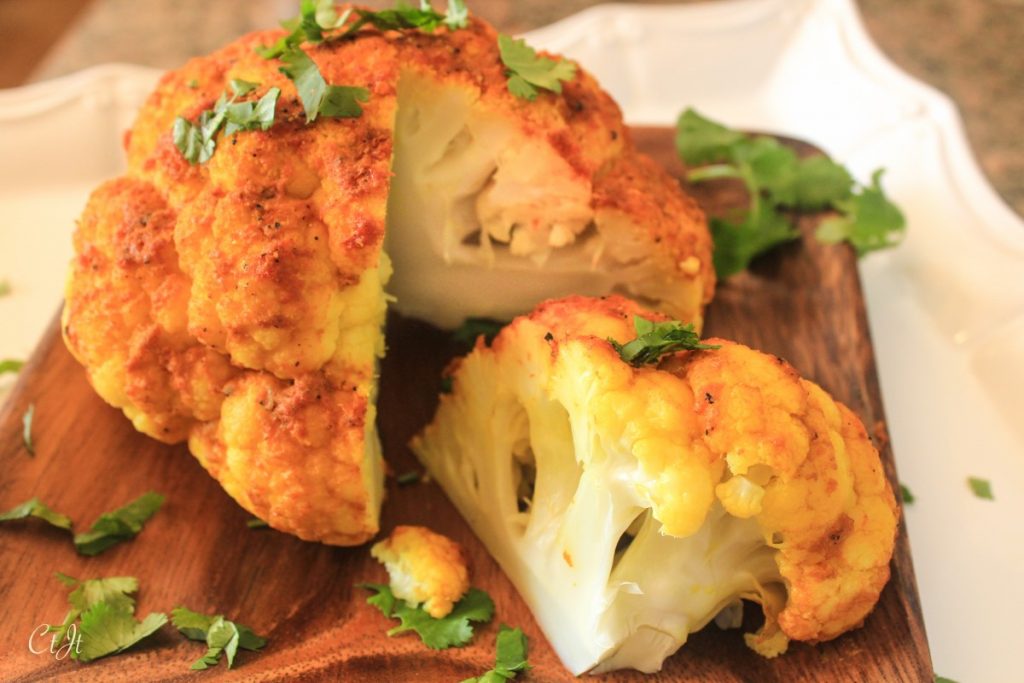 Ingredients:
1 whole cauliflower
1/4 cup of Sigona's Smokey Chipotle Olive Oil
1 navel orange
1 Tbsp. turmeric
Salt and black pepper
Chopped cilantro, for garnish
Optional: Plain yogurt, for serving
Directions: Preheat oven to 400°F.
In a small bowl, whisk together the olive oil, orange zest, turmeric, salt and black pepper.
Slice the orange into 1/4-inch discs and lay them in a single layer in the bottom of a tall, oven-proof pot or sauce pan wide enough so the cauliflower fits, but not much wider than the head itself.
Place the cauliflower on top of the orange slices and slowly pour or spoon the olive oil mixture over the cauliflower. Make sure the entire cauliflower head is covered.
Cover the pot with a lid or foil and place in the oven for 20 minutes. Uncover and cook for another minutes.
To serve, either slice the cauliflower into steaks or wedges. Sprinkle with cilantro and add a dollop of yogurt, if desired.