In the Kitchen with Sigona's Featuring: Local Mandarins
Organic Kale and Mandarin Salad with a Honey-Ginger Vinaigrette
This simple, bright and fresh salad is delicious with its sweet, tangy vinaigrette made with our Honey-Ginger White Balsamic — one of our favorite infused balsamics! Kale and citrus are so flavorful on their own that this salad only needs a few ingredients. The crispness of the kale is nicely balanced with the creaminess of the avocado. Serves 2 to 4.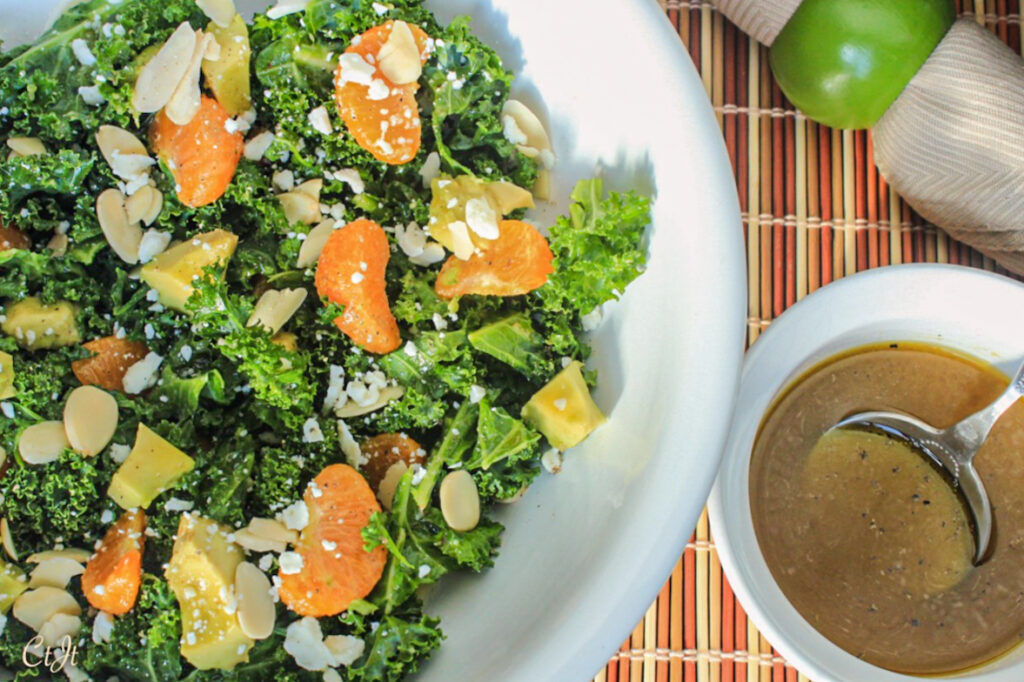 Ingredients:
Salad:
1/2 bunch organic kale, stems removed, leaves roughly chopped to bite-size pieces
2 to 4 mandarins or other small orange citrus fruits, peeled and segmented
1 medium avocado, cubed
2 to 3 Tbsp. sliced or slivered almonds
3 to 4 Tbsp. crumbled Feta or goat cheese
Optional: Sesame seeds, for sprinkling
Directions: Together in a small bowl, whisk together the shallot, garlic, Dijon, soy and balsamic. While whisking, drizzle in the olive oil to emulsify (thicken) the mixture. Season with salt and pepper; set aside.
Place the kale in a large bowl. Massage and lightly squeeze the kale for at least 2 minutes to soften its texture. Add the citrus and avocado then toss gently to mix. Add about half of the vinaigrette and toss gently until well coated.
If serving in a large bowl, sprinkle with almonds, cheese and sesame seeds, if using. If serving on individual plates, equally divide the salad among plates and then sprinkle with toppings. Serve remaining vinaigrette on the side.
---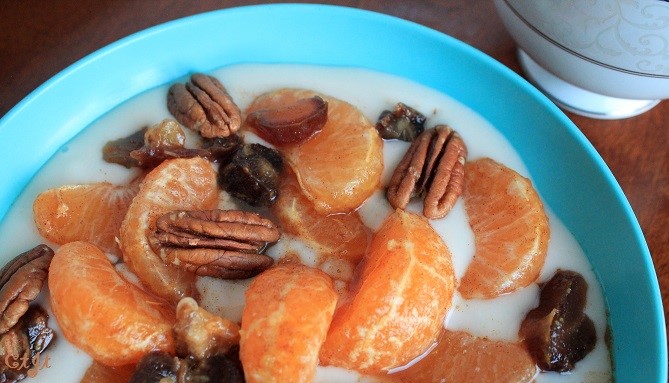 Mandarin & Medjool Date Salad Over Yogurt
This recipe, adapted from Sunset magazine, is a classic combination of flavors from Morocco. Leave the yogurt out and serve this as a side at dinner, if desired.
Ingredients:
About 1 1/2 mandarins per person
1/4 cup pitted, chopped Medjool dates per person
1/4 to 1/2 tsp. cinnamon per person
Whole raw pecan halves, for sprinkling
6 to 8 oz. plain or vanilla yogurt per person
Directions: Peel and segment one Satsuma and place segments in a medium bowl. Juice the remaining half Satsuma over the same bowl. Add the dates and cinnamon, stir to combine.
Spoon yogurt into individual bowls. Spoon on the Satsuma mixture and sprinkle with a couple raw pecans.
---
Chinese Chicken Salad with Mandarins and Cashews
Everyone likes a good chicken salad sandwich, or even the chicken salad on a crisp piece of romaine! This is a different twist on a classic, layering flavors to create a dish you'll make again and again. Serve it on a croissant, with crackers on a bed of lettuce or boat-style on a leaf of romaine lettuce. Serves about 4.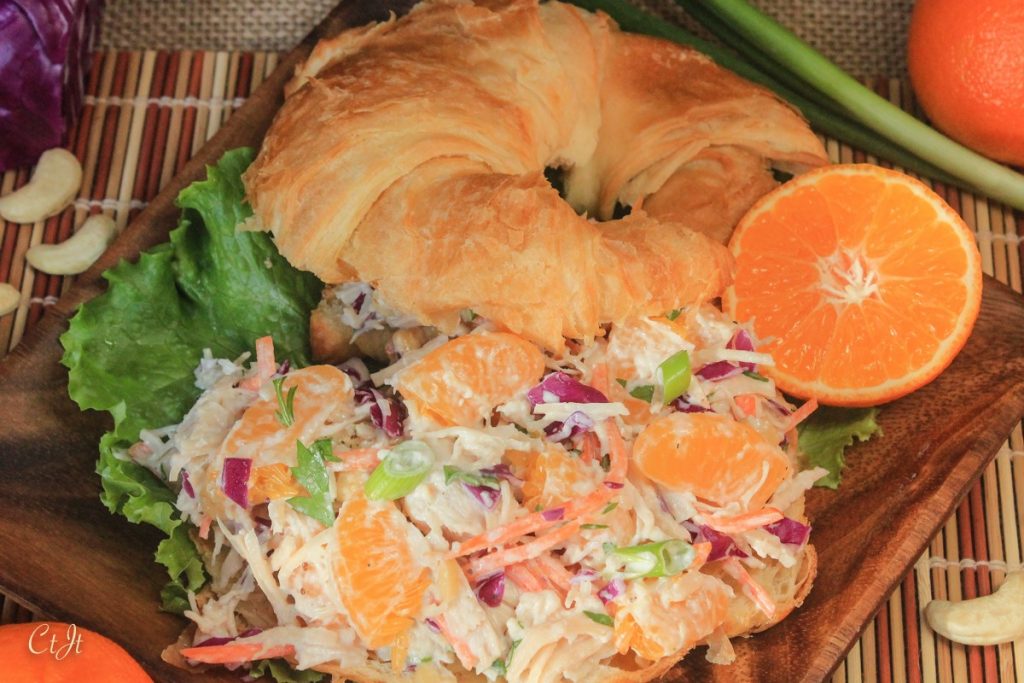 Ingredients:
3 large chicken breasts, cooked and shredded (poaching is great for shredding, as is the slow cooker)
About 1/2 cup mayonnaise or a mix of plain yogurt and mayonnaise.
1/8 tsp. sesame oil
1/8 tsp. rice vinegar
1/8 tsp. ground ginger
3 to 4 mandarins, peeled, halved horizontally and segments separated
1/3 cup shredded carrots
1/3 cup chopped red cabbage
1/4 cup chopped cashews
1 to 2 greens onion, diced
Salt and pepper, to taste
To serve, choose from:
Croissants
Fresh greens
Crackers
Leaves of romaine lettuce
Directions: In a small bowl, whisk together the mayo/yogurt, sesame oil, rice vinegar and ginger. Set aside.
In a large bowl, add the cooked, shredded chicken, carrots, cabbage, cashews and green onions. Stir in the mayo/yogurt mixture and gently stir to incorporate. Taste; season with salt and pepper as desired.
Enjoy as a sandwich, salad, with crackers or boat-style using leaves of romaine.
---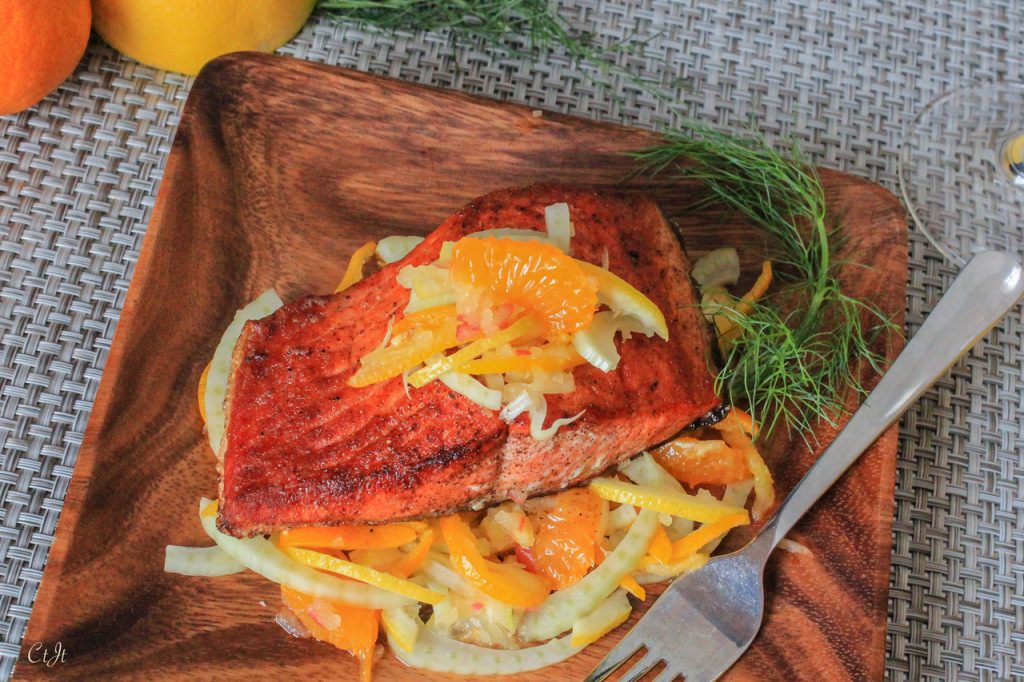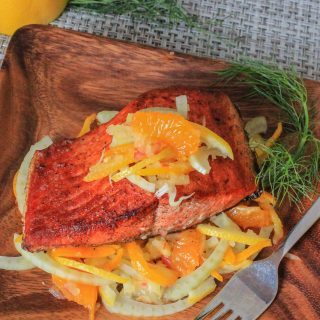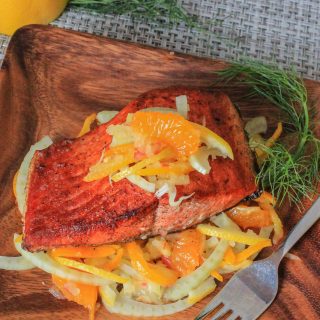 Pan-Seared Wild Salmon with Carmelo's Citrus-Fennel Slaw
"The beauty of most of the citrus fruits used in this dish is that the peels are edible and delicious. The kumquat has a sweet skin with a tart fruit, so as you chew the sweet and sour mix, delightfully complementing one another. Our satsuma vanilla balsamic adds a little sweetness without taking over, and the fennel adds a fantastic, bright crunch. It's simply excellent." – Carmelo Sigona. Serves 2.
Ingredients
Slaw:
2

mandarins

supremed*

2

kumquats

1

medium bulb fennel

halved lengthwise and cored, fronds removed and reserved

Half a Meyer lemon

sliced horizontally

Half an apple of your choosing

Sigona's Fresh Press Extra Virgin Olive Oil

just a touch

Sigona's Satsuma Vanilla Cream Balsamic

just a touch

Salt and pepper

to taste
Salmon:
2

Fillets wild salmon

about 3 to 5 oz. each

Grape seed oil or butter

about 1 tablespoon

Salt and pepper

to taste
Instructions
For the slaw: Place the mandarin supremes in a large bowl. Slice the top and bottom off the kumquats and cut them in half lengthwise, leaving the peel on the fruit. Remove any seeds then julienne the kumquats lengthwise, give them a rough chop and add to the bowl.

Fit a mandoline with a 1.5 mm or similar blade size and thinly slice the fennel. Alternatively, use a sharp knife to thinly slice the fennel into slices less than 1/4-in thick. Give the fennel a rough chop so they're about the size of the other ingredients.

Use the mandoline or knife to slice the Meyer lemon into thin rings. Remove any seeds then julienne the rings – peel and all; give them a rough chop and add to the bowl. Grate the apple and add to the bowl. Add just a touch of olive oil and balsamic, season with salt and pepper, toss and allow the mixture to rest for about 10 minutes while you cook the salmon.

For the salmon: Heat the cooking oil in a nonstick skillet over medium-high heat. If using butter, heat it until the foam subsides and it turns a deep golden brown, about 3 minutes.

Season both sides of the salmon with salt and pepper. When skillet is ready, add salmon to the skillet skin-side up. Cook without flipping for 3 to 5 minutes or until the fish turns a nice deep crispy brown. Flip the fish and allow it to cook to desired doneness, about 3 minutes more depending on thickness.

To plate the dish, use your hands or a slotted spoon to scoop out about a 1/3 of the slaw. Give it a light squeeze to remove some of the liquid before piling it on an individual plate. Lay a salmon fillet on top of the plated slaw and top the salmon with another tablespoon of gently squeezed slaw. Repeat with remaining slaw and the second fillet. Serve immediately, garnished with fennel fronds, if desired.

*Supreming citrus: It takes time and patience, but is well worth the effort! To do this, cut the top and bottom off of your citrus fruit. Slice the peel from the fruit, top to bottom, getting as close to the flesh as possible. Once the peel is removed, slice any remaining pieces of white pith from the fruit so no white remains. Then, working over a bowl to catch the juices, slice closely along the sides of each membrane to neatly remove the citrus segments in between. And there you have it!