Recipe Roundup: Blood Orange Fusion Olive Oil
Blood oranges and olives are pressed together to create this agrumato (or combination) of whole, fresh citrus fruits crushed with olives. Use the Blood Orange Fusion Extra Virgin Olive Oil on fish and seafood, chicken, fruit, salads and much more. It's absolutely delicious when blended with our Cranberry-Pear White Balsamic Vinegar for a lively, tart vinaigrette.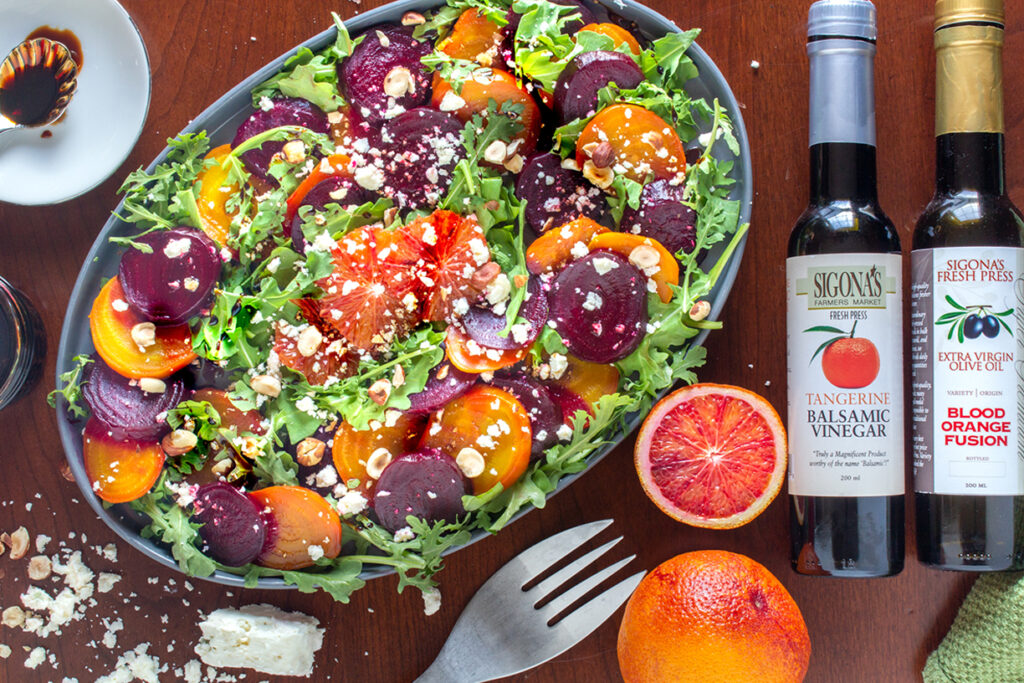 Blood Orange Roasted Beets with Crumbled Cheese and Hazelnuts, Drizzled with a Tangerine Balsamic Reduction
This is a bright and beautiful dish to serve during the dreary winter months. The beets soak up the flavor of the blood orange oil as they roast, adding to their natural sweetness, and the tangerine balsamic reduction lends another layer of syrupy sweetness balanced with a mild tanginess. Beets pair deliciously with blue or goat cheese, but if you're dairy-free, you can leave the cheese off entirely. Serves 4 to 6.
Ingredients:
4 golden beets, trimmed and scrubbed
4 red beets, trimmed and scrubbed
Zest from half a blood orange or Navel orange (use the half the orange for garnish)
1 tsp fresh minced rosemary or ½ tsp dried
Salt and pepper, to taste
200 ml Sigona's Tangerine Balsamic
A couple handfuls arugula
1/3 cup hazelnuts, lightly crushed
1/3 cup crumbled blue cheese, more to taste (you can also use crumbled goat cheese)
Directions: In a bowl, mix together the blood orange oil, zest, rosemary, salt and pepper. Toss the beets in the oil, ensuring they are well coated. Wrap each beet in foil and place on a rimmed baking sheet. Roast for 45 mins to 1 hour, until knife tender (time varies depending on beet size). Remove and set aside to cool to the touch. When cool, remove the skins by peeling it off with your fingers or rubbing with a paper towel.
As beets cool, prepare the balsamic reduction. Add the balsamic to a small heavy-bottomed saucepan and bring to a simmer over medium-low heat. Allow to simmer for about 20 minutes, stirring occasionally, until reduced by half; it should be thick and syrupy. Remove from heat; the balsamic will continue to reduce and thicken off the heat.
Slice into discs about 1/4-inch thick. Arrange a little arugula on a platter, then add the beets in a circular design, alternating colors and nestling them among and on top of the arugula; add more arugula as desired.
Sprinkle the arranged beets with crumbled cheese and hazelnuts. Garnish with a few slices of orange. Drizzle the dish with a couple tablespoons of the balsamic reduction, serve the remaining on the side. Serve immediately.
---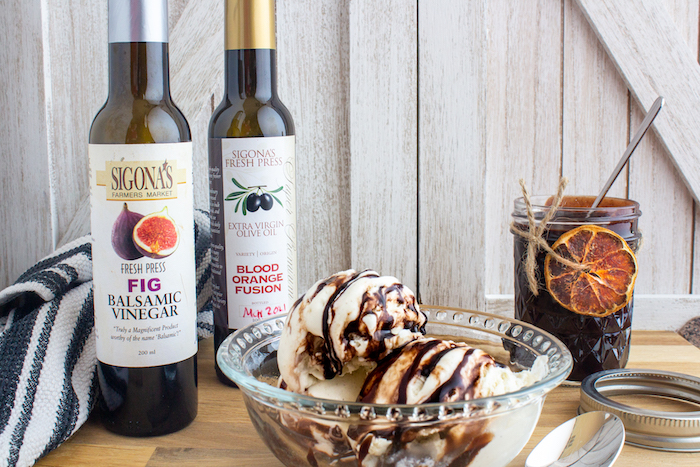 Fig & Blood Orange Fudge Sauce
Rich chocolate with a hint of orange is a classic combination so we know you'll love this fudge sauce. The fig balsamic gives it nice depth of flavor, too! This is great for gifting or for keeping on hand for drizzling over a bowl of gelato, baked or fresh fruit, ice cream or other favorite desserts. Adapted from The Olive Oil & Vinegar Lover's Cookbook. You can also cool this in an 8×8" pan, allow it to set and serve it as fudge. Makes about 1.5 cups.
Ingredients:
1 cup half & half
1/4 cup Sigona's Fig Balsamic
2/3 cup Dutch process cocoa powder
2 1/2 cups granulated sugar
1/2 tsp sea salt
2 Tbsp Sigona's Blood Orange Olive Oil
Directions: In a tall, medium pot, whisk together the cream, balsamic, cocoa and sugar. Heat over medium, stirring, until the sugar has dissolved. As soon as it boils, stop stirring. Allow the mixture to boil gently but consistently until it reaches 236°F on a candy or instant thermometer.
Remove the pot from heat and stir in the salt and olive oil. Beat with a mixer or by hand until the mixture is no longer glossy, about 5 to 7 minutes (by hand will take longer). Allow the mixture to cool a little and then transfer to a jar(s).
Use it for drizzling on desserts once it is cool enough that it will not burn the roof of your mouth. To save it for later, allow the mixture to cool at room temperature or in the fridge. To later use as a dessert topping, scoop out desired amount and reheat for 10 to 20 seconds in the microwave or on the stove top, then drizzle to your heart's content.
If you wish to make it into fudge, pour it into an 8×8-inch, parchment-lined dish and allow it to set as it cools for at least 4 hours at room temp, or in the fridge for at least 2 hours.
Store in an airtight container for up to 3 weeks in the fridge or 1 week at room temp.
---
Fresh Fruit Salad with a Honey & Poppy Seed Dressing on a Bibb Lettuce Bed
If you're looking for a salad everyone will love for Easter, look no further. This is a simple, healthy and delicious fruit salad with a fantastic honey dressing; a combination worthy of resting upon its very own bed of lettuce. These will look elegant on salad plates at your Easter tablescape. Inspired by Food Network. Serves 4.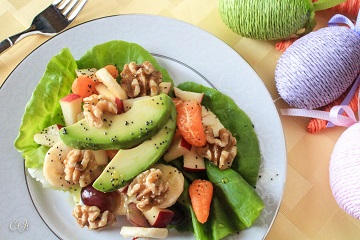 Ingredients:
1 apple, cored and diced
1 banana, sliced
2 mandarins, peeled, segments separated
1/3 cup halved red grapes
Juice from one lemon, divided
1/3 cup honey, such as orange blossom honey from Honey Hole Honey Co., available at Sigona's
1/4 cup Sigona's Fresh Press Extra Virgin Olive Oil (Mix it up! Use Sigona's Meyer-Lemon Fusion Oil or Sigona's Blood Orange Fusion Oil for more flavor!)
1/4 cup orange juice
2 tsp. poppy seeds
1/2 tsp. Dijon mustard
Salt, to taste
4 leaves from a head of Pescadero-grown Suncrest™ Bibb lettuce, separated
1/2 to 1 avocado, peeled and cut lengthwise into about 8 or 12 slices
About 1/3 cup walnuts
Directions: In a medium bowl, toss together the apple, banana, mandarins and grapes with all but 1 teaspoon of lemon juice. Set aside.
In a small bowl, whisk together the honey, oil, orange juice, the remaining one teaspoon lemon juice, poppy seeds, Dijon and salt, to taste.
Place one lettuce leaf on each of four salad plates. Divide the fruit mixture evenly between the four lettuce cups. Just before serving, fan out 2 to 3 slices of avocado on each of the salads and top with a few walnuts. Drizzle the salads with the dressing, serve any remaining on the side.
---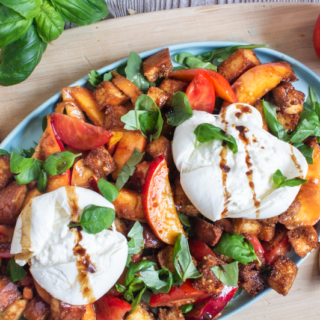 Summer's Bounty Panzanella with Air Fryer Croutons and a Blood Orange-Tangerine Vinaigrette
This is one of the most crave-able salads, trust us! Early girl tomatoes burst with flavor, yellow nectarines add just the right amount of tartness, the creamy burrata complements the peppery bite from the arugula and the sweet zing of the vinaigrette. It's a dish you'll want to make again and again, especially since the air fryer makes it easy to turn crusty bread into croutons in no time. To make this even more summery, you can add boiled or grilled corn kernels. If you don't have an air fryer, you can use the oven. Oven directions are included. Serves 4.
Ingredients
For the vinaigrette:
3

Tbsp

Sigona's Blood Orange Fusion Olive oil

2

Tbsp

Sigona's Tangerine Balsamic

1

Tbsp

minced shallot

Salt and pepper

to taste
For the salad:
Two handfuls of baby arugula

2

yellow nectarines

halved and sliced

2

Early Girl tomatoes

halved and

About 8 oz. burrata

either 1 large ball or 2 small

Fresh basil

about 10 large leaves
Instructions
For the croutons: Toss the bread cubes with the olive oil; season with salt and pepper. Add cubes to the basket or tray of an air fryer*. Cook at 400°F for about 10 minutes, shaking the basket or tray halfway through, until golden brown and crunchy. Set aside.

For the vinaigrette: Whisk together the ingredients until emulsified.

For the salad: Arrange a layer of arugula on a medium serving platter; set aside. Add prepared nectarines and tomatoes to a large bowl. Add the croutons and all but roughly 1 ½ tablespoons of the vinaigrette. Gently fold ingredients together until well coated. Spoon or dump the mixture on top of the arugula. Gently break open the burrata and place it on top of the nectarine mixture. Tear or chiffonade the basil leaves and sprinkle on top. Finish with a drizzle of the remaining vinaigrette. Enjoy immediately.

*If you prefer to use an oven, follow these steps: Bake at 425°F in a single layer on a rimmed baking sheet for about 7 to 10 minutes shaking occasionally, until golden brown and crunchy.
---
Fuyu Persimmon and Roasted Beet Autumn Salad with a Blood Orange Vinaigrette
Persimmons and beets come in to season just about the time Thanksgiving rolls around. This salad combines the two with a few other ingredients to create a fantastic salad for fall dinners. The sweetness of the persimmon, the earthy deliciousness of the roasted beets and garnet yams with a salty note from the cheese and pepitas is perfection when topped with the blood orange vinaigrette. Orange and beet pair well together, so the vinaigrette brings the whole dish together. Inspired by Low Carb Maven. Serves 4.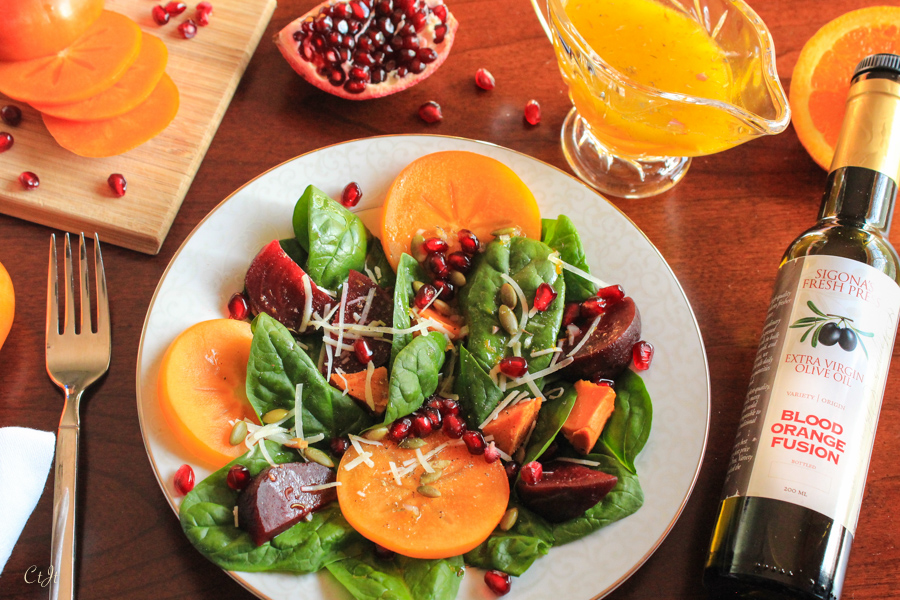 Ingredients:
2 ripe Fuyu persimmons, sliced horizontally using a mandoline or sharp knife, to be about 3mm thick, but no thicker than 1/4 inch
2 to 4 medium beets, roasted* and sliced into 8 wedges each
1 small garnet yam/sweet potato, cut into 1/2-inch cubes and roasted**
Baby spinach, 1 large handful per serving
1/3 cup freshly grated Parmigiano Reggiano (optional)
1/4 cup pepitas
About 1/3 cup pomegranate arils
Blood Orange Vinaigrette:
1 tsp orange zest
3 Tbsp fresh orange juice (from about 1/2 an orange)
3 Tbsp Sigona's Sicilian Lemon White Balsamic
1 Tbsp minced shallot
A pinch or two dried thyme
Salt and pepper, to taste
Directions: Divide the spinach among 4 individual salad plates or bowls. Tuck 2 to 3 slices of the persimmon around the spinach then add the wedges of beet and cubes of yam/sweet potato. Top with grated cheese, pepitas and pomegranate arils.
In a medium bowl, add the zest, juice, balsamic and shallot. While whisking, drizzle in the olive oil and mix until emulsified (thickened). Season to taste with thyme, salt and pepper.
To serve, lightly dress each dish with vinaigrette or serve it alongside.
*To roast beets: Preheat oven to 400°F. Scrub the beets and trim off the root and stalk ends. Save the greens for another purpose, such as salad or garnish. Wrap each beet individually in foil and place on a baking sheet. Roast for 50 to 60 minutes or until they can be easily pierced through the center with a fork. Remove from the oven and allow to cool to the touch. Remove from foil and rub off the skin. They're now ready for use.
**To roast cubed yams/sweet potatoes: Preheat oven to 400°F. Toss the cubes with a little olive oil, salt and pepper. Spread out in a single layer on a rimmed baking sheet lined with parchment paper. Roast for 25 to 30 minutes, or until fork tender, stirring half way through.
---
Roasted Organic Carrots with Blood Orange, Dijon and Rosemary
These roasted carrots, infused with the flavors of blood orange, dijon and rosemary, and finished with a little sweet from our maple balsamic, are simply incredible. The flavor pairs well with roasted meats. Don't skip on the finishing salt; it rounds out the dish perfectly. Adapted from Fine Cooking. Serves 4 to 6.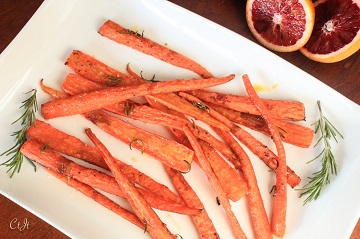 Ingredients:
• 1 1/2 lb. carrots, peeled and trimmed, halved lengthwise, larger carrots quartered
• 3 Tbsp. Sigona's Blood Orange Fusion Olive Oil
• 1 1/2 tsp. Dijon mustard
• 1 blood orange; zested and juiced
• Kosher salt and pepper, to taste
• 1/2 Tbsp. fresh rosemary leaves
• 1 Tbsp. Sigona's Dark Maple Balsamic
• Ancient sea salt, for finishing
Directions: Heat the oven to 425°F.
Arrange the carrots in a single layer on a foil-lined rimmed baking sheet. In a small bowl, whisk together the blood orange olive oil, mustard and orange zest. Pour over the carrots and toss to coat. Season generously with salt and pepper.
Pour the orange juice around the carrots and sprinkle rosemary over the top. Cover tightly with foil and roast until the carrots are nearly tender, about 15 to 18 minutes. Uncover, drizzle with the maple balsamic, and roast, uncovered, until tender and beginning to brown, 15 to 18 minutes more.
Shrimp, Watermelon and Feta Skewers with a Blenheim Apricot and Blood Orange Vinaigrette
Watermelon and Feta are a delicious combination; the sweet and salty pair also plays well with shrimp and arugula. The combination of all these flavors, topped with our Blenheim apricot and blood orange vinaigrette, would make a nice salad, but we love this skewer presentation. Skewering guarantees all the flavors are together in one perfect bite. Makes 12 skewers, serves 6.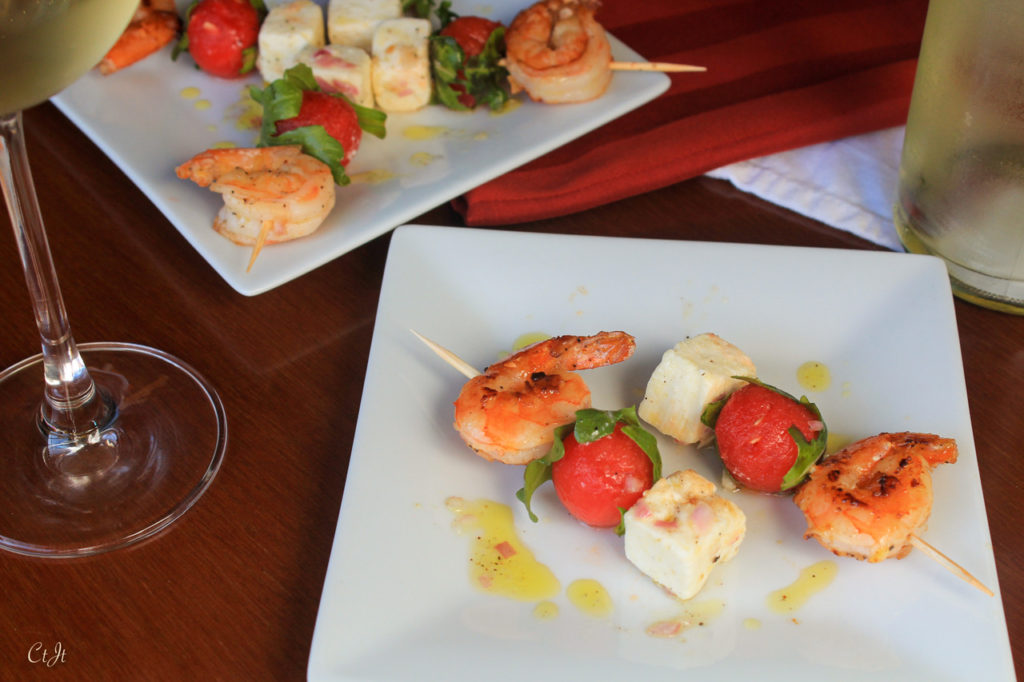 Ingredients:
2 Tbsp. minced shallot
Salt and pepper, to taste
About 1/4 lb. block Feta cheese, cut into 12 individual 1-inch cubes
12 large shrimp, peeled and deveined, tail optional
1 mini watermelon
12 leaves of arugula
Special equipment: 12 wooden skewers, at least 4 inches long
Directions: In a small bowl, whisk together the balsamic, shallot, salt and pepper. While whisking, drizzle in the olive oil to emulsify the mixture.
Place the feta cubes in a shallow bowl and top with about 1/3 of the vinaigrette. Gently toss to coat well. Set aside to allow the cheese to marinate while preparing the rest of the ingredients.
Place the shrimp in a shallow bowl and top with about 1/3 of the vinaigrette. Gently toss to coat well.
Heat a medium skillet over medium-low. Pour in the shrimp their marinade, cooking the shrimp until pink and cooked through, about 5 minutes total, turning once. Remove the shrimp to a plate and allow to cool to the touch.
Meanwhile, wash off and slice open the melon. Use a melon baller to scoop out 12 balls of watermelon, about 1" in diameter. Alternately, slice the melon into 1" cubes. Save remaining watermelon for another purpose.
When ready to skewer the ingredients, begin by threading on a shrimp. Next, gently wrap an arugula leaf around a melon ball/cube and thread it on the skewer, piercing the arugula on the top and bottom. Complete the skewer with a cube of the feta.
Place the skewers on a serving tray (either standing or laying flat), drizzle lightly with some of the remaining vinaigrette and serve. Any remaining vinaigrette can be served on the side or saved for another purpose.
Blood Orange, Cinnamon & Rosemary Roasted Sweet Potatoes
You'll love the flavors in this keto, paleo & whole30 friendly sweet potato dish. It's also dairy- and gluten-free! The thin slices get deliciously crispy under the broiler, but also stay tender, creating a nice mouthfeel in every bite. Inspired by Thyme & Joy. Serves 2. Easily doubled.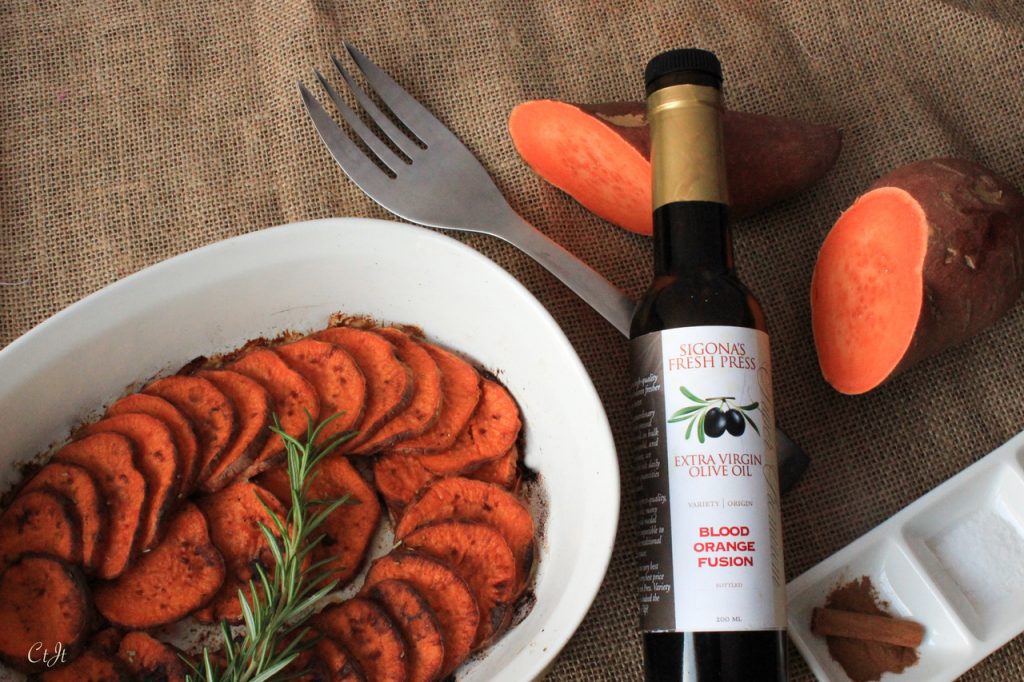 Ingredients:
1 large sweet potato, about 8 inches long and without much variance in width
1 Tbsp Sigona's Blood Orange Oil, plus more for greasing baking dish
1/4 tsp ground cinnamon
1 tsp minced fresh rosemary or 1/2 tsp dried rosemary or
Kosher salt and freshly ground black pepper, to taste
Directions: Preheat oven to 400°F. Using a little blood orange oil, lightly grease a rimmed baking dish, such as an approx. 9"x7" or 1.5 qt oval casserole dish.
Using a mandoline or sharp knife, carefully slice the sweet potato into rounds about 1/8-inch thick. Arrange the slices in the dish, overlapping one another in a semi-circle design.
In a small bowl, whisk together 1 tablespoon blood orange oil, cinnamon, rosemary, salt and pepper. Drizzle the mixture over the sweet potatoes and use a pastry brush to coat the slices. Cover with foil and bake for 30 to 35 minute or until tender.
Uncover and place the dish under the broiler for about 5 to 7 minutes or until the top is crisp and slightly brown, just be careful they don't begin to char and burn.
Remove from oven; allow to cool slightly before serving.
Millet Bowl with Navel Oranges, Avocado, Green Beans and Pistachios
Packed with good-for-you grains, vegetables, fruits and healthy fats, this Buddha bowl is sure to satisfy. The burst of sweet citrus from the Navel orange adds just the right amount of zing, and finishing with a little Sigona's Blood Orange Olive Oil brings it all together. Adapted from Feast. Serves 4.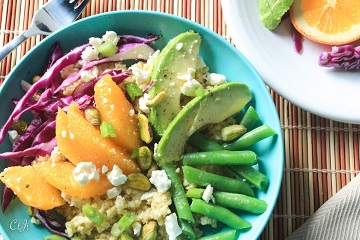 Ingredients:
2 cups millet, uncooked
A handful of fresh green beans, end trimmed and chopped
Salt and pepper, to taste
2 Tbsp. butter or Sigona's Fresh Press Extra Virgin Olive Oil
1 medium or large avocado, peeled, pitted and sliced
2 navel oranges, cut into suprêmes*
1/3 to 1/2 head red cabbage, thinly sliced
2 to 4 green onions, sliced
About 1/3 cup pistachios
1/4 cup crumbled Feta
*Citrus segments: The fruit between the peel, pith and membrane of citrus is called a suprême. To slice suprêmes, begin by slicing the top and bottom off of your citrus fruit. Slice the peel from the fruit, top to bottom, getting as close to the flesh as possible. Once the peel is removed slice any remaining pieces of pith from the fruit so no white remains. Then, slice closely along the sides of each membrane to neatly remove the sections in between. Set the segments aside, discard the rest.
Directions: Cook the millet in 4 cups of water according to package directions. When it's done cooking, add 2 tablespoons butter or olive oil, season with salt and pepper and fluff with a fork.
Meanwhile, blanch the green beans by adding them to boiling water and cooking for 2 to 3 minutes. Remove green beans from the boiling water and place them in an ice bath. When cool, drain and pat dry. Set aside.
Spoon some or all of the millet into 4 bowls. Arrange the green beans, avocado, orange suprêmes and cabbage around the outer rim of the bowls. Top with green onions, pistachios and Feta; finish each dish with a drizzle of blood orange oil.
Blood Orange & Cinnamon Pear Roasted Red Kuri Squash
An underlying citrus note from the blood orange oil, along with a sweet and savory flavor from the cinnamon pear balsamic gives this squash a wonderful, fall-spice flavor. Serves 4.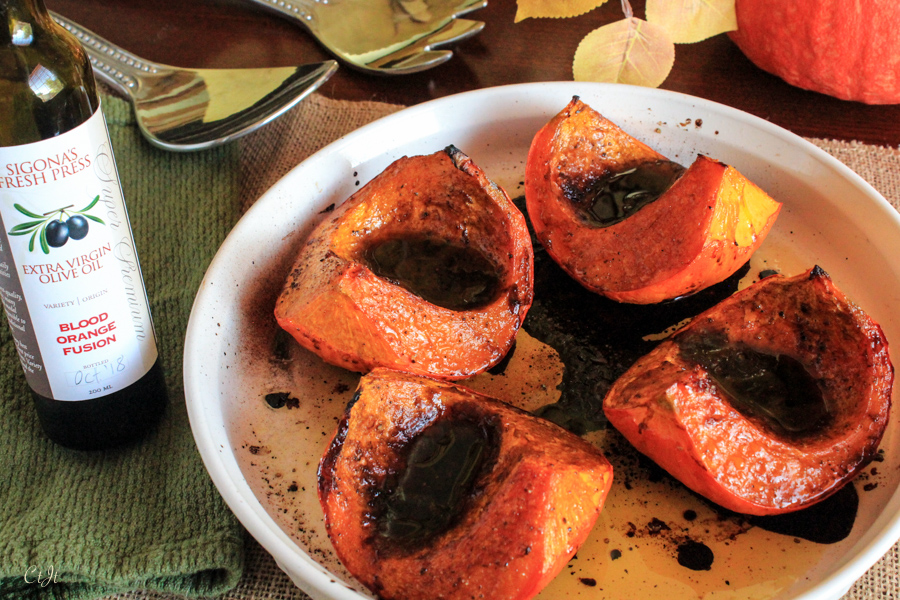 Ingredients:
1 red kuri squash about, 2 to 3 lbs.
Salt and pepper, to taste
Directions: Preheat oven to 400°F.
Cut squash in half vertically. Scoop out the seeds and membranes, discard or set aside for another use. Cut each half in half one more time to create 4 pieces. Place the squash cut-side down in an oven-safe dish or rimmed baking tray and roast for 30 minutes.
Meanwhile, in a medium bowl, whisk together the blood orange oil and balsamic until the mixture is emulsified (thickened).
Remove squash from oven; use tongs to flip the squash over so cut side is up. Season squash wedges with salt and pepper, then add 1 tablespoon of the oil and balsamic mixture to the well of each piece. Use a brush to coat all cut surfaces of the squash, leaving a bit of the mixture in the well of the squash slice.
Return squash to the oven to roast for another 20 to 30 minutes, or until the squash is fork-tender throughout. Remove from oven, allow to rest about 5 minutes. Brush any remaining oil and balsamic mix over the squash and serve warm.
Grilled Watermelon pizza with Stone Fruit, Quick-pickled Shallots, Walnuts and Blue Cheese
While we usually like to keep our fruits raw, sometimes summertime calls for throwing fruit on the grill! Grilling fruit brings out its natural sugars, giving the fruit more of a caramelized flavor. Pairing grilled watermelon with savory, quick-pickled shallots and salty, creamy and flavorful cream cheese makes for a salty-sweet treat that's perfect for the dog days of summer. One personal-sized watermelon makes about 12-16 wedges, depending on size.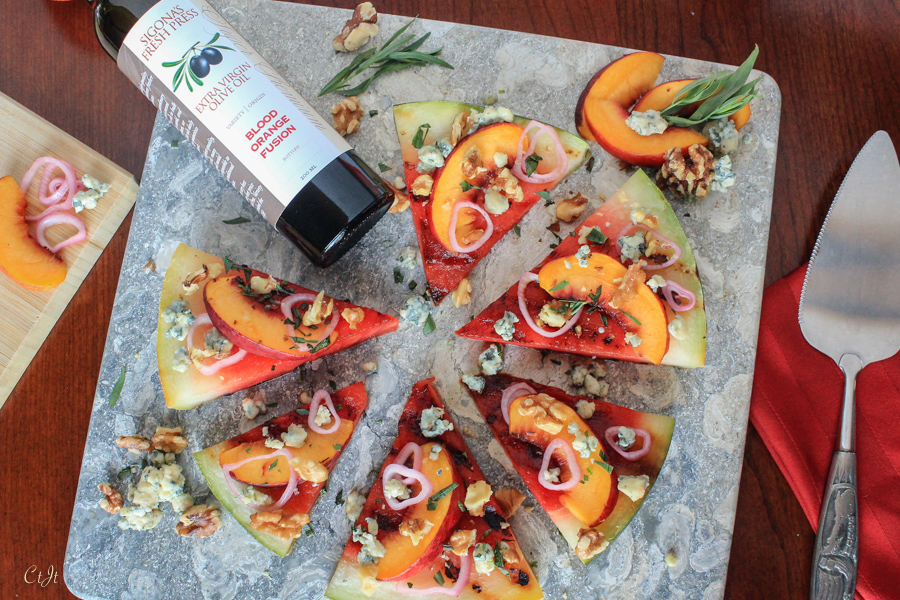 Ingredients:
1 shallot, sliced into rings
3 Tbsp red wine vinegar
2 tsp. sugar
2 tsp. Sigona's Blood Orange Fusion Oil, plus more for drizzling
Salt and pepper, to taste
1 or 2 nectarines or peaches, halved, pitted and sliced into about 16 wedges (or at least 1 per pizza wedge)
1/3 cup roughly chopped walnuts
About 1/2 to 3/4 cup crumbled blue cheese or gorgonzola
3 Tbsp fresh tarragon, chopped
Directions: Preheat an indoor or outdoor grill over high heat.
Mix together the vinegar and sugar in a small bowl. Add the shallots, mix together and set aside for about 15 minutes, stirring occasionally. After marinating, discard liquid and set aside.
Slice the ends off the watermelon so a good portion of the red fruit is exposed on both ends. Slice the melon into disks about 1- to 1.5-inches thick.
Brush the watermelon slices with oil and sprinkle salt and pepper. Grill the melon for about 4 minutes per side or until nice grill marks appear. Do not cook much longer as melon will become too soft. Use a high heat in order to sear the melon. Remove grilled melon and set aside to cool slightly.
Cut the watermelon into wedges, as if a pie or pizza, at least 4 per slice, and arrange the watermelon wedges on a serving tray. Top each wedge with a slice of stone fruit and a couple rings of pickled shallot. Sprinkle the dish with crumbled cheese, walnuts and chopped tarragon. Drizzle the entire dish with blood orange oil and serve immediately.
Local Heirloom Cantaloupe Gazpacho
Gazpacho is a simple, often fruit-based soup that's served chilled. It's refreshing, light and great for summer parties, either in soup bowls or in smaller cups as an appetizer. Makes 4 to 6 larger servings.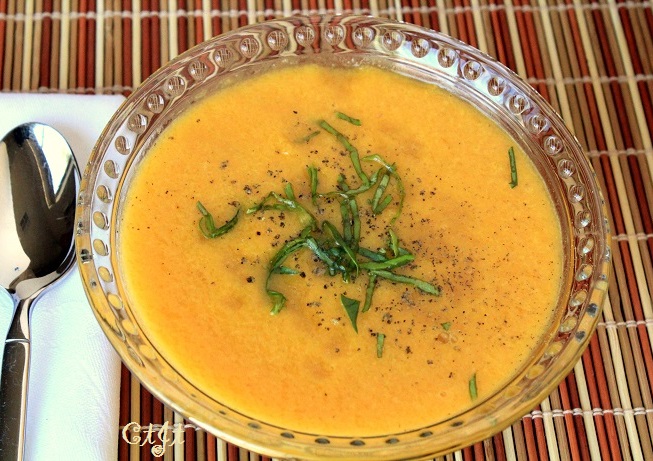 Ingredients:
1 medium local heirloom cantaloupe, about 3 ½ lbs
1 small cucumber
1/3 cup water
2 Tbsp diced shallot
2 tsp salt, or to taste
1/2 cup Sigona's Fresh Press Olive Oil (Mix it up! Use an infused oil for more flavor, such as Persian Lime, Blood-Orange Fusion or Meyer-Lemon Fusion.
About 3 Tbsp Sigona's white balsamic, divided, such as Golden Pineapple White Balsamic, Honey Ginger White Balsamic, or Summertime Peach White Balsamic
Black pepper, to taste
Fresh mint or basil leaves, thinly sliced, for garnish
Directions: Halve the melon, scoop out and discard the seeds. Slice the melon from the rind, and then cut the fruit into chunks.
Peel the cucumber, slice in half lengthwise and scoop out the seeds. Chop the cucumber into chunks.
To a blender or food processor, add the melon, cucumber, water, shallot and salt. With the blender running, pour in the olive oil. Blend until the mixture is smooth or until you reach your desired consistency.
Pour gazpacho into 4 to 6 soup bowls. Season each dish with salt and pepper, drizzle on a bit of balsamic and garnish with ribbons of mint or basil. Enjoy chilled.
Satsuma & Blood Orange Olive Oil Cake
Olive oil cakes are simple to put together, and their moist, dense, almost chiffon-like texture will make you wonder why you don't make this traditional Sicilian dessert more often. We use our blood-orange infused olive oil to enhance the Satsuma flavor in this cake, but you could just as easily use limes and our Persian-lime infused olive oil, or try Meyer lemons and use our Meyer-lemon fusion olive oil. The possibilities are endless. Adapted from Instructables. Serves about 12.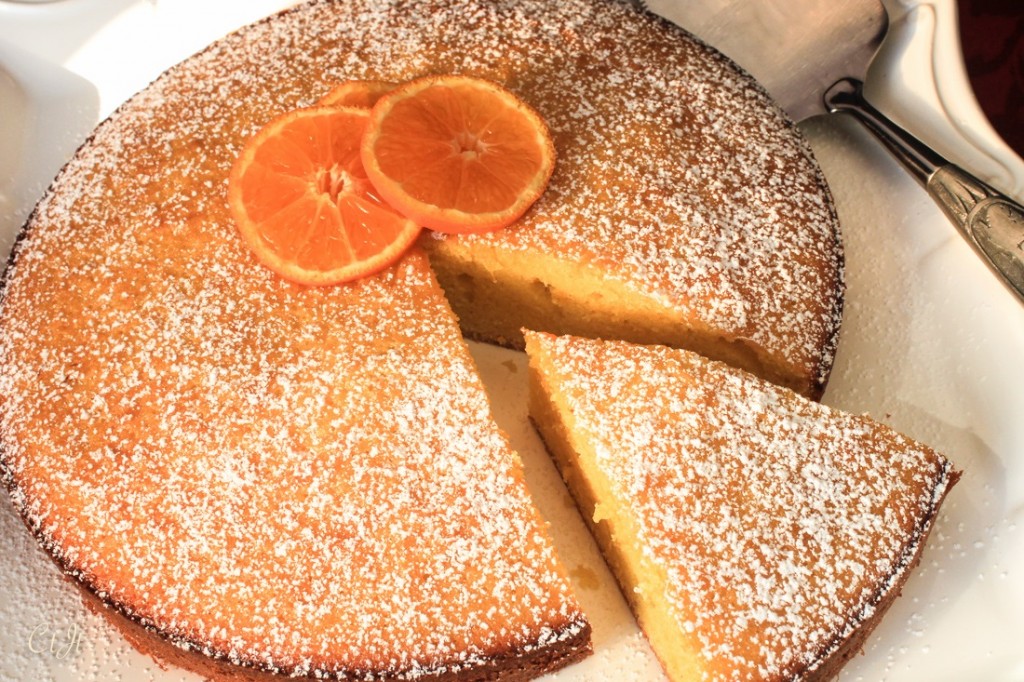 Ingredients:
Zest and juice from 2 to 3 Satsumas, divided (you'll want at least 1/4 to 1/3 cup juice)
4 large eggs
3/4 cup sugar
1 cup all-purpose flour
1/2 tsp. baking powder
1/4 tsp. salt
Powdered sugar, for dusting
A few slices of Satsuma, for garnish
Directions: Preheat oven to 350ºF. Trace the bottom of a 9" round baking pan on parchment paper. After it's cut out, place the circle in the bottom of the pan; butter the sides of the pan and the top of the parchment. Dust with flour, if desired. Set aside.
In a medium bowl, whisk together eggs and sugar for a couple minutes until the mixture is frothy. While whisking, add the olive oil, followed by the juice. Set aside.
In a large bowl, sift together the flour, salt and baking powder. Add the zest and mix it in with a fork. Make a small well in the middle and pour in the wet ingredients. Use a whisk to combine until the batter is smooth and clump-free.
Pour the batter into the prepared pan and tap it on the counter to bring out any air bubbles. Bake at 350ºF for 35 to 40 minutes, checking at 35 minutes (some can take up to 45 minutes to finish). It's done when a toothpick inserted in the middle comes out clean. The sides will have browned a bit.
Allow the cake to cool in the pan on a cooling rack for at least 15 minutes. Run a knife around the edges then turn the pan on to a plate or cooling rack; quickly and gently turn the cake back onto a serving dish so it is presented top-side up.
Dust the top with a little powdered sugar and a few slices of Satsuma, if desired.
---