In the Kitchen with Sigona's Featuring: Fresh Fennel
Fennel and Apple Towers with a Honey-Dijon Vinaigrette
This is a delightfully refreshing and crisp salad that's packed with flavor. Serve these impressive towers as a first course or simply fan out the ingredients on a serving platter and make it a large salad. Adapted from Cooking Light. Serves 4 as a tower, 4 to 6 on a platter.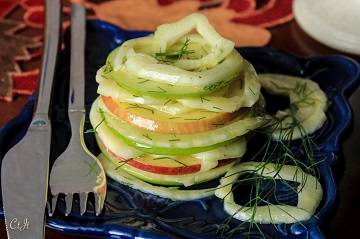 Ingredients:
3 Tbsp. Sigona's Fresh Press Arbequina Extra Virgin Olive Oil from Chile
2 Tbsp. cider vinegar
1 1/2 tsp. honey, such as Wild Montana Clover honey from Honey Hole Honey Co., available at Sigona's
1 1/2 tsp. Dijon mustard
Salt and pepper, to taste
1 Tbsp. packed minced fennel fronds (reserve some additional fronds for garnish)
1 medium fennel bulb
1 small Granny Smith apple
1 small red apple, such as a Fuji
Directions: In a large bowl, whisk together the oil, cider, honey, Dijon, salt, pepper and minced fennel fronds. Set aside.
Using a mandoline (set to .75 mm or 1.5 mm) or sharp knife, create thin slices of the fennel; discard core pieces. Change the mandoline settings to 3 mm or use a sharp knife to create thin slices of the apples; remove the core and seeds (a melon baller, knife or spoon work well to carefully cut out the core/seeds from the slices).
Add the fennel and apple to the large bowl and toss well to combine.
To serve: Create either 4 individual towers or fan out the ingredients on a platter. To create a tower, begin with a slice of green apple on a salad plate. Top with a few rounds or strips of fennel. Add a layer of red apple then a layer of fennel. Repeat until the tower has at least 4 apple layers, ending with fennel. Garnish the plate(s), if desired, with fennel fronds.
Green Juice Smoothie
If you're looking for a way to get more veggies into your diet, this might just be the ticket. It's refreshing, but with just the right amount of sweet. Yes, there are a lot of ingredients listed, but they all work together for good. Makes about 2 cups, serving 1 to 2.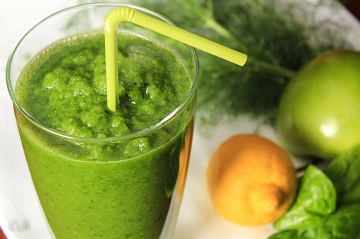 Ingredients:
2 cups lightly packed spinach
1/2 a cucumber, skin on
1/2 to 3/4 a Granny Smith apple, skin on, core removed
1/2 a ripe pear, such as a Bartlett, skin on, core removed
1/4 to 1/3 cup thinly sliced fennel, tough core removed
1 stalk celery
2 Tbsp. fresh lemon juice
Directions: Place the spinach in a blender or beaker for an immersion blender.
Roughly chop the cucumber, apple, pear, fennel and celery. Add them to the blender/beaker along with the lemon juice and blend until as smooth as desired. Taste and add more apple and/or fennel if desired.
Pan-Fried Pork with Apple-Fennel Slaw
These lightly breaded chops are the perfect bed for the crunchy, light and flavorful apple, fennel and carrot slaw. The raisins give the dish a sweet note and tie everything together. Adapted from Every Day with Rachael Ray. Serves 2 to 4.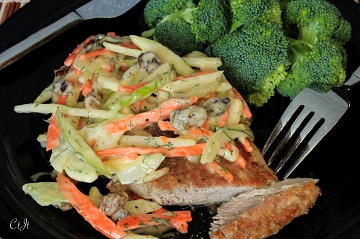 Ingredients:
1/2 cup plain Greek yogurt or mayonnaise
3 tsp. distilled vinegar
Salt and pepper, to taste
1 carrot, julienned*
1/3 cup thinly sliced fennel, core pieces discarded
1/2 a Granny Smith apple, julienned, core discarded
1/4 cup golden raisins, find them in Sigona's dried fruit & nut section
2 Tbsp. finely chopped fennel fronds
3 Tbsp. Sigona's Fresh Press Arbequina Extra Virgin Olive Oil
1/2 cup flour
2 (1-inch-thick) boneless pork chops (about 2 lbs.), split horizontally
*Tips on how to Julienne vegetables from Good Housekeeping.
Directions: In a medium bowl, mix together the yogurt/mayonnaise, vinegar, salt and pepper. Add the julienned carrots, sliced fennel, julienned apple, raisins and chopped fennel fronds. Toss together to mix well. Cover and refrigerate while preparing the pork.
Heat oil in a large skillet over medium-high heat. Place flour on a small plate; season with a little salt and pepper. Coat both sides of the pork in the flour, add to the skillet and cook until browned, about 4 to 5 minutes per side.
To each individual dinner plate, add one to two slices of the pork. Top with a portion of the slaw and serve immediately. Offer any remaining slaw on the side.