In the Kitchen with Sigona's Featuring: California Hass Avocados
Millet Bowl with Navel Oranges, Avocado, Red Cabbage, Pistachios and Feta
Packed with good-for-you grains, vegetables, fruits and healthy fats, this dish is sure to satisfy. Finishing with a little Sigona's Blood Orange Olive Oil gives it the perfect touch. Adapted from Feast. Serves 4.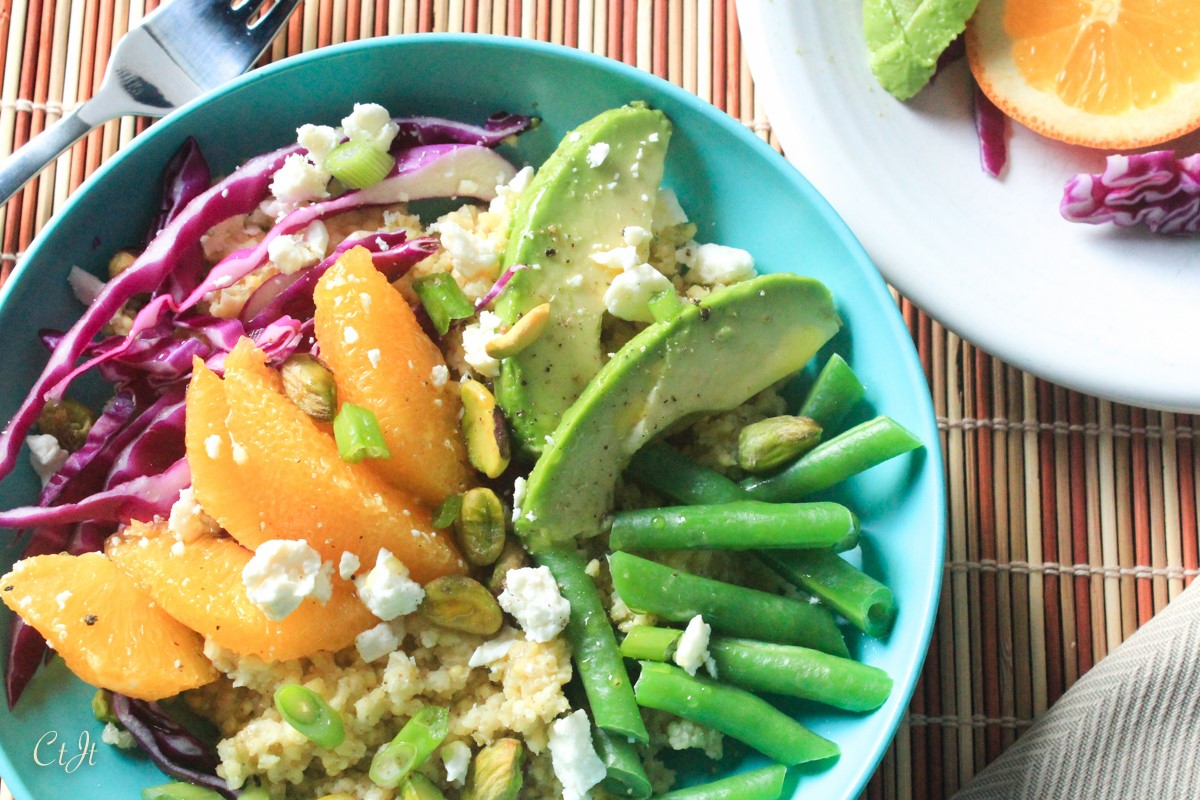 Ingredients:
2 cups millet, uncooked
A handful of fresh green beans, end trimmed and chopped
Salt and pepper, to taste
2 Tbsp. butter or Sigona's Fresh Press Extra Virgin Olive Oil
1 medium Hass avocado, peeled, pitted and sliced
2 navel oranges, cut into suprêmes*
1/3 to 1/2 head red cabbage, thinly sliced
2 to 4 green onions, sliced
About 1/3 cup pistachios
1/4 cup crumbled Feta
4 tsp. Sigona's Blood Orange Fusion Olive Oil
*Citrus segments: The fruit between the peel, pith and membrane of citrus is called a suprême. To slice suprêmes, begin by slicing the top and bottom off of your citrus fruit. Slice the peel from the fruit, top to bottom, getting as close to the flesh as possible. Once the peel is removed slice any remaining pieces of pith from the fruit so no white remains. Then, slice closely along the sides of each membrane to neatly remove the sections in between. Set the segments aside, discard the rest.
Directions: Cook the millet in 4 cups of water according to package directions. When it's done cooking, add 2 tablespoons butter or olive oil, season with salt and pepper and fluff with a fork.
Meanwhile, blanch the green beans by adding them to boiling water and cooking for 2 to 3 minutes. Remove green beans from the boiling water and place them in an ice bath. When cool, drain and pat dry. Set aside.
Spoon some or all of the millet into 4 bowls. Arrange the green beans, avocado, orange suprêmes and cabbage around the outer rim of the bowls. Top with green onions, pistachios and Feta; finish each dish with a drizzle of blood orange oil.
Eggy, Southwestern-Style Avocado Toast
Breakfast, lunch, dinner, snack, this is satisfying any time of day! It's filling and nutritious and beautiful. Just look at that egg! Serves 1.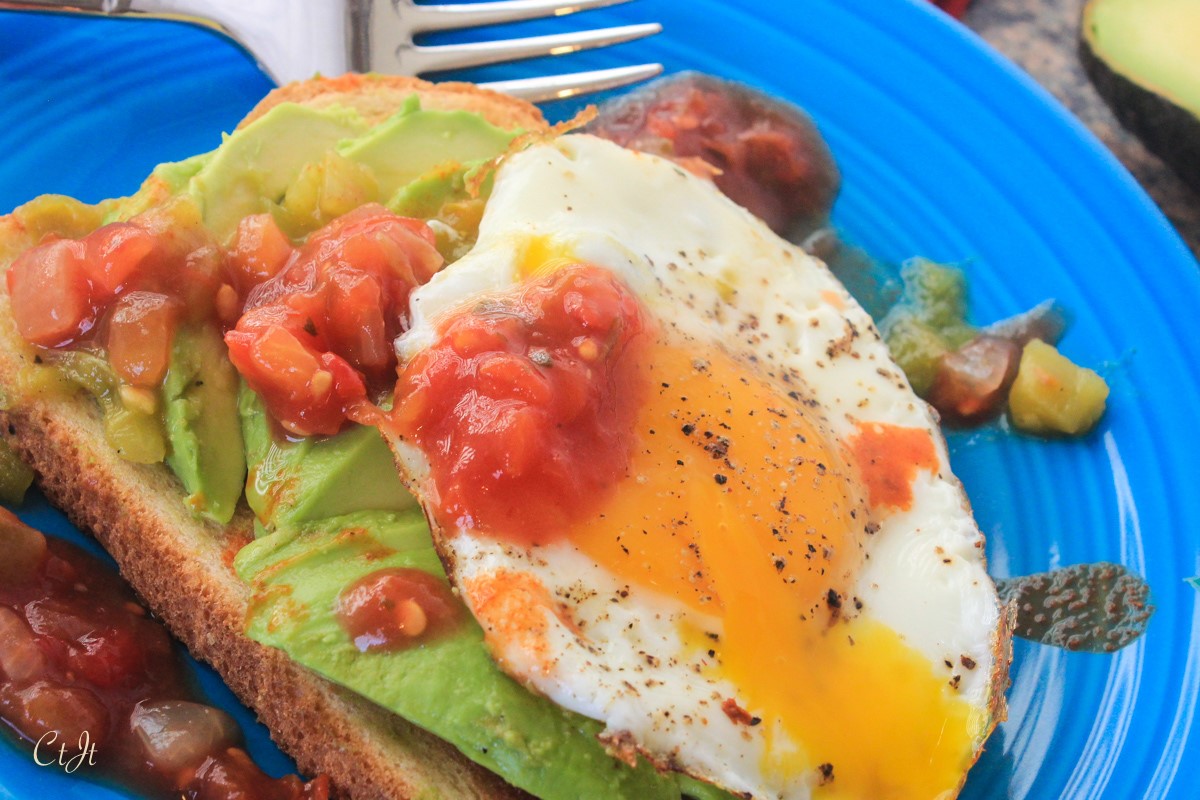 Ingredients:
Slice of bread, any type will do
Half of one medium Hass avocado, sliced lengthwise into about 6 to 8 slices, skin removed
1 to 2 Tbsp. of your favorite salsa or roasted, diced green chilies
1 medium cage-free brown egg
Salt and pepper, to taste
Your favorite hot sauce, for garnish, if desired
Directions: Toast the bread in a toaster or under the broiler to your likeness. Spread out the slices of avocado on the toast.
Add butter to a small skillet over medium high heat. Carefully crack the egg into the skillet and season with salt and pepper; allow to cook, without flipping, to your preference. If you want a yolk that's still runny, remove the egg from the skillet while it still has a jiggle, but the white has set.
Slide the egg onto the avocado and top with your favorite salsa. Add a few shakes of your favorite hot sauce, if desired. Enjoy!
Roasted Shrimp and Avocado Spring Rolls with Quinoa and Fresh Veggies
Filled with avocado, quinoa and shrimp, these protein-packed rolls are healthy and filling. Don't be intimidated by rice paper if you haven't tried it before. You might need to practice with a few sheets before you get into a good groove with the rolls. If you prefer, add in or substitute any of the veggies with julienned bell pepper. Adapted from damndelicious.net (the author recommends a spicy peanut sauce for dipping). Makes 6 rolls.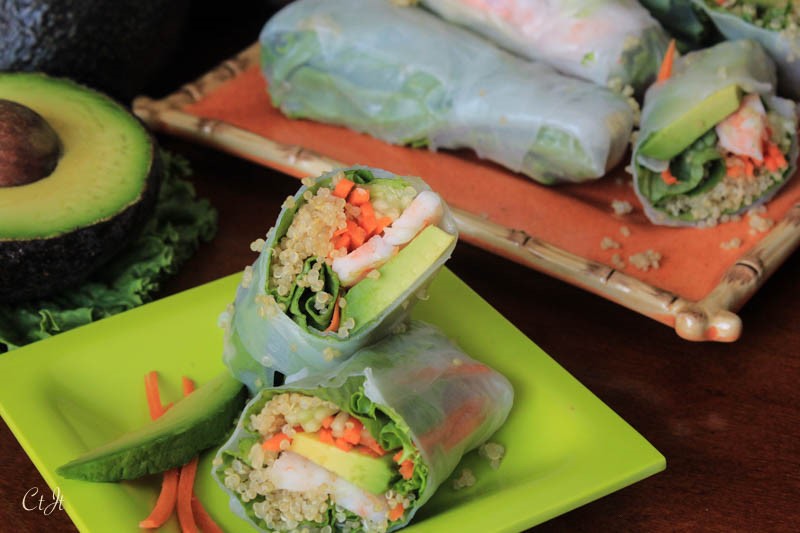 Ingredients:
9 raw large shrimp, peeled and deveined; if frozen, thawed
6 sheets of rice paper wrappers (16- or 22-cm)
1 medium Hass avocado, pitted, peeled and sliced lengthwise, you'll need 6 to 12 slices
6 medium leaves green leaf lettuce, tough ends and ribs removed
3/4 to 1 cup cooked quinoa
1 medium carrot, julienned
Half of a cucumber, peeled and julienned
Optional: Half a small bell pepper, julienned
Directions: Preheat oven to 400°F.
Line a baking sheet with parchment paper. Place raw shrimp on the parchment and roast until just pink, about 6 to 8 minutes. Cool slightly then slice shrimp down the back, creating two equal halves.
Fill a large bowl with warm water. Working one at a time, wet rice paper for 10 seconds and transfer to a work surface (it may not seem fully pliable, but it will become so as you work). Place lettuce leaf in the center of each wrapper and top with 2 heaping tablespoons of cooked quinoa, about 6 or so slices each of cucumber and carrot, a few slivers of optional bell pepper, 1 to 2 slices of avocado and 3 shrimp halves, cut sides down.
As if you're folding a burrito, bring the bottom edge of the wrap tightly over the filling; fold in the sides and then roll it forward to the remaining edge of the paper (all while being careful not to tear the paper). Set aside, seam-side-down. Repeat with remaining wrappers and filling.
Slice rolls in half, if desired, and transfer to a serving dish. Serve immediately with your favorite Asian dipping sauce.