In the Kitchen with Sigona's Featuring: Local Asparagus
Thai Green Curry with Chicken and Asparagus
Curries are packed with flavor and good-for-you ingredients. You'll love the fresh spring flavor of this dish, thanks to the local, in-season asparagus. Recipe and photo courtesy of Luisa Ormonde of Luisa's Catering. Serves 2 to 4.
Ingredients:
2 Tbsp coconut oil
1 1/2 lbs. boneless skinless chicken breasts (or thighs), cut into 1 inch pieces, seasoned with pink Himalayan salt
1 large sweet yellow onion, chopped
2 garlic cloves, crushed
Fresh grated ginger, 1 inch piece
2 Tbsp Thai Kitchen green curry paste
1 can full fat coconut milk (unshaken as the ingredients are used separated)
Handful of fresh basil leaves
1 bunch asparagus, ends trimmed, halved if thick, steamed/blanched* until bright green
fresh basil leaves
For serving:
Steamed jasmine rice (or cauliflower "rice") as needed per serving
Lime wedges, one per serving
Directions: Heat oil in a wok or large Dutch oven/skillet over high heat. Working in batches, stir-fry the chicken until golden all over. Transfer to a bowl and set aside.
Return the pan to the heat. Add onion, garlic and ginger, and stir-fry for 1 minute. Add the curry paste and cook, stirring, for a further minute. Return the sautéed chicken to the pan and add the top layer of thick cream from coconut milk (reserving the watery portion) then bring to a boil. Reduce the heat to medium and simmer for 2 minutes.
Blend the remaining portion of coconut milk with the fresh basil leaves. Pour into the chicken and mix in at the very end. This gives the sauce a boost of fresh flavor and great color!
Place rice in a large serving bowl and pour chicken and sauce over the top. Scatter the blanched asparagus on top. Garnish with basil leaves and lime wedges.
Simply Roasted Asparagus with Fresh Herbs and Sliced Almonds
If you're looking to spruce up your go-to asparagus side dish, give this recipe a try. Adding fresh herbs, a little lemon juice and almonds will definitely add the flare you're after. Serves 4 to 6.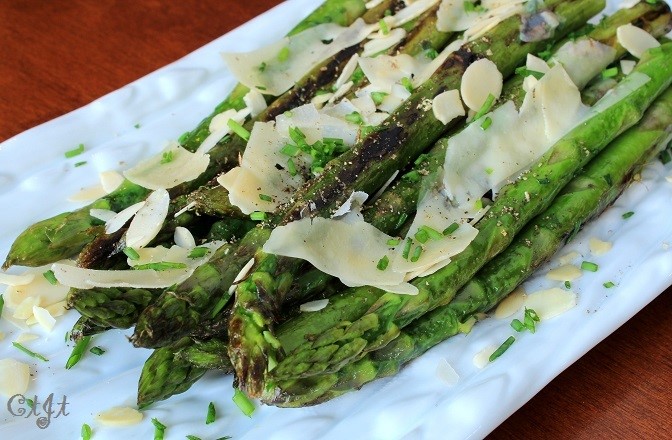 Ingredients:
1 lb. fresh asparagus, ends discarded (option: slice stalks into 2 1/2-inch pieces)
1 Tbsp Sigona's Fresh Press Extra Virgin Olive Oil
1 1/2 Tbsp fresh lemon juice
1 Tbsp chopped fresh herbs, such as chives, basil, parsley or tarragon
Salt and pepper, to taste
2 Tbsp sliced almonds (Find them in our dried fruit and nut section!)
1/4 cup shaved Parmigiano-Reggiano
Directions: Heat 1 tablespoon olive oil in a large skillet over medium heat. When hot, lay asparagus in the skillet and gently shake to coat all stalks evenly in oil. Cover and cook about 5 to 8 minutes, gently shaking skillet from time to time so make sure all sides of the stalks cook evenly. Asparagus should be bright green and crisp, yet tender, and lightly charred in places. Sprinkle with salt and pepper.
Remove pan from heat. Let asparagus rest 1 minute. Toss with the lemon juice and allow to absorb, heating slightly if necessary. Sprinkle in all but a 1/2 teaspoon of the herbs, season with salt and pepper. Transfer to a serving dish and top with shaved Parmigiano-Reggiano; finish with almonds and reserved herbs.
Warm Asparagus Salad with Burst Grape Tomatoes and Pancetta
The pancetta in this dish, combined with the fresh tomatoes and basil, makes for an absolutely delicious side, especially when served with a nice grilled protein, such as fish or chicken. Leave off the cheese if you'd prefer the dish to be dairy-free.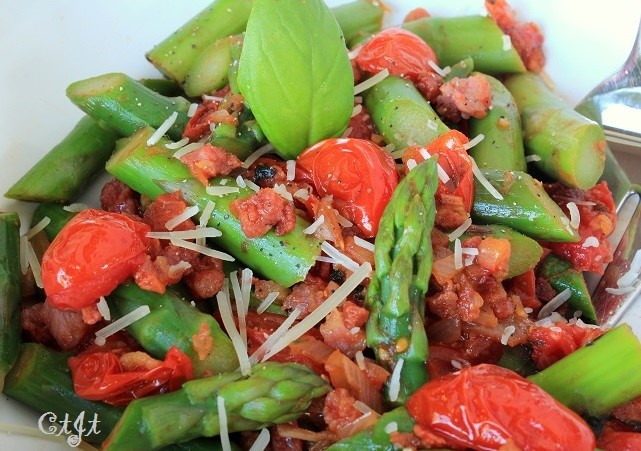 Ingredients:
1 lb. fresh asparagus, ends trimmed and stalks sliced into 2-inch pieces
3 Tbsp Sigona's Fresh Press Extra Virgin Olive Oil, divided
4 to 6 oz. pancetta, diced
2 cloves garlic, minced
1 shallot, minced
About 10 oz. grape tomatoes, halved
1/3 cup chopped basil
Salt and pepper, to taste
Freshly shredded Parmigiano-Reggiano, optional
Directions: Par-boil the sliced asparagus by bringing a large pot of salted water to a boil. Add asparagus and cook for 2 to 3 minutes. Remove and place immediately in an ice bath. When completely cool, drain and set aside.
In a large skillet, heat 1 tablespoon of olive oil over medium heat. Add the pancetta and cook, stirring occasionally, until lightly browned and cooked through. Remove from the skillet and discard any resulting fat and remaining oil.
To the same skillet, add balsamic, scraping up any brown bits from the bottom of the pan. Add the remaining 2 tablespoons olive oil, the tomatoes, shallot, garlic and basil. Cook for about 2 minutes then add the drained asparagus and pancetta. Toss to coat evenly, season with salt and pepper.  Cook another minute or two until asparagus is warm. Transfer to a serving dish, sprinkle with Parmigiano-Reggiano, if using, and serve.