In the Kitchen with Sigona's Featuring: California Clean Stone Fruit
Fresh Greens Salad with Blueberries, Feta and Glazed Walnuts
Fresh, light and flavorful, this salad would be a great complement to any grilled meats, especially when made with peppery arugula. Additionally, you could add strips of grilled chicken to the salad and serve it for lunch or dinner. Serves 4 to 6.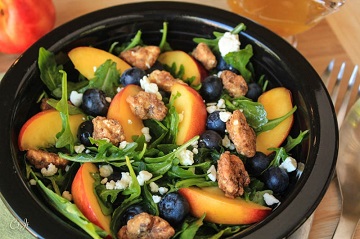 Ingredients:
5 oz. fresh arugula or spinach, pre-washed (about 8 cups, loosely packed)
1 Tbsp minced shallot
1 tsp. honey, such as Wild Montana Clover Honey from Honey Hole Honey Co., available at Sigona's
1 tsp. Dijon mustard
Salt and pepper, to taste
3 Tbsp Sigona's Fresh Press Extra Virgin Olive Oil (Mix it up! Try Sigona's Meyer-Lemon Fusion Olive Oil)
2 locally grown California Clean nectarines (or peaches), halved, pitted and sliced into 8 to 12 pieces each
About 1/2 to 3/4 cup blueberries
1/3 cup crumbled Feta
About 1/3 cup Sigona's glazed walnuts, more or less to taste
Optional: 1 to 2 green onions, sliced on a bias
Directions: Place the arugula or spinach in a large mixing bowl. Set aside.
In a small bowl, mix together the balsamic, shallot, dijon, honey, salt and pepper. While whisking, drizzle in the olive oil to emulsify the mixture. Drizzle about 3 tablespoons of the vinaigrette over the arugula and toss, toss, toss to coat each leaf. Add more, if necessary, but only a teaspoon at a time, being careful not to overdress.
Transfer the dressed greens to a serving bowl and then sprinkle on the remaining ingredients evenly over the greens. Serve with the remaining vinaigrette on the side. 
Nectarine & Prosciutto Pizza with Pesto and Fresh Mozzarella
Baking this pizza on locally made Viccolo corn meal crust makes all the difference; it's absolutely delicious and the flavors pair well with the basil pesto and nectarines. You can use peaches in place of the nectarines if you wish. Inspired by Eating Well. Serves 2.
2 to 3 Tbsp prepared basil pesto (see a recipe for Sigona's pesto below) , more or less to taste
3 to 4 oz. fresh mozzarella, sliced
2 to 3 Tbsp crumbled feta
1 Viccolo organic corn meal pizza crust, regular or gluten free
1/2 cup thinly sliced prosciutto
Half of 1 locally grown California Clean nectarine or peach, pitted and sliced into at least 6 pieces
2 to 3 tsp. Summertime Peach White Balsamic Condimento
Black pepper, to taste
For the Pizza: Directions: Evenly spread the pesto over the pizza crust. Add on a layer of fresh mozzarella slices and a sprinkling of Feta. Evenly distribute the sliced prosciutto on top of the cheeses, then add, in a circular manner, the nectarine slices.
Bake the pizza according to the directions on the Viccolo crust package.
Just before serving, drizzle on the peach balsamic. Finish with a few twists of fresh-cracked black pepper.
Sigona's Basil Pesto
Makes about 3/4 cup. 
Ingredients:
About 1 cup (semi-packed) fresh basil leaves (you can try arugula in place of the basil)
1 to 2 cloves garlic
1/4 cup freshly grated Parmigiano Reggiano
3 TBL of pine nuts
1/4 tsp or so each salt & pepper
About 1/3 cup Sigona's Fresh Press Extra Virgin Olive Oil
Directions: Place all ingredients, except the olive oil, in a food processor or blender. Turn on the processor to bring ingredients together for about 30 seconds, then drizzle in the olive oil, processing about 1 minute or until you get a good consistency (if you like your pesto sauce thicker, add a bit more cheese…if you want it thinner, add a bit more oil). Use immediately or cover well and store in the fridge up to a week. It also freezes well.
Prosciutto-Wrapped Peaches with Basil and a Summertime Peach Balsamic Reduction
Sweet, salty and herbaceous, with a little tangy flavor from the peach balsamic reduction, these make a simple, healthy, delicious and beautiful appetizer. You can use nectarines in place of the peaches, if desired. Mint can also be used in place of the basil. Makes 16 slices, serves 8.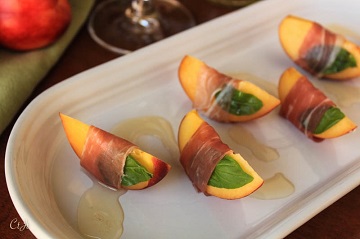 Ingredients:
3 slices prosciutto
2 locally grown California Clean peaches (or nectarines)
16 small basil leaves, about 1-inch long (slice larger leaves if needed)
Directions: Pour balsamic into a small saucepan over medium heat. Bring it to a slow simmer; let reduce over the heat for about 3 minutes. Turn the heat to low; allow it to continue to reduce, stirring occasionally, until reduced by about half, about 3 minutes more. Remove from heat (it will continue reducing and become syrupy).
Meanwhile, slice each piece of prosciutto lengthwise into three strips, then slice each strip in half.
Slice each peach in half and remove the pit. Cut each half into 4 slices. Place a basil leaf on one side of each peach slice and then wrap a strip of prosciutto around the middle of the peach, securing the basil leaf to the peach. Place on a serving dish. Repeat with each peach.
Just before serving, drizzle the balsamic reduction over the prosciutto-wrapped peaches.