In the Kitchen with Sigona's Featuring: Sweet Potatoes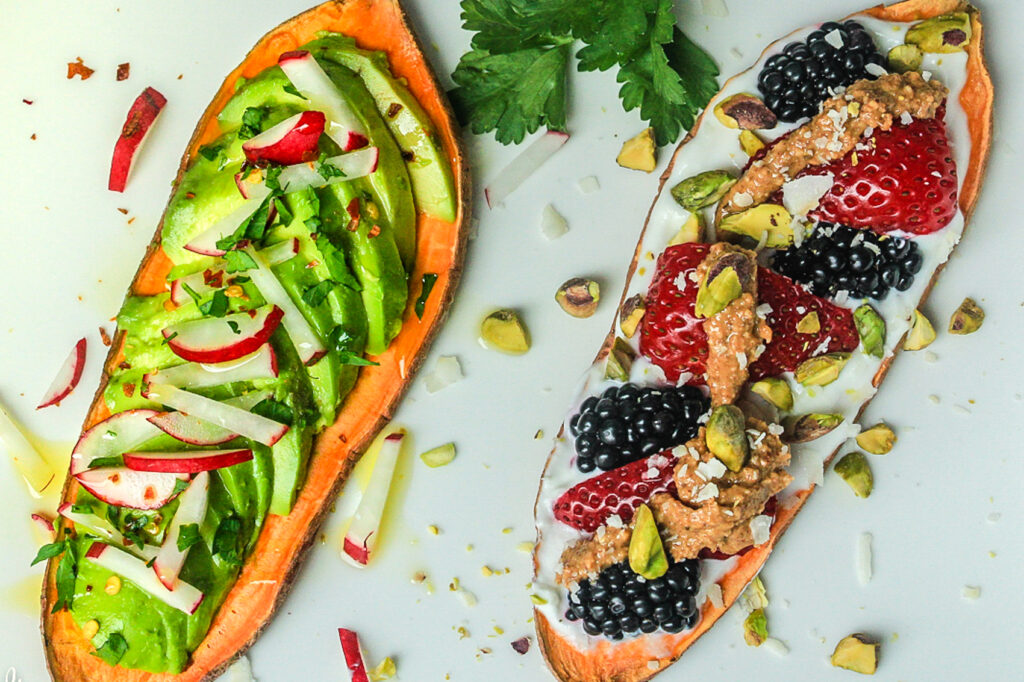 Sweet Potato Toasts
Using slices of sweet potato as toast is a trending nutritious snack! Simply roasting heaps of sliced sweet potato — which is actually a red yam — and topping them with sweet or savory ingredients is all the rage. Pop pre-roasted slices in the toaster to rewarm, just as if it were a slice of bread. They're gluten-free and can easily be vegan-friendly or totally plant-based.
Roasted Sweet Potato Toasts: Preheat the oven to 400ºF and line a baking sheet with parchment paper.
Using a mandoline or a knife, slice a sweet potato lengthwise into sliced at least 1/4 inch thick. Slice off the tips if they are gnarled.
Arrange the slices in a single layer on the baking sheet. Bake about 20 minutes, flipping half way through, until just fork tender. Allow to cool about 5 minutes before layering on your favorite toppings.
Store unused roasted slices in the fridge. To reheat, simply pop them in a toaster.
Savory Suggestions:
Half an avocado, sliced top to bottom
Fresh lemon juice
Radish, cut into matchsticks
Red pepper flakes
Chopped cilantro or chives
Optional: shredded beets
1/2 tsp. Sigona's Fresh Press Extra Virgin Olive Oil, for drizzling
Layering: Fan out the avocado the length of the slice of roasted sweet potato. Squeeze a little lemon juice over the top. Add a layer of radish and sprinkle with red pepper flakes. Add some chopped cilantro or chives and drizzle with a little olive oil.
Sweet Suggestions:
Yoconut dairy-free yogurt, any flavor
Sliced strawberries
Sliced blackberries, or other
Almond butter
Chopped pistachios
Flaked coconut
Honey, such as local, raw, unfiltered Honey Hole Honey Co. honey, available only at Sigona's
Layering: Spread some Yoconut yogurt along the length of the roasted sweet potato slice. Top with berries and a dollop or two of almond butter, spread out as well as possible. Sprinkle on chopped pistachios and coconut, finish with a drizzle of honey.
---
Big Grain Bowls with Spiraled Sweet Potatoes and a Tahini Dressing
Time to clean out the fridge? Try a grain bowl! Sometimes called hippie bowls or macro bowls, they're also often called Buddha bowls simply because the approach is about a balance to the ingredients and that they are generally served in a deep-rimmed dish so full that it's rounded at the top, overflowing with vibrant foods.
There are no strict guidelines to assembly; add in or remove any ingredients you like best. Buddha bowls are excellent vegan or plant-based options, but you can add a fried or soft-boiled egg, or even shredded chicken for added protein. Layering in fermented food, such as sauerkraut or pickled beetroot, is a great way to add in more nutrients and health benefits. Choose all raw ingredients or add more flavor by roasting some veggies.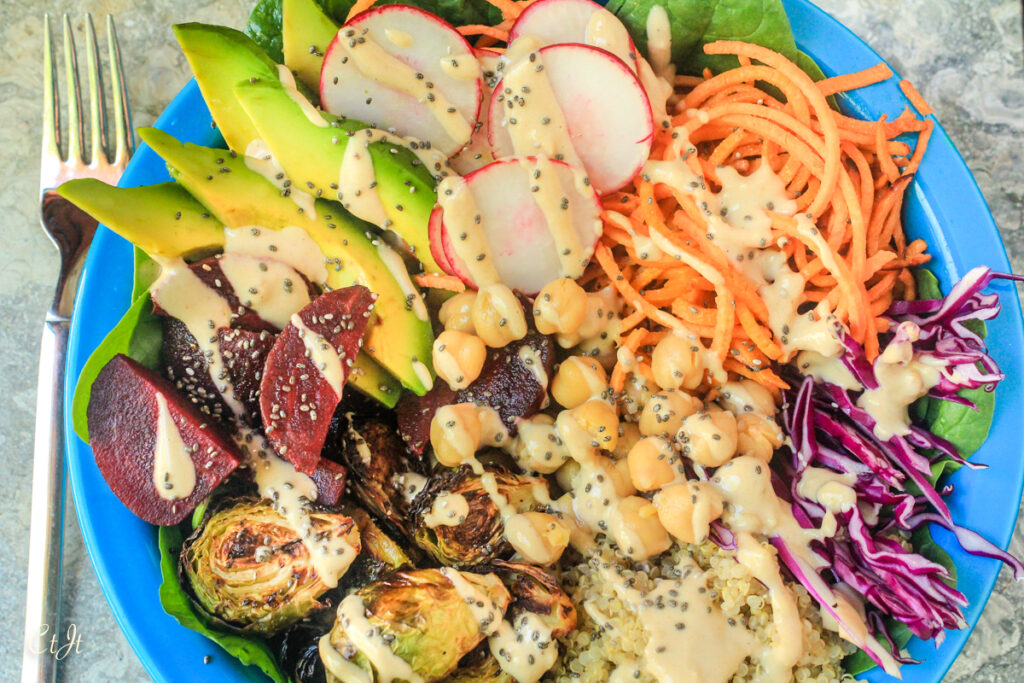 Suggested ingredients:
Cooked quinoa, barley, millet or other grain
Spiralized sweet potato/red yam, either make some yourself or try a Cece's Veggie Noodle Co. pack (look for them in our produce section), sautéed for 4 to 6 minutes in a little olive oil
Brussels sprouts, halved, tossed with olive oil, seasoned and roasted at 450 for about 20-25 minutes, flipping once
Chickpeas, drained
Sliced avocado
Red cabbage, shredded
Spinach, massaged kale or other dark leafy green
Roasted beets, slice into wedges or matchsticks
Sliced radishes
Sliced cucumber
Chia seeds and/or hemp seeds, for sprinkling
Tahini dressing (see below)
For the bowl: Add greens to the bottom of the bowl then, working in a circle, add the remaining ingredients around the bowl so they sit next to each other, not in layers. Drizzle the dish with tahini dressing and sprinkle with chia or hemp seeds.
Tahini Dressing:
1/2 cup tahini
2 Tbsp fresh lemon juice, more to taste
1 Tbsp Sigona's Fresh Press Extra Virgin Olive Oil
1 clove garlic
1/4 to 1/2 tsp. fresh grated ginger, more or less to taste
1/4 tsp. salt
1/2 to 1 tsp. honey, to taste, such as raw purple sage honey from Honey Hole Honey Co., available only at Sigona's
Salt and pepper, to taste, if desired
1/4 to 1/2 cup water (start with 1/4 and add more as desired to reach a nice consistency)
Directions: Whisk ingredients together in a small bowl. Add water as necessary to achieve desired consistency. Drizzle on your salad and top with chia seeds. You'll have dressing left over.