Mixed Greens with a Blackberry-Ginger Balsamic & Roasted French Walnut Oil Vinaigrette
A simple yet elegant salad with a delightfully flavorful vinaigrette. Serves 6.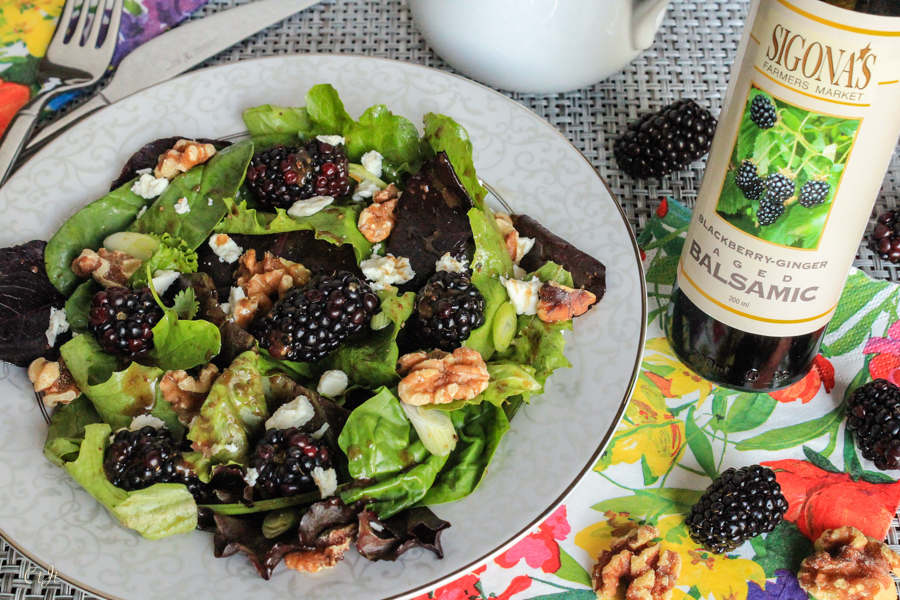 Vinaigrette:
1 tsp. lemon juice
1 tsp. Dijon mustard
Salt and pepper, to taste
Salad:
About 5 oz. mixed greens, or one large handful per serving
Optional: 2 green onions, sliced on the bias
1/3 cup crumbled feta or goat cheese
1/4 to 1/2 cup roughly chopped raw walnuts or pecans (look for them in Sigona's dried fruit & nut department)
3/4 cup or more fresh blackberries (slice larger berries if desired)
Directions: In a small bowl, whisk together the balsamic, lemon juice and Dijon. While whisking, drizzle in the olive oil until the mixture is emulsified. Season with salt and pepper.
In a large bowl, toss the greens and green onion, if using, with about half of the vinaigrette – being careful not to add too much – until well coated. Transfer the greens to a large serving platter or divide among individual salad plates.
Top the salad with crumbled cheese, walnuts and blackberries. Drizzle a bit of the remaining vinaigrette over the top and/or serve remaining vinaigrette on the side.
Grilled Nectarine Bruschetta with Honey Mascarpone, Pistachios and Basil
Grilling fruit caramelizes its natural sugars, presenting a greater depth of flavor. The light charring of both the fruit and the bread pairs deliciously with the sweetness of the honey and the tang of the balsamic. You can, of course, easily leave the fruit in a raw state if you wish. Using a fat loaf of bread makes for generous slices of bruschetta. Inspired by Cooking Light. Serves 8 (or 16 if you halve the slices).

Ingredients:
Directions: Heat a grill pan over medium-high heat.
In a small bowl, combine 1 teaspoon honey and 1 teaspoon water. Add the quartered nectarines and gently toss to coat.
Brush the grill with a little olive oil. Add the nectarines, cut sides down, in a single layer. Grill for about 2 minutes a side or until grill marks are present and fruit has softened a bit. Remove from the grill, allow to cool to the touch, then slice each quarter into 3 or 4 wedges.
In a small bowl, mix together the mascarpone with about 2 tablespoons honey. Set aside.
Increase grill pan heat to high. Brush both sides of the bread slices with olive oil and place on the grill to toast for 1 minute each side. Remove to a plate.
Spread a generous amount of the honey-mascarpone mixture (about 1 heaping tablespoon) on each slice of toasted bread. Top each slice with 3 or 4 nectarine wedges, then add some chopped pistachios, if using.
Plate the bruschetta on a serving platter. Drizzle the entire dish with remaining honey and balsamic. Top with chiffonade basil and serve.