Recipe Roundup: Sigona's Blackberry-Ginger Balsamic
Mixed Greens with a Blackberry-Ginger Balsamic & Roasted French Walnut Oil Vinaigrette
A simple yet elegant salad with a delightfully flavorful vinaigrette. Serves 6.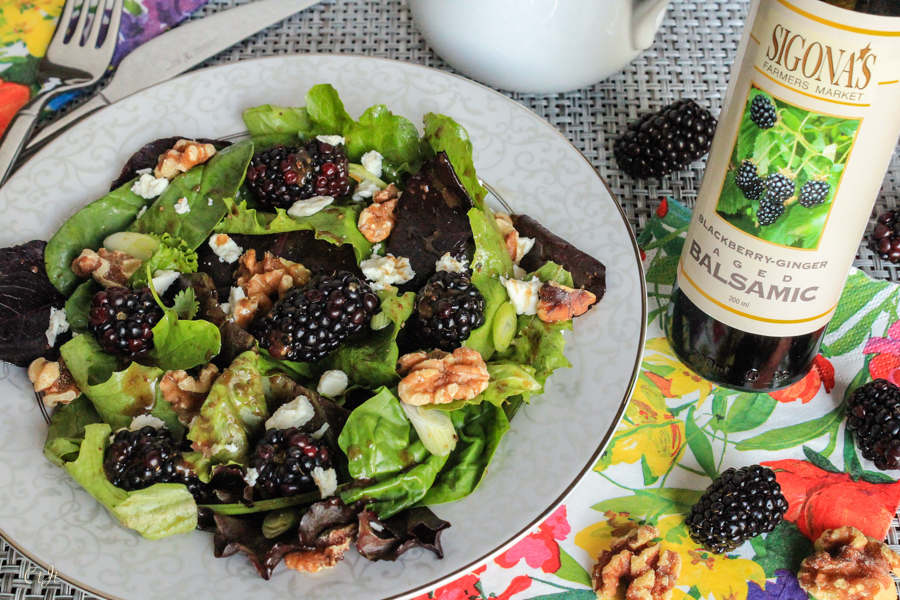 Vinaigrette:
1 tsp. lemon juice
1 tsp. Dijon mustard
Salt and pepper, to taste
Salad:
About 5 oz. mixed greens, or one large handful per serving
Optional: 2 green onions, sliced on the bias
1/3 cup crumbled feta or goat cheese
1/4 to 1/2 cup roughly chopped raw walnuts or pecans (look for them in Sigona's dried fruit & nut department)
3/4 cup or more fresh blackberries (slice larger berries if desired)
Directions: In a small bowl, whisk together the balsamic, lemon juice and Dijon. While whisking, drizzle in the olive oil until the mixture is emulsified. Season with salt and pepper.
In a large bowl, toss the greens and green onion, if using, with about half of the vinaigrette – being careful not to add too much – until well coated. Transfer the greens to a large serving platter or divide among individual salad plates.
Top the salad with crumbled cheese, walnuts and blackberries. Drizzle a bit of the remaining vinaigrette over the top and/or serve remaining vinaigrette on the side.
Grilled Nectarine Bruschetta with Honey Mascarpone, Pistachios and Basil
Grilling fruit caramelizes its natural sugars, presenting a greater depth of flavor. The light charring of both the fruit and the bread pairs deliciously with the sweetness of the honey and the tang of the balsamic. You can, of course, easily leave the fruit in a raw state if you wish. Using a fat loaf of bread makes for generous slices of bruschetta. Inspired by Cooking Light. Serves 8 (or 16 if you halve the slices).

Ingredients:
Directions: Heat a grill pan over medium-high heat.
In a small bowl, combine 1 teaspoon honey and 1 teaspoon water. Add the quartered nectarines and gently toss to coat.
Brush the grill with a little olive oil. Add the nectarines, cut sides down, in a single layer. Grill for about 2 minutes a side or until grill marks are present and fruit has softened a bit. Remove from the grill, allow to cool to the touch, then slice each quarter into 3 or 4 wedges.
In a small bowl, mix together the mascarpone with about 2 tablespoons honey. Set aside.
Increase grill pan heat to high. Brush both sides of the bread slices with olive oil and place on the grill to toast for 1 minute each side. Remove to a plate.
Spread a generous amount of the honey-mascarpone mixture (about 1 heaping tablespoon) on each slice of toasted bread. Top each slice with 3 or 4 nectarine wedges, then add some chopped pistachios, if using.
Plate the bruschetta on a serving platter. Drizzle the entire dish with remaining honey and balsamic. Top with chiffonade basil and serve.
---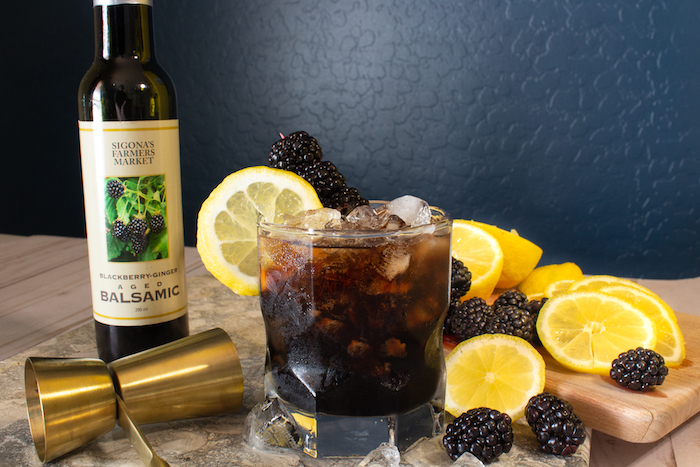 Blackberry Ginger Bramble
The Bramble is a gin-based cocktail made famous in London in the 1980s. Instead of using simple syrup and crème de mure, a blackberry liqueur, we use our blackberry ginger balsamic, which has all the flavor and sweetness needed to create this drink. Serves 1.
Ingredients:
1 1/2 oz gin
3/4 oz fresh lemon juice
1 oz Sigona's Blackberry Ginger Balsamic (add more, to taste)
Fresh lemon slice and blackberries, for garnish
Directions: Fill an Old Fashioned glass with crushed ice. Stir together the gin and lemon (shake in a cocktail shaker, if you're so inclined) and then pour over the ice. Add the balsamic, garnish the glass and serve.

---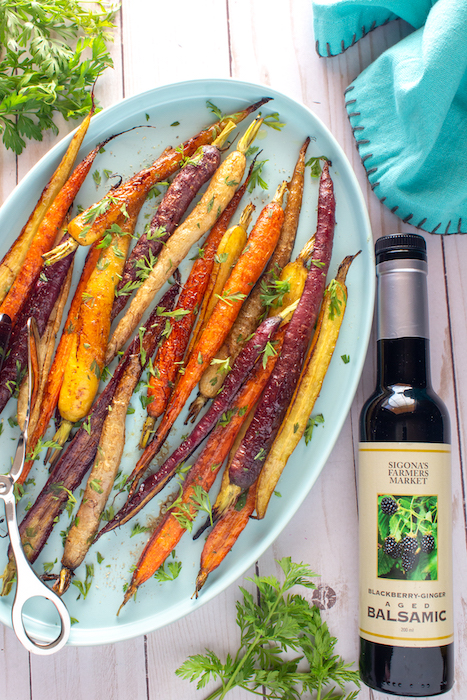 Blackberry-Ginger Balsamic & Garlic Roasted Rainbow Carrots
As the carrots roast, their natural sugars caramelize, giving the veggie a deep, rich flavor that's slightly sweet, pairing deliciously with the blackberry ginger balsamic. The blackberry adds another layer of sweetness that's balanced by the ginger, as well as the garlic, whether you're using our garlic oil or sliced garlic. Serves 4 to 6.
Ingredients:
2 bunches rainbow carrots with tops
1 Tbsp Sigona's Garlic Oil or 2 Tbsp Sigona's Fresh Press Extra Virgin Olive Oil + 1 to 2 cloves garlic, thinly sliced
2 tbsp Sigona's Blackberry Ginger Balsamic
Coarse salt and freshly ground black pepper, to taste
Directions: Preheat oven to 400°F and line a rimmed baking sheet with foil.
Wash carrots and pat dry. Remove tops from carrots; chop a couple tablespoons worth of the greens and set aside. Slice larger carrots in half lengthwise so they're all about the same thickness. Place carrots on the baking sheet.
In a bowl, whisk together the balsamic and oil. Drizzle mixture over the carrots, season with salt and pepper (and garlic, if using sliced) and toss to coat well. Spread carrots out in a single layer and roast in the oven for about 30 minutes, tossing carrots half way through. They're cooked with they're slightly browned along the edges and the carrots softened but still have a slightly crisp center.
Transfer to a serving dish and finish with a sprinkling of coarse salt and chopped carrot greens.
---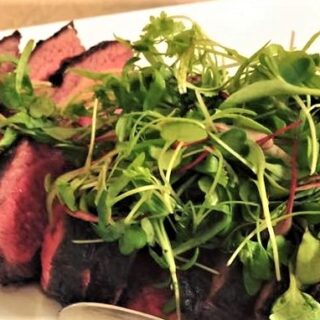 Blackberry-Ginger & Herb Marinated Tri-Tip Roast
This savory marinade has a hint of sweet. It's flavorful, helps to tenderize the beef and is a simple, delicious dish for a weeknight meal or a weekend BBQ. Serves about 6.
Instructions
Combine the balsamics, soy sauce, olive oil, garlic and pepper together in a large zip-top bag. Add the beef and shake to coat.

Marinate the beef in the fridge for at least 12 hours, flipping the bag occasionally.

Before cooking, allow beef to sit at room temperature for at least 40 minutes. Remove beef from marinade, discard marinade.

To cook: We like ours on the grill, but you can smoke, grill or roast until your desired degree of doneness.

To grill: Preheat grill to 350°F. Place roast on grill, fat-side down, to sear well for about 6 o 8 minutes. Flip and sear for another 6 to 8 minutes. Reduce heat to medium high or move roast to where it will continue to cook over indirect heat. Flip roast again and continue to cook for another 15-25 minutes, flipping every 8 minutes, until an instant-read thermometer reads 130°F (this will produce a medium-rare roast; the temp will rise a little of while it rests). Remove roast from the heat and allow to rest, tented with foil, for at least 10 minutes.

When cutting, slice against the grain.