Recipe Roundup: Sigona's Wild Raspberry White Balsamic Recipes
Our Wild Raspberry White Balsamic is a little more tangy and acidic than our red raspberry balsamic, but still carries the sweet flavor of ripe, red raspberries. It goes well with spicy foods or even in cocktails.
Wild Raspberry White Balsamic Martini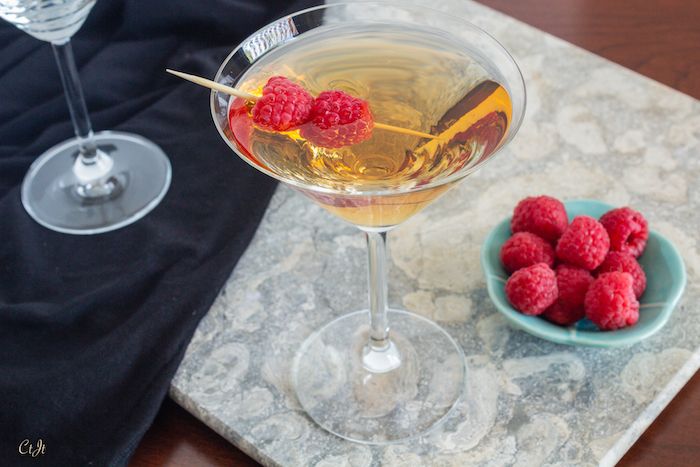 This is a fantastic, savory martini with a hint of color that's easy to make and is sure to impress. Our wild raspberry white balsamic is more of a grown-up balsamic in that it is more tart than our traditional red raspberry balsamic. Mixing vinegar in cocktails is a popular move by some of the trendiest bartenders, and is a combination you'll just have to try to appreciate. Serves 1.
Ingredients:
2 parts vodka (3, if you're feeling adventurous)
Fresh raspberries, for garnish
Directions: Add vodka, balsamic and ice in a cocktail shaker. Shake well then strain and pour into a glass. Garnish with a few fresh raspberries on a skewer.
---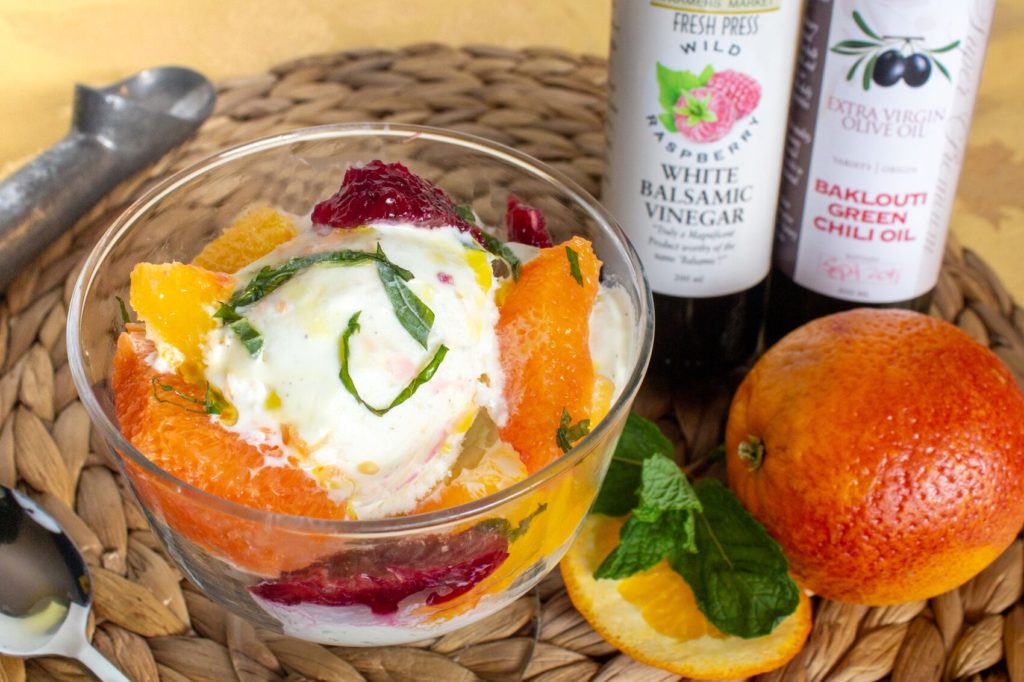 Vita's Citrus Sundae with a Wild Raspberry & Baklouti Drizzle
Sigona's crew member Vita introduced us to the combination of our wild raspberry white balsamic and the spicy baklouti oil, and man, oh man, are we glad she did! At first we thought, yes, it would be excellent as a vinaigrette or dipper, but Vita said wait until you try it drizzled on a citrus sundae. As Vita says, the tang of the wild raspberry pairs well with the citrus, but it's the baklouti oil that introduces a whole new level of wow. Baklouti is SPICY, but the acid from the wild raspberry white balsamic cuts it a little, and when paired with creamy vanilla gelato or ice cream, the combination is outrageously amazing. Each bite introduces layers of bright citrus flavor, creamy vanilla and sweet-tangy raspberry, finishing with a lingering heat that makes you dive right back in for another bite. Serves 2.
For the Citrus Sundae
1 blood orange
1 cara cara orange
1 navel orange
Vanilla or vanilla bean gelato or ice cream
Fresh mint for garnish, julienned
For the Wild Raspberry and Baklouti Drizzle
Directions: Begin by supreming the citrus: cut the top and bottom off your citrus fruit. Slice the peel from the fruit, top to bottom, getting as close to the flesh as possible. Once the peel is removed, slice any remaining pieces of white pith from the fruit so no white remains. Then, working over a bowl to catch the juices, slice closely along the sides of each membrane to neatly remove the citrus segments in between. Set supremes aside.
In a small bowl or jar, combine equal parts of the balsamic and the oil (start with a tablespoon of each or increase measurements if you wish to save the mixture for another use). Whisk or shake until combined; taste and adjust as needed (remember, the baklouti is spicy so you may want to add more balsamic).
Add gelato to two individual bowls and top evenly with citrus supremes. Drizzle about a teaspoon of the balsamic mixture over each dish; garnish with mint and serve immediately.