September Oil & Balsamic Sale Recipes
Each month we put different olive oils and balsamics on sale so you have a chance to try something new at a great price. Featured this month are:
NEW Elderberry Balsamic
Neapolitan Herb Balsamic
Lavender Balsamic
Sicilian Lemon White Balsamic
Wild Mushroom & Sage Olive Oil
This sale runs through September 1 – 30, 2021. If you need some recipe inspiration, check out the recipes below. Let us know in the comments if you try one or if you come up with your own recipe!
Seared Scallops with a Lemony Chimichurri
The lemony notes from the actual lemon (peel and all), as well as our Sicilian lemon balsamic, give this chimichurri sauce the absolute best flavor for seafood. Chimichurri is traditionally a grilled-meat sauce starring parsley and cilantro, but we were inspired by a recipe from Bon Appetit to serve it with our fantastic, jumbo-sized scallops. Serves 4 to 6 as a side.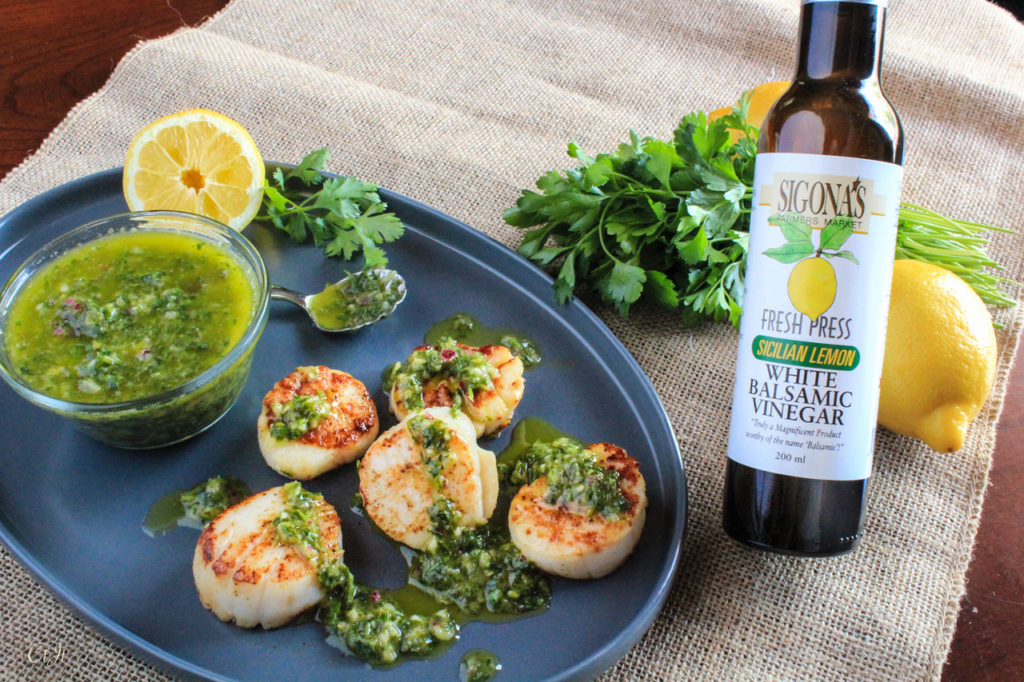 Lemony Chimichurri
Half a lemon, seeded and roughly chopped
1 heaping Tbsp Sigona's Sicilian Lemon White Balsamic
1 to 2 cloves garlic
2 Tbsp diced red onion or 1 shallot, roughly chopped
3/4 cup fresh parsley
1/2 cup fresh cilantro
1/4 cup fresh chives
Salt and pepper, to taste
1/2 cup Sigona's Fresh Press Extra Virgin Olive Oil
Scallops:
8 to 12 wild sea scallops
Salt and pepper, to taste
2 tsp. Sigona's Fresh Press Extra Virgin Olive Oil
2 tsp. unsalted butter
Directions: To a food processor, add the lemon (peel and all), balsamic, garlic and onion/shallot. Pulse until ingredients are roughly chopped. Add the herbs, salt and pepper; pulse a few times. With the blade running, drizzle in the olive oil and process until ingredients are all about the same size and the oil in the mixture is emulsified. Taste; adjust seasoning if needed.
Allow mixture to sit while scallops are prepared to allow the flavors to meld, at least 10 minutes.
Rinse and pat dry the scallops. Season both sides with salt and pepper. Add the oil and butter to a large skillet over medium-high heat. When the butter has melted and the combination is just starting to smoke, add the scallops, being careful not to over crowd the pan (work in batches if needed). Cook for just 1 minute 30 seconds each side, flipping once. Scallops should have a nice golden-brown sear that is about 1/4 inch deep on each side, and the middle should still be slightly translucent.
Transfer the scallops to a serving dish and serve the chimichurri on the side. Enjoy!
---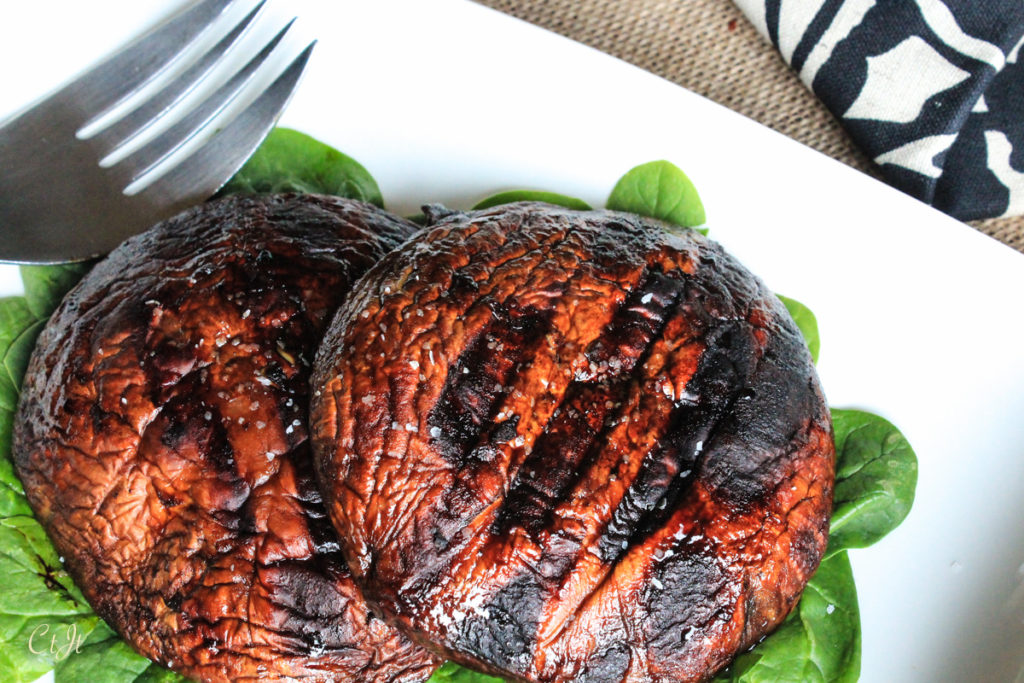 Grilled Portobello Mushrooms Marinaded in Neapolitan Balsamic and Sage & Wild Mushroom Olive Oil
The balsamic and the olive oil are packed with awesomely herbaceous flavor, so this marinade requires just a few ingredients. Use them to build a burger or eat them as you would a steak. Marinates 2 portobello mushrooms.
Ingredients:
2 Tbsp fresh lemon juice
1 to 2 cloves garlic, minced
2 tsp. Dijon mustard
1/2 tsp. Kosher salt
Directions: In a small bowl, whisk together the balsamic, lemon juice, garlic, dijon and salt. While whisking, drizzle in the olive oil and mix until emulsified.
Place the mushrooms in a large zip-top bag. Add the marinade, seal and gently toss to coat the mushrooms. Allow to marinate at room temperature for at least 30 minutes; ideally an hour.
Preheat an outdoor grill over high heat. When time to cook, remove the mushrooms from the bag and place on the heated grill. Cook about 5 to 7 minutes a side, turning once.
Serve mushrooms either as you would a steak or make yourself a portobello mushroom burger with all your favorite toppings.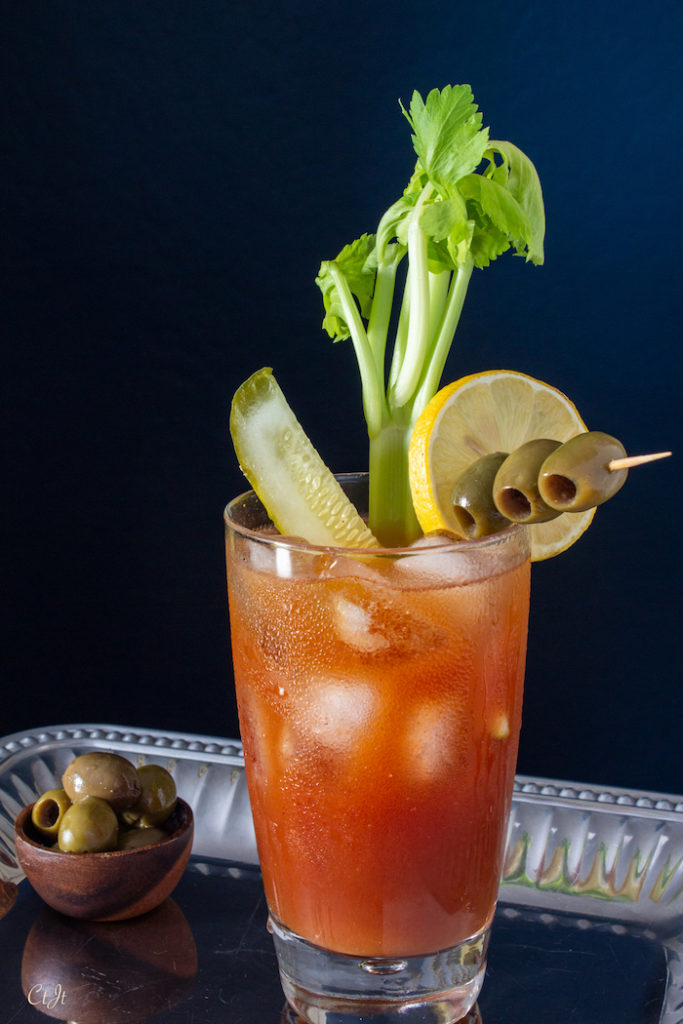 Bloody Mary with Neapolitan Herb Balsamic
In addition to seeing how many edible adornments you can add to the top of your drink, adding balsamic is an exciting way to spice up a Bloody Mary. Our Neapolitan Herb Balsamic is infused with rosemary, marjoram, thyme, garlic and sage — it's absolutely perfect for adding layers of herbaceous and tangy flavor to your drink. Serves 2.
Ingredients:
About 1/2 cup vodka
8 oz. tomato juice
1/2 Tbsp prepared horseradish, or to taste
2 1/2 tsp. Sigona's Neapolitan Herb Balsamic
1/2 tsp. Worcestershire sauce, optional
2 Tbsp fresh lemon juice, more to taste
A couple dashes hot sauce, such as Tabasco
Freshly ground paper, to taste
Ice
Suggested Garnishes:
Stalks of celery
Green olives
Lemon wedge
Pickles
Cooked shrimp
Cherry tomatoes
Green chilies
Pickled vegetables (asparagus, beans, etc.)
Directions: In a pitcher, mix together the vodka, tomato juice, horseradish, balsamic, Worcestershire, lemon juice, Tabasco and pepper.
When ready to serve, fill two glasses with ice and then add the Bloody Mary mix. Add a stalk of celery and any other garnish you wish.
---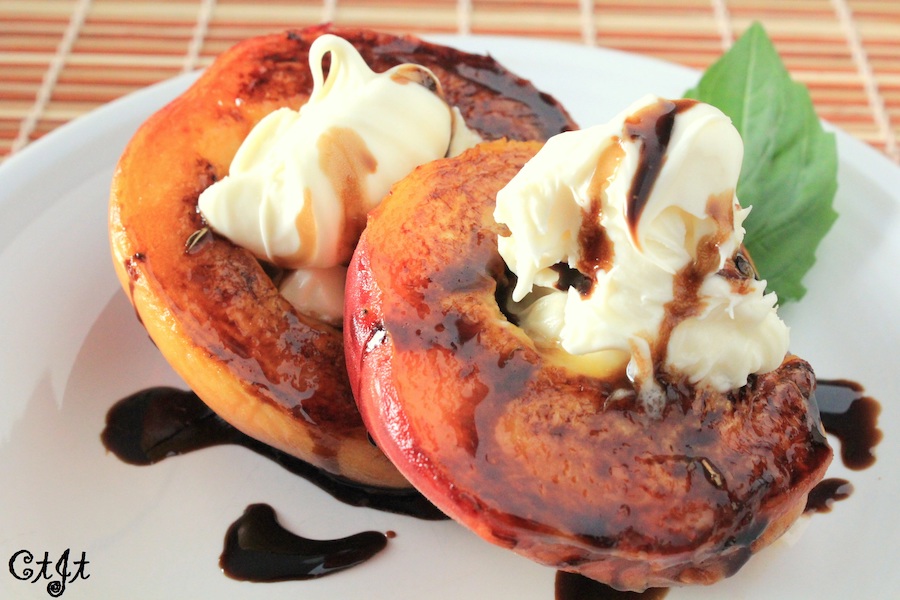 Mascarpone- Topped Summer Stone Fruit with a Lavender Balsamic Reduction
Simple yet elegant, this is a beautiful and delicious dish to serve after a busy day. The creamy, honey-infused mascarpone is killer. Serves 2 to 4.
Ingredients:
1/3 cup Sigona's Lavender Balsamic
A generous pinch of dried savory or thyme
2 locally grown peaches or nectarines, halved and pitted
1 to 2 Tbsp honey, divided, such as Orange honey from Honey Hole Honey Co., available at Sigona's
1/3 cup mascarpone, such as Belfiore
Mint or basil leaves, as garnish
Directions: Add balsamic and a pinch of herbs to a small sauce pan. Bring to a light boil then reduce heat to a simmer and cook, stirring occasionally, until reduced to about 2 tablespoons (about 6 to 10 minutes). Cool slightly.
Divide fruit halves among serving plates (one or two per plate).
In a small bowl, mix together the mascarpone and honey. Spoon about 2 teaspoons mascarpone into the center of each peach half then and drizzle about 1 tsp. or so of the balsamic reduction over each serving.
---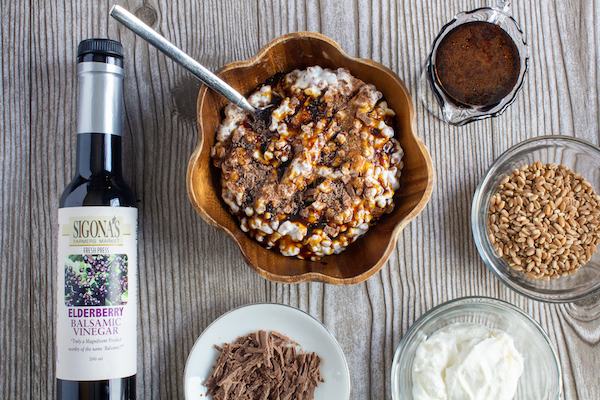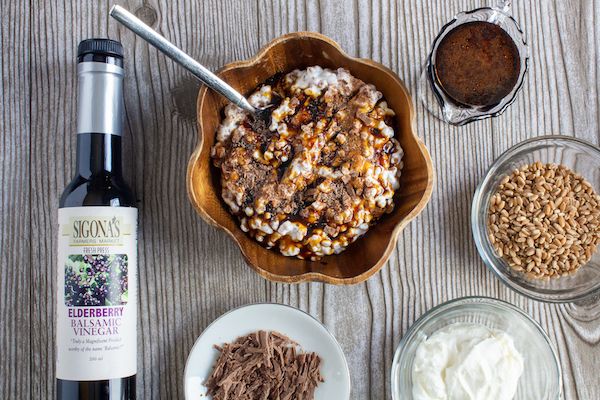 Cuccia – Sicilian Wheat Berry & Ricotta Pudding with an Elderberry Balsamic Reduction
Cuccia, or Cuccia Con Ricotta, is a traditional Sicilian dessert served on St. Lucy's Day, which falls on December 13. It can be found topped with candied fruit, but we think a balsamic reduction adds just the right amount of sweetness and gives just the right amount of tart to cut the richness of the ricotta. It's perfection with shaved chocolate and cinnamon on top. Serves about 4.
Ingredients:
1 cup dried wheat berries, such as Jovial
1/4 tsp kosher salt
13 oz (1 1/2 cups) fresh whole-milk ricotta
2 TBSP sugar
1/8 tsp vanilla extract
200 ml Sigona's Elderberry Balsamic (new!)
A few shakes of ground cinnamon, for garnish
Dark chocolate, shaved with a knife, vegetable peeper or microplane, for garnish
Directions: Place wheat berries in a medium saucepan and cover with water by 2 to 3 inches. Stir in salt and bring the mixture to a boil over high, then reduce to a simmer. Cook, uncovered, for about 50 to 60 minutes or until wheat berries are tender. Strain the berries using a fine-mesh strainer and then rinse with cool water to chill. Set the strainer in a large bowl and set aside so they continue to drain as you prepare the rest of the ingredients.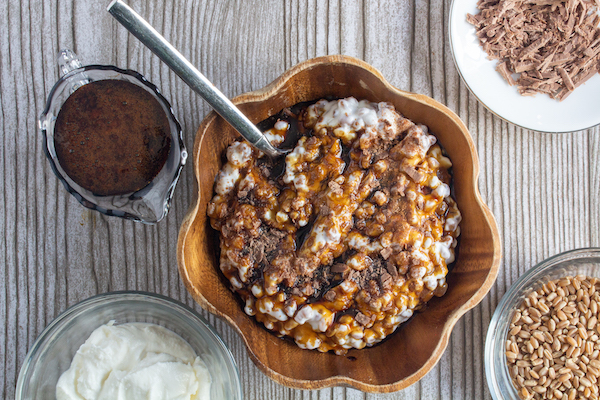 Add the balsamic to a small saucepan and bring to a boil over medium-high heat. Once boiling, reduce heat to a simmer and cook, stirring occasionally, for about 5 to 10 minutes or until the balsamic has reduced by about half. Remove from heat and allow to cool for about 10 to 15 minutes or until it thickens to a desired consistency (somewhat like a thick chocolate syrup). Keep in mind it will continue to thicken when removed from heat.
Meanwhile, in a blender or other processor, whip together the ricotta, sugar and vanilla until smooth. Transfer to a medium bowl and stir in the cooled wheat berries.
To serve, add servings to individual bowls. Use a vegetable peeler or grater to shave some chocolate over the top of each dish. Sprinkle with a little cinnamon and finish with a drizzle of the balsamic reduction.
It's meant to be served chilled or at room temperature, similar to a rice pudding.