Dry-Farmed Early Girl Tomatoes on Toast
Dry-Farmed Early Girl Tomatoes on Toast
When it comes to in-season tomatoes, keeping recipes simple is best. The flavor of the dry-farmed Early Girl tomatoes is intense, due to the growing method — dry-farmed tomatoes aren't irrigated as they grow; they only get watered in the beginning, then it's up to their long roots to pull up water from the earth. As for this dish, you'll love the tomatoes paired with a hint of herbaceous-ness from our basil oil, and the creamy, savory factor from the mayo. If you still aren't too keen on using mayo, try a spreadable goat or cow's milk cheese.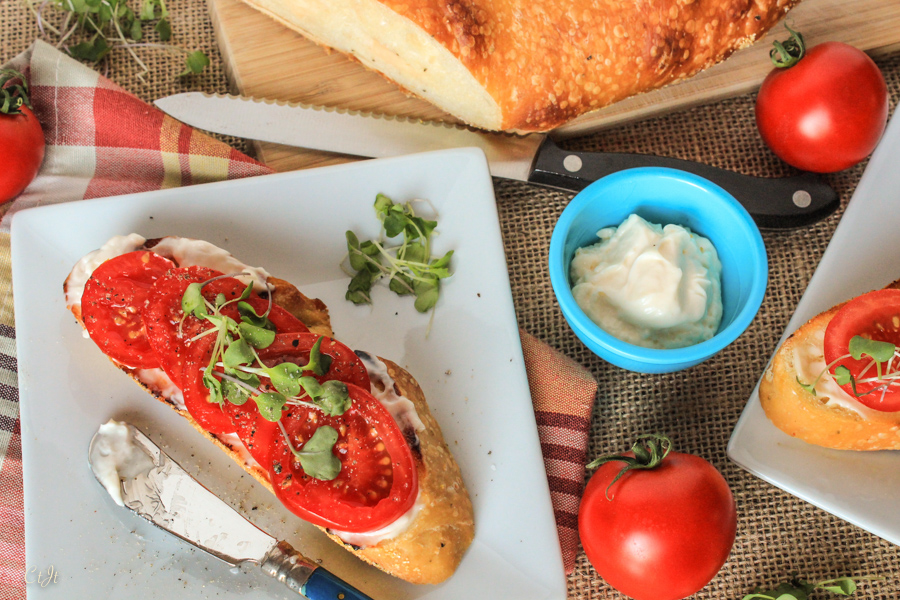 What you need:
A loaf of crusty artisan bread, sliced on the bias into pieces 1" thick
Sigona's Basil Oil, for brushing
2 to 3 tsp. mayonnaise per toast being prepared, such as Sir Kensington's mayonnaise or Vegenaise
1 dry-farmed Early Girl tomato per slice of toast being prepared, cut into 1/4-inch thick slices
Micro greens, a pinch or two per slice of toast being prepared (check out our micro kale or micro radish greens)
Salt and freshly ground black pepper, to taste
Directions: Preheat a grill pan or griddle over high heat. Brush each side of the bread slices with oil. Toast each side of the bread for about 1 minute or until it is a nice golden color. This will make for a nice, toasty outside, but a soft inside.
Spread the mayonnaise on one side of each toast then top the mayo'd side with sliced tomato, overlapping the slices to fit at least 5 to 6 slices per toast.
Top each toast with a pinch or so of micro greens; season with salt and pepper. Serve immediately.