In the Kitchen with Sigona's Featuring: Mango Chutney with Cranberry Pear Balsamic
Mango Chutney with Cranberry Pear Balsamic
Sometimes all your turkey, sandwich, toast or cheeseboard needs is a good chutney. This is a simple, delicious chutney that takes little time to create. The combination of flavors is savory-sweet, and can be enhanced by a pinch of ground cinnamon or ginger, if desired. Adapted from The Olive Oil & Vinegar Lover's Cookbook. Makes about 1 1/2 cups, depending on mango size.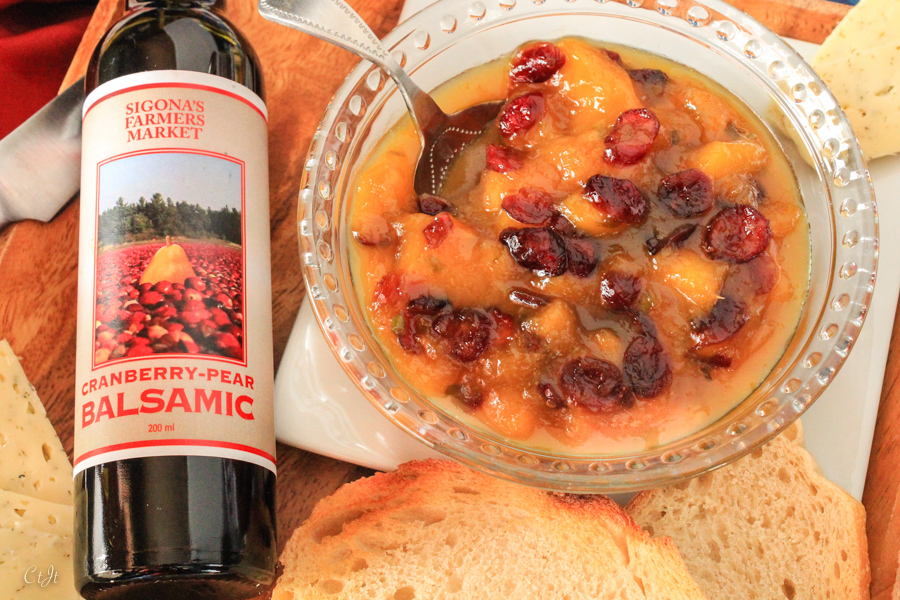 Ingredients:
2 Tbsp Sigona's Meyer Lemon Olive Oil
5 green onions, white and light green parts chopped
2 mangos, peeled and chopped
1/3 cup dried East Coast cranberries (look for them in our dried fruit & nut section)
2 Tbsp honey, such as raw, local, unfiltered honey from Honey Hole Honey Co., available only at Sigona's
Optional: a pinch of ground cinnamon or ginger
Directions: Heat the olive oil in a medium skillet or frying pan over medium heat. Add the green onions and cook, stirring occasionally, until tender and soft, about 3 minutes.
Add the mango, cranberries, honey and balsamic. Bring the mixture to a gentle boil, stirring occasionally, then reduce heat to a simmer and cook until the mixture has thickened and the cranberries have plumped a bit, about 7 to 10 minutes.
Allow to cool a bit before serving. May be used warm, chilled or at room temperature. Will keep, sealed and refrigerated, for up to a week.