In the Kitchen with Sigona's Featuring: Satsuma Mandarins
Satsumas are easy to peel and eat. We love their balanced sweet-tart flavor! They're great eating out-of-hand, and are also great in some recipes, like in a fall salad with fresh pomegranate arils (those ruby red seeds) or dried cranberries. Check out some recipes below!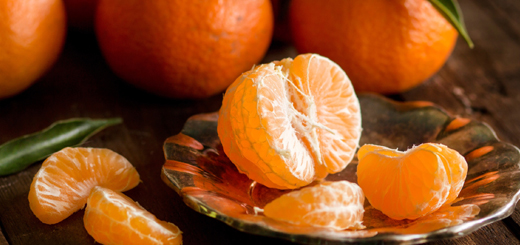 How to spot a good Satsuma:
The more orange they are, the sweeter the Satsuma. Too much green won't have the flavor that the riper orange ones have. They should be bright and vibrant with a good natural shine to them.
The heavier they are, the juicier they'll be.
IF they have leaves, they should be green and supple. If they have leaves that are dry, brown or leaves that break easily, they are probably old.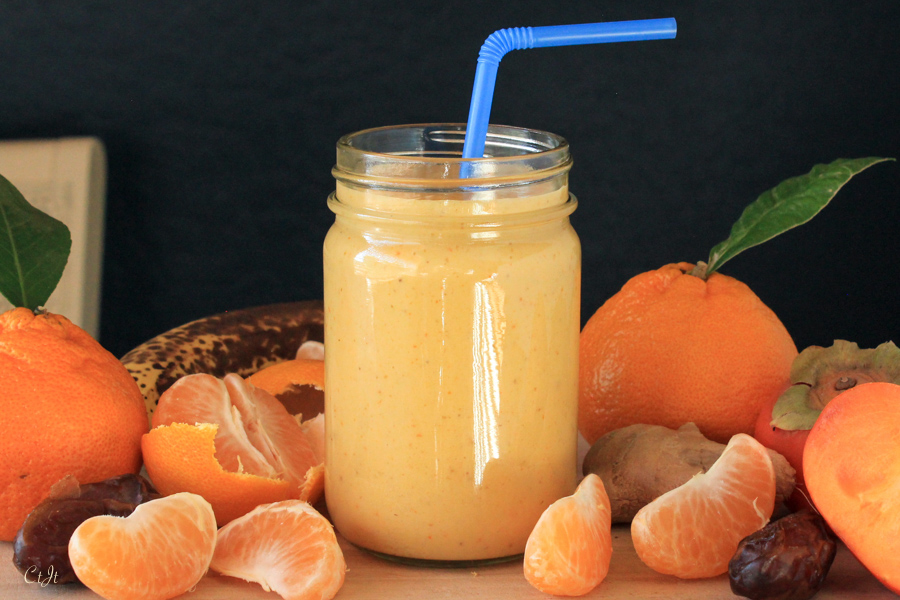 Creamy, Vitamin-C-Packed Satsuma & Persimmon Smoothie
It's that time of year where we can all use an extra punch of Vitamin C to help stave off colds. Citrus, ginger and turmeric all provide properties to help you stay healthy or even feel better fast. This smoothie doesn't taste like a trick to cure you, it's simply creamy, flavorful and full of good. Almost like orange juice meets Jamba Juice. Serves 1 to 2.
Ingredients:
1 satsuma mandarin, peeled
1 frozen banana, chopped
Half a Fuyu persimmon, chopped
2 Medjool dates, pits removed
1/2 cup plain yogurt, dairy-free or regular (milk or milk alternatives are another option)
1/2 to 1 tsp. fresh grated ginger, to taste
1/2 tsp. fresh grated turmeric
Cold water, as needed, to reach desired consistency
Directions: Add all ingredients to a blender. Blend until ingredients are incorporated and smooth. Add water as necessary to reach a desired consistency.
---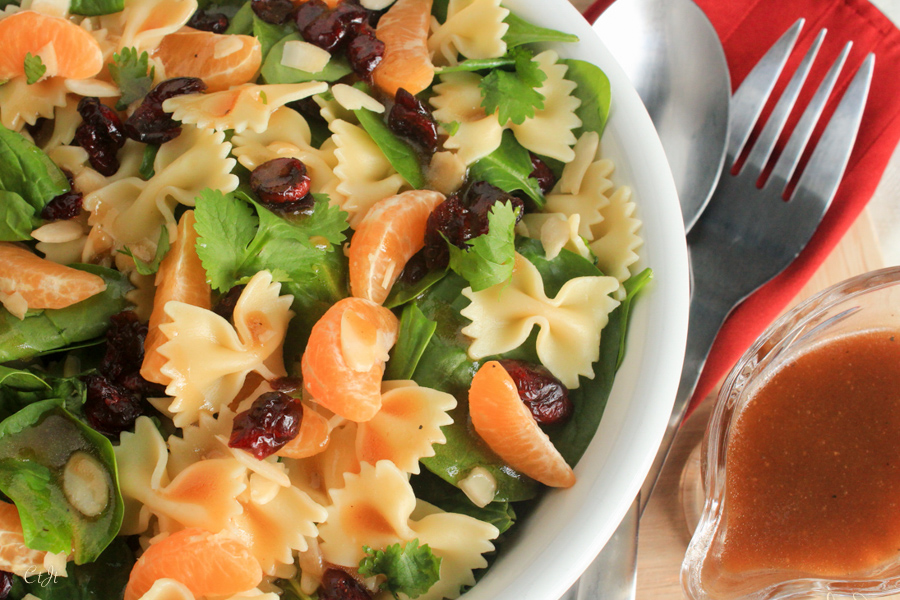 Satsuma Mandarin, Spinach and Farfalle Pasta Salad with Teriyaki-Ginger Dressing
Simple, healthy and delicious, this is a great salad for lunch or dinner. Adding cooked chicken strips would give the salad some protein for a heartier meal. Alter the pasta to spinach ratio for a lower-carb option if desired. Inspired by Creme De La Crumb. Serves 4 to 6.
Salad:
8 oz. farfalle pasta (look for fresh, locally made Saporito Fine Pasta, available at Sigona's)
4 cups baby spinach, stems removed
1/2 cup apple juice sweetened dried cranberries, available at Sigona's
1/3 cup sliced blanched almonds
2 to 3 Satsuma mandarins, peeled and segmented
1/4 cup cilantro, roughly chopped
Optional: 2 to 3 green onions, sliced
Dressing:
Directions: Cook pasta to al dente according to package directions. Drain, rinse with cold water and set aside.
Meanwhile, combine the dressing ingredients in a jar or or a bowl and shake or whisk to combine. Chill until ready to serve.
In a large bowl combine the pasta with spinach, cranberries, almonds, Satsumas, cilantro and green onion, if using. Just before serving, add a couple tablespoons of the dressing and toss the salad to coat the pieces evenly. Add more if desired and/or serve remaining dressing on the side.
---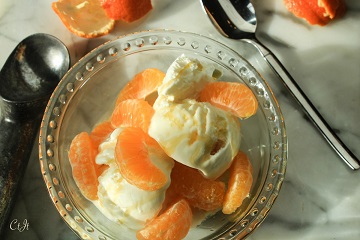 Grown Up Creamsicle with Satsuma Mandarins, Vanilla Ice Cream and Frangelico
Who doesn't love a creamsicle? This grown-up version is simple and just as satisfying, but with a twist.
What you need:
Vanilla Ice Cream or vanilla bean gelato
One satsuma per serving, peeled and broken into segments
Frangelico or brandy, for drizzling
Directions: Scoop ice cream or gelato into individual serving dishes. Add Satsuma segments and drizzle with Frangelico. Serve.
---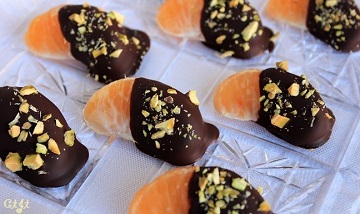 Chocolate Dipped Satsumas with Chopped Pistachios
Orange and chocolate is a delicious combination. Leave off the pistachios if you choose. One Satsuma yields about 10 segments.
Ingredients:
About 3 to 5 oz. melting chocolate, such as Guittard, per Satsuma mandarin
Satsuma mandarins, peeled and broken into segments
Finely chopped pistachios, a pinch or two per segment
Directions: Place the peeled Satsuma segments in the fridge for about 5 minutes.
Chop chocolate and put in a narrow, shallow microwaveable bowl or coffee mug. Microwave for 30 seconds, stir and microwave again for 30 seconds. Repeat until thoroughly melted.
Prepare a plate or baking sheet with wax paper.
Dip one end of the Satsuma segments in the chocolate and then place it on the wax paper. Place the dipped segments in the fridge for 5 minutes.
After they have chilled for 5 minutes, dip the dipped end in the chocolate again, place it back on the wax paper and then immediately sprinkle with chopped pistachios.
You'll likely have chocolate left over. Just eat it when no one is watching.
Chill until ready to serve.
---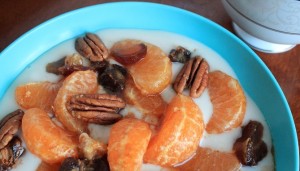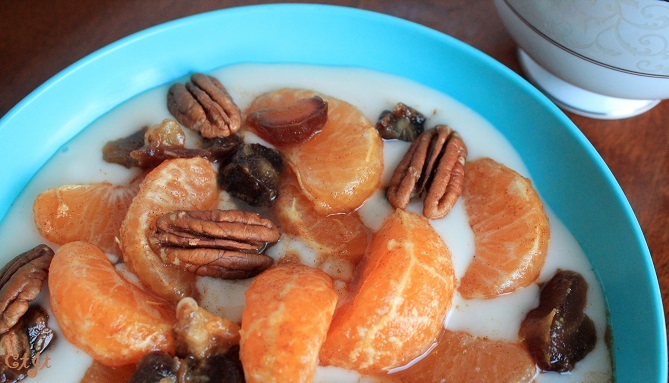 Satsuma Mandarin & Medjool Date Salad Over Yogurt
This recipe, adapted from Sunset magazine, is a classic combination of flavors from Morocco. Leave the yogurt out and serve this as a side at dinner, if desired.
What you need:
1 ½ local Satsuma mandarins per person
1/4 cup pitted, chopped Medjool dates per person
1/4 to 1/2 tsp. cinnamon per person
Whole raw pecan halves, for sprinkling
6 to 8 oz. plain or vanilla yogurt per person
Directions: Peel and segment one Satsuma and place segments in a medium bowl. Juice the remaining half Satsuma over the same bowl. Add the dates and cinnamon, stir to combine.
Spoon yogurt into individual bowls. Spoon on the Satsuma mixture and sprinkle with a couple raw pecans.
---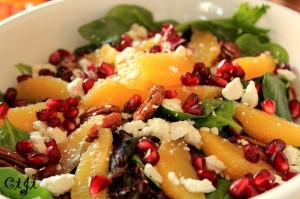 Greens with with Satsuma Mandarins and Pomegranates
This simple side salad bursts with flavor that will brighten a blustery fall day. Adapted from Health. Serves 4.
Ingredients:
3 Satsuma Mandarins
1 Tbsp Sigona's Satsuma Vanilla Cream Balsamic
2 tsp. honey, such as Orange from Honey Hole Honey Co., available at Sigona's
1 tsp. Sigona's Fresh Press Extra Virgin Olive OIl
6 to 7 cups (about 6 oz.) mixed winter salad greens, such as baby spinach, arugula, romaine and endive
1/3 cup pomegranate seeds (about 1/4 to 1/2 a pomegranate), divided
1/4 cup roasted, salted pecans or walnut pieces
1/4 cup crumbled cheese, such as a mild Feta like Athenos, or a mild, creamy chevre (goat) like Laura Chenel.
Pepper, if desired
*Satsumas peel and come apart easily, but if you want to remove even more of the white, sometimes bitter, pith, then you can slice and segment the fruit following these instructions — Segmenting Citrus: It takes time and patience, but is well worth the effort! To do this, cut the top and bottom off of your citrus fruit. Slice the peel from the fruit, top to bottom, getting as close to the flesh as possible. Once the peel is removed, slice any remaining pieces of white pith from the fruit so no white remains. Then, slice closely along the sides of each membrane to neatly remove the citrus segments in between. And there you have it!
Directions: Peel and segment* 2 Satsumas; set aside. Juice the remaining Satsuma (to get about 1/3 cup juice)
Whisk together juice, balsamic and honey in a small bowl. Pour oil in slowly, whisking well until the mixture is emulsified.
In a large bowl, add the salad greens and half of the pomegranate seeds. Drizzle on about 1/4 cup of the juice mixture and toss gently until all the leaves are well coated. Add more dressing if needed.
Transfer to a serving bowl or divide salad among 4 plates. Arrange Satsuma segments on the top, then sprinkle with the pecans, cheese and remaining pomegranate seeds. Serve with remaining orange dressing on the side. Season with pepper, if desired.
---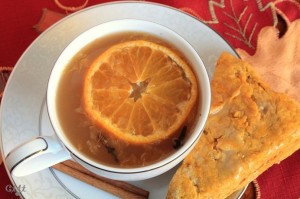 Hot Spiced Apple Cider with Satsuma Mandarins
This is one of our employee's favorite family recipes. The flavor and aroma get you in the mood for a little holiday cheer. Easy to double or triple for guests. Serves about 4.
Ingredients:
1 quart (32 oz.) local, organic Gravenstein Apple Juice
3 Satsuma mandarins
1/3 cup fresh lemon juice
2 Tbsp honey, such as Orange honey from Honey Hole Honey Company, available at Sigona's
1 cinnamon stick
3 whole cloves
1/2 tsp allspice
Optional: 1/2 to 1 tsp butter
Directions: Juice 2 Satsumas to yield about 1/2 to 3/4 cup juice. Discard the peel. Wash the remaining Satsuma and then slice it into thin rings.
Heat all ingredients in crock pot or in pot on stove. Lift the lid occasionally to let the smell fill your holiday room! Serve hot.