In the Kitchen with Sigona's: Featuring Marin Sun Farms Grass-Fed Ground Beef
Marin Sun Farms' grass-fed ground beef is raised, harvested and processed less than 100 miles away from Sigona's. Grass-fed beef has a great flavor and offers added Omega 3's you don't get with conventional beef. Enjoy this exceptional meat while supporting local food for a more sustainable future.
The Perfect Grass-Fed Burger
Making the perfect burger can be daunting, but when you start with Marin Sun Farms' grass-fed beef you are half way there. Here's some guidance on cooking the perfect patty. The bun and the toppings are up to you! Recipe courtesy of Marin Sun Farms.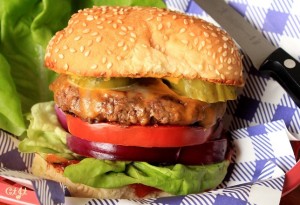 Ingredients:
Directions: Use your hands and mix salt and pepper into meat. Gently form 1- 1 ½ " patties and rub oil on the outside of each one. Heat a large skillet. Do not put oil in the pan (the oil you put directly on the patties will suffice). Cook the burger on high for 3 minutes on each side. If using cheese, add the cheese after the patty is flipped, about half way through cooking on the second side (covering with foil or a lid helps with melting). If the pan gets too hot (the fat starts to smoke or sizzle excessively) turn to medium. Let rest for 1 minute before serving.
Paleo Asian Style Meatballs
This meatball recipe uses Marin Sun Farms' grass-fed ground beef and some zesty Asian flavors for a unique twist on a classic favorite. It doesn't use any breadcrumbs so it's good for those following the paleo regiment. Recipe courtesy of Marin Sun Farms.
Ingredients:
1 lb. Marin Sun Farms' grass-fed ground beef
1/4 red onion, minced finely
1/2 cup chopped fresh cilantro
1/2 cup chopped fresh mint
2 cloves garlic, minced
1 Tbsp minced fresh ginger
1/8 lb. fresh shitake mushrooms, chopped finely
1 egg (pasture raised preferred)
1 Tbsp tomato paste
1/2 Tbsp coconut oil
3/4 Tbsp fish sauce
Kosher salt
Black pepper1/2 Tbsp  chopped jalapeno (optional)
Directions:Preheat the oven to 350 degrees. Line a baking sheet with foil. Combine all ingredients in a large mixing bowl. Use your hands to roll out about 18 small meatballs. Bake for 15-20 minutes, rotating once or twice for even cooking. Serve warm or freeze to enjoy later.