December's Olive Oil and Balsamic of the Month
Fuyu Persimmon & Roasted Beet Autumn Salad with a Blood Orange Vinaigrette
Persimmons and beets come in to season just about the time Thanksgiving rolls around. This salad combines the two with a few other ingredients to create a fantastic salad for fall dinners. The sweetness of the persimmon, the earthy deliciousness of the roasted beets and garnet yams with a salty note from the cheese and pepitas is perfection when topped with the blood orange vinaigrette. Orange and beet pair well together, so the vinaigrette brings the whole dish together. Inspired by Low Carb Maven. Serves 4.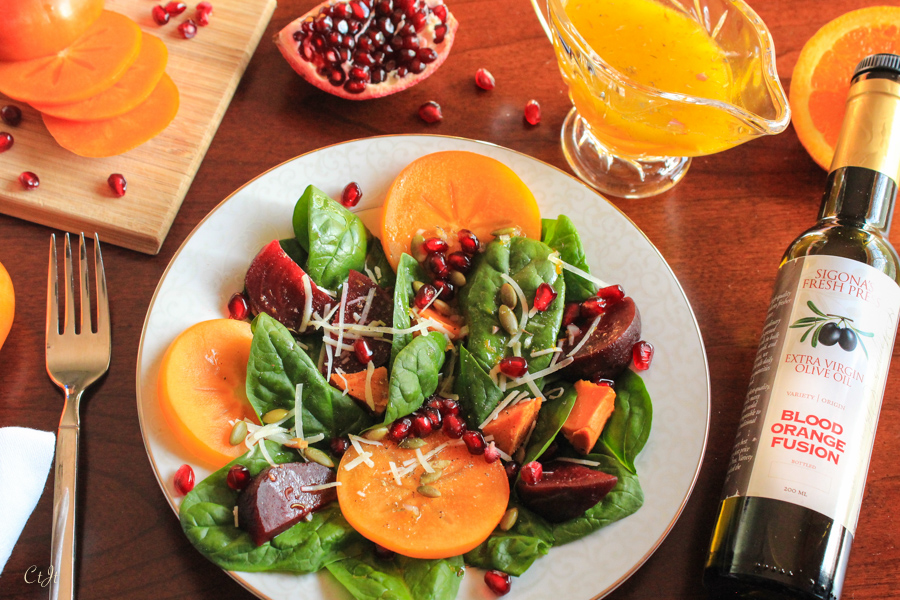 Ingredients:
2 ripe Fuyu persimmons, sliced horizontally using a mandoline or sharp knife, to be about 3mm thick, but no thicker than 1/4 inch
2 to 3 medium beets, roasted* and sliced into 8 wedges each
1 small garnet yam/sweet potato, cut into 1/2-inch cubes and roasted**
Baby spinach, 1 large handful per serving
1/3 cup freshly grated Parmigiano Reggiano (optional)
1/4 cup pepitas
About 1/3 cup pomegranate arils
Freshly ground black pepper, to taste
Blood Orange Vinaigrette:
1 tsp orange zest
3 Tbsp fresh orange juice (from about 1/2 an orange)
1 Tbsp minced shallot
A pinch or two dried thyme
Salt and pepper, to taste
Directions: Divide the spinach among 4 individual salad plates or bowls. Tuck 2 to 3 slices of the persimmon around the spinach then add the wedges of beet and cubes of yam/sweet potato. Top with grated cheese, pepitas and pomegranate arils. Season with pepper, to taste.
In a medium bowl, add the zest, juice, balsamic and shallot. While whisking, drizzle in the olive oil and mix until emulsified (thickened). Season to taste with thyme, salt and pepper.
To serve, lightly dress each dish with about 1 tablespoon of the vinaigrette, being careful not to overdress, or serve it alongside.
*To roast beets: Preheat oven to 400°F.  Scrub the beets and trim off the root and stalk ends. Save the greens for another purpose, such as salad or garnish. Wrap each beet individually in foil and place on a baking sheet. Roast for 50 to 60 minutes or until they can be easily pierced through the center with a fork. Remove from the oven and allow to cool to the touch. Remove from foil and rub off the skin. They're now ready for use.
**To roast cubed yams/sweet potatoes: Preheat oven to 400°F. Toss the cubes with a little olive oil, salt and pepper. Spread out in a single layer on a rimmed baking sheet lined with parchment paper. Roast for 25 to 30 minutes, or until fork tender, stirring half way through.
Dark Chocolate Balsamic & Herb Beef Marinade — Perfect for Flank Steak
Flank steak tends to be a tougher cut of meat, but it becomes tender and delicious after soaking in a marinade. The dark chocolate balsamic aids in the tenderization process and also adds a hint of sweetness that is nice with the savory herbs. Serve this with Oven-Roasted Carrots with a Cinnamon Pear & Blood Orange Oil Glaze. Adapted from The Olive Oil & Vinegar Lover's Cookbook. Serves 4.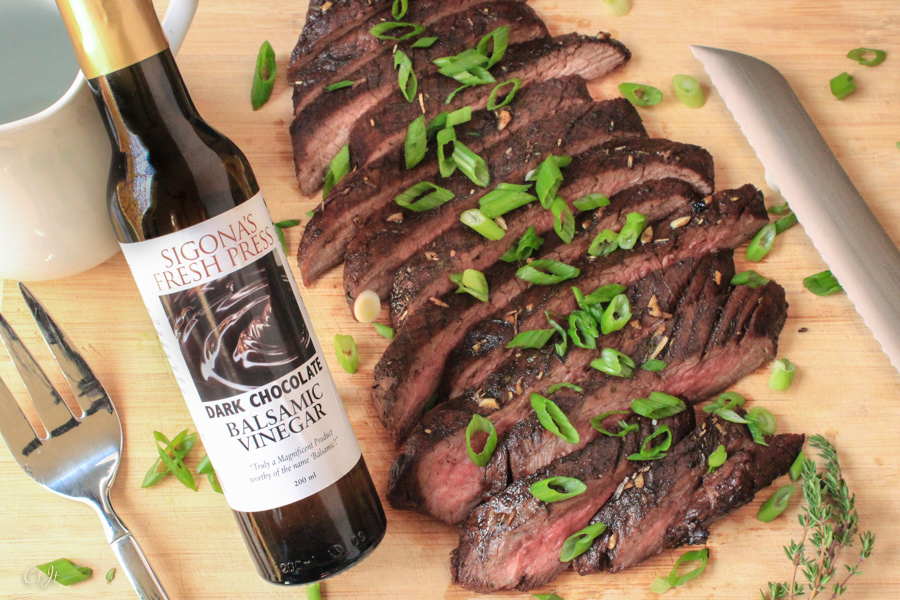 Ingredients:
1 flank steak, about 2 to 3 lbs.
1/4 cup Sigona's Fresh Press Extra Virgin Olive Oil, such as the robust California Manzanillo
1/3 cup Sigona's Dark Chocolate Balsamic
2 to 3 cloves garlic, minced
2 Tbsp Dijon mustard
1 tsp Worcestershire sauce
1 tsp ground black pepper
1 tsp fresh thyme (or 1/2 tsp dried)
1/2 tsp dried rosemary
Directions: Rinse and pat dry the steak. Tenderize the cut by either piercing with a fork all over both sides or by using a kitchen tool designed for tenderizing. Set aside in a 9×13 rimmed baking dish or in a large zip-top bag.
In a medium bowl, whisk together the remaining ingredients until emulsified. Pour over the steak, cover or seal and refrigerate for at least 1 hour or overnight (preferably overnight).
To cook, preheat a grill to high heat. Add meat to hot grill, drizzling the remaining marinade over the top, and cook, flipping once, for about 3 to 4 minutes a size for medium rare. Add 1 minute more for medium; add 2 minutes more for well done. When desired doneness is reached, remove meat from grill and allow it to sit at least 5 minutes before slicing against the grain into strips bout 1-inch wide.
Oven-Roasted Carrots with a Cinnamon Pear & Blood Orange Oil Glaze
Sweet, roasted carrots are the perfect side dish! The cinnamon pear balsamic and blood orange oil work deliciously well together, creating a sweet-spiced syrupy goodness that caramelizes as it roasts with the carrots. You'll love this recipe! Serves 4. Easily halved or doubled.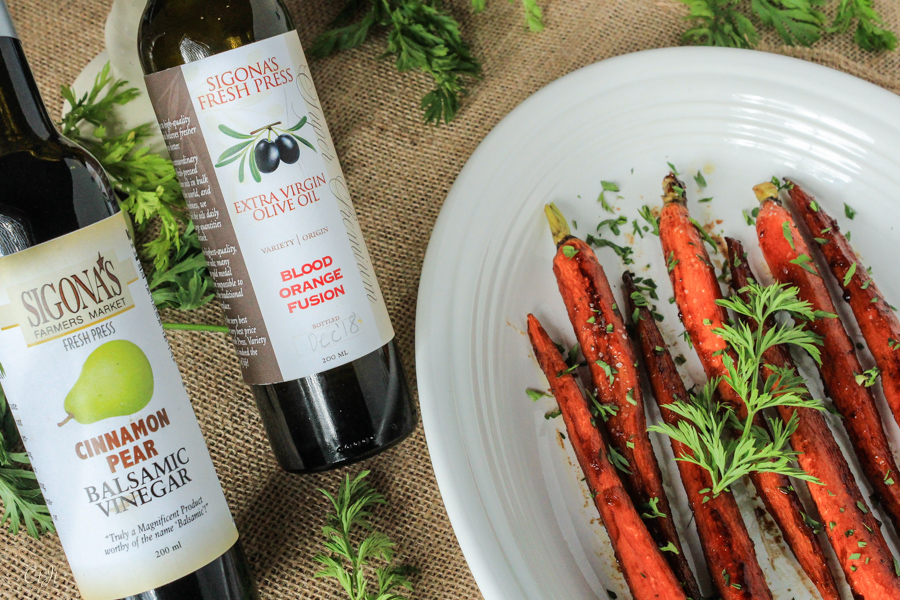 Ingredients:
2 bunches organic, California grown bunched carrots, tops removed and reserved for garnish
3 Tbsp Sigona's Cinnamon Pear balsamic
Salt and pepper, to taste
Directions: Preheat oven to 400°F. Line a rimmed baking sheet with parchment paper.
Scrub and peel the carrots, trimming off the scraggly ends. If some carrots are larger than others, consider halving them lengthwise. Pat the carrots dry and add to the baking sheet.
In a medium bowl, add the balsamic, oil, salt and pepper. Whisk briskly until the mixture is well incorporated and emulsified (thickened). Pour the mixture over the carrots; toss and roll the carrots until they are well coated in the mixture.
Spread carrots out in a single layer on the baking sheet and roast for 30 to 40 minutes, flipping once, or until carrots are tender-crisp.
To serve, transfer carrots to a serving dish and top with a sprinkling of salt and chopped carrots greens.
Mango Chutney with Cranberry Pear Balsamic
Sometimes all your turkey, toast, sandwich or cheeseboard needs is a good chutney. This is a simple, delicious chutney that takes little time to create. The combination of flavors is savory-sweet, and can be enhanced by a pinch of ground cinnamon or ginger, if desired. It's simply amazing on a grilled cheese sandwich made with Thomasville Tomme. Adapted from The Olive Oil & Vinegar Lover's Cookbook. Makes about 1 1/2 cups, depending on mango size.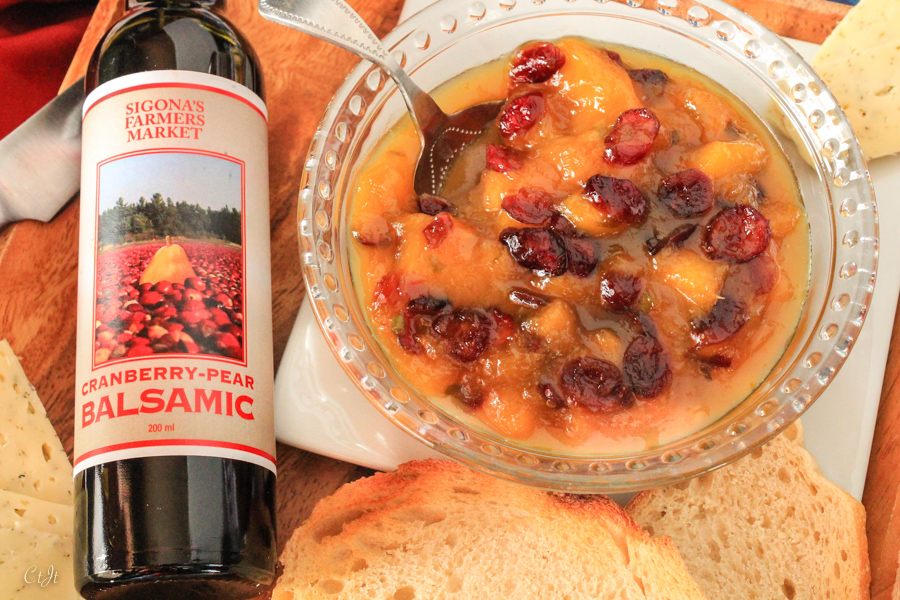 Ingredients:
2 Tbsp Sigona's Meyer Lemon Olive Oil
5 green onions, white and light green parts chopped
2 mangos, peeled and chopped
1/3 cup dried cranberries (look for them in our dried fruit & nut section)
2 Tbsp honey, such as raw, local, unfiltered honey from Honey Hole Honey Co., available only at Sigona's
1/4 cup Sigona's Cranberry Pear White Balsamic
Optional: a pinch of ground cinnamon or ginger
Directions: Heat the olive oil in a medium skillet or frying pan over medium heat. Add the green onions and cook, stirring occasionally, until tender and soft, about 3 minutes.
Add the mango, cranberries, honey and balsamic. Bring the mixture to a gentle boil, stirring occasionally, then reduce heat to a simmer and cook until the mixture has thickened and the cranberries have plumped a bit, about 7 to 10 minutes.
Allow to cool a bit before serving. May be used warm, chilled or at room temperature. Will keep, sealed and refrigerated, for up to a week.