Recipe Roundup: Sigona's Coconut Balsamic
Our coconut balsamic adds a light, sweet and tangy tropical twist to many recipes, from DIY granola to shrimp or even a cocktail. Let us know how you use it by dropping a comment below!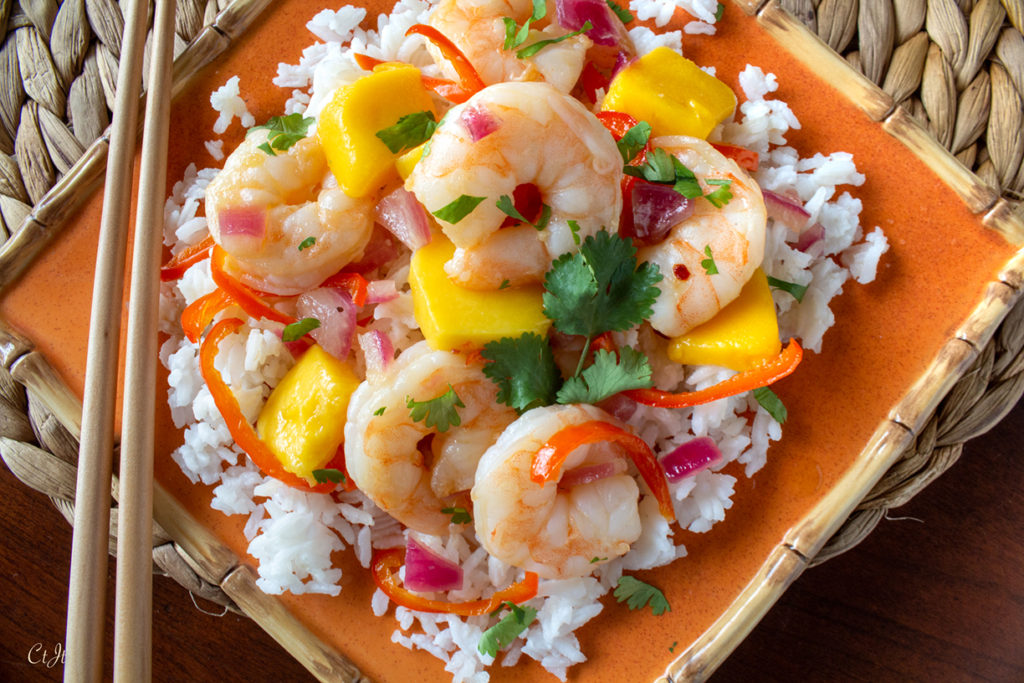 Tropical Coconut & Lime Shrimp with Mango and Mini Sweet Peppers
The enticing and tropical-vacation-type scents of coconut and lime that waft through the house while cooking this dish will bring the whole family to the table. This is a quick weeknight meal that's dairy-free and gluten-free, and you can easily use cauliflower rice for the base if you're grain-free! Adapted from The Olive Oil & Vinegar Lover's Cookbook. Serves 4.
Ingredients: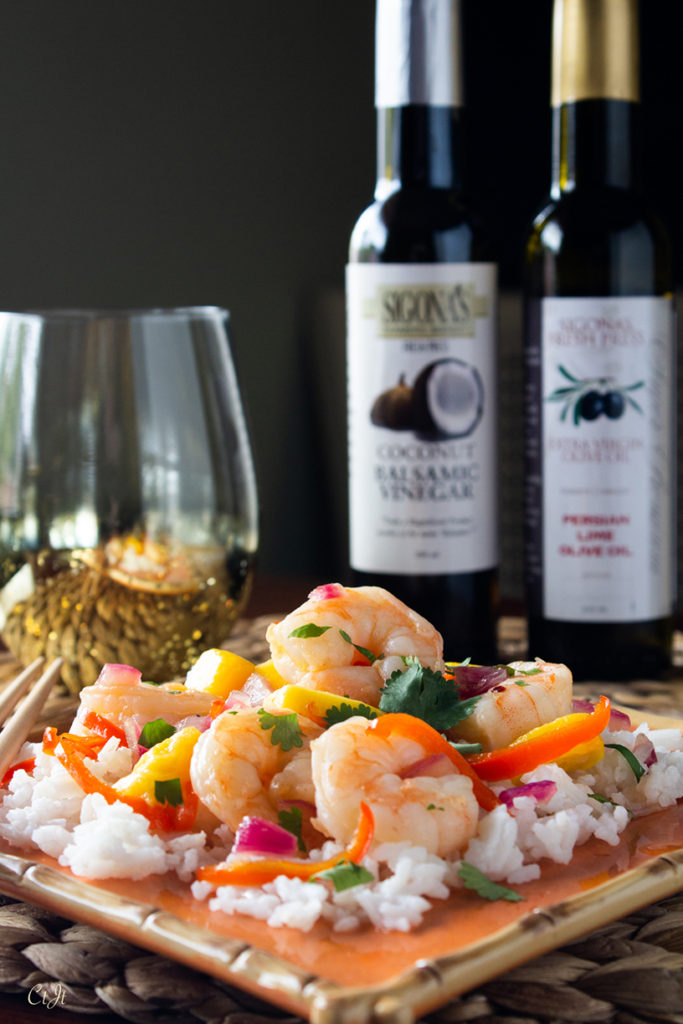 1 lb. wild Patagonian red shrimp (about 20-24 shrimp; they come shelled and deveined)
Sea salt, to taste
A Pinch or two red pepper flakes
1/2 cup Sigona's Coconut Balsamic
3 mini sweet peppers, seeded and julienned
1/3 cup chopped red onion
1 mango, peeled and chopped
Chopped fresh cilantro, for garnish
Cooked rice or cauliflower rice, for serving
Directions: In a large bowl, toss the shrimp with the olive oil, salt and red pepper flakes. Allow to sit for about 5 minutes.
Heat a large skillet (non-stick preferred) over medium-high heat. Add the balsamic and bring to a boil. Add the mini peppers, red onion and the contents of the bowl with the shrimp to the skillet; spread out the shrimp in a single layer. Cook shrimp for about 1 ½ to 2 minutes a side or until pink, opaque and curled.
Add the mango and stir to combine. Allow to cook about 1 minute more. Remove the pan from the heat. Serve the mixture over rice; garnish with chopped cilantro.
---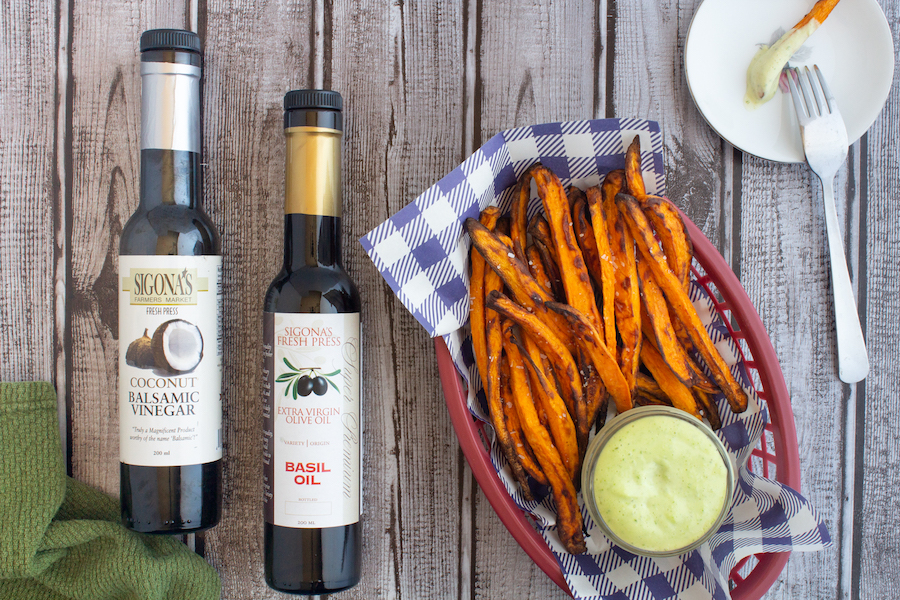 Air Fryer Caribbean-Seasoned Sweet Potato Fries with Basil Aioli
Take your tastebuds on vacation with Sigona's Coconut Balsamic and Sigona's Basil Oil! The coconut balsamic on the fries gives a subtle yet tangy and sweet tropical flavor that pairs deliciously with the aioli made by blending the ingredients with our basil oil (it's also great on sandwiches or as a veggie dip). The air fryer makes the process quick and doesn't heat up the kitchen! Serves 2 to 4.
For the aioli:
1 egg
1 Tbsp lemon juice
2 to 3 cloves garlic, chopped
1/2 tsp Dijon
1/2 cup Sigona's Basil Oil
About 2 Tbsp fresh basil, more or less to taste
Salt and pepper, to taste
For the fries:
2 sweet potatoes (Garnet yams work wonderfully)
1 tsp Sigona's Basil Oil
2 tsp Sigona's Coconut Balsamic
Salt and pepper, to taste
Directions: Peel potatoes, slice in half lengthwise then slice into ~1/2-inch planks. Place the fries in bowl filled with cold water; allow them to soak in the water for at least 30 minutes; this makes the fries more crispy when cooked as it removes some of the starch.
While the fries soak, prepare the aioli: Add the egg, lemon juice, garlic, Dijon, olive oil and basil leaves to the bowl of a food processor or the pitcher of an immersion blender. Process until the mixture emulsifies, becoming thick and creamy. Season to taste with salt and pepper. Transfer mixture to a small bowl and refrigerate until ready for use, to allow the flavors to meld.
Drain and pat dry the fries. In a large bowl, toss the fries with the olive oil, balsamic, salt and pepper.
Preheat an air fryer to 400°F. Working in batches, lay out the fries in a single layer in the fryer. Cook for about 8 minutes then remove basket and gently toss/flip the fries; cook another 4 to 6 minutes or until they've browned and crisped. Remove from the basket and sprinkle with salt. Repeat with remaining fries.
Serve warm fries with the basil aioli.
---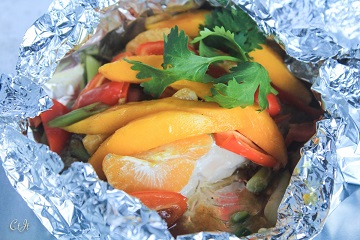 Mango, Sweet Pepper & Orange Chicken Foil Packs
These foil packs loaded with flavorful, fresh ingredients, make for easy weeknight dinners at home or while enjoying the great outdoors; they're even fancy enough for glamping! Cook them over a campfire, the grill or in the oven. The best part: clean up is a breeze. Adapted from Clean Eating. Serves 2.
Ingredients:
1 Kent mango, peeled and sliced into 1/2-inch strips
8 oz. boneless, skinless chicken tenders or breasts, cut into 1-inch chunks
2 small orange citrus fruits, such as tangerines, clementines or satsumas, peeled and segmented
4 to 6 mini sweet peppers, sliced into 1-inch chunks
2 green onions, cut into 1-inch pieces
Half or more of a jalapeño, to taste, seeded and thinly sliced
1/4 cup chicken broth
1 Tbsp. Sigona's Coconut Balsamic
1 Tbsp. soy sauce
1/2 Tbsp. Thai red curry paste
1 Tbsp. arrowroot starch or cornstarch
1 tsp. peeled and grated fresh ginger
Torn fresh cilantro, for garnish
Directions: Preheat oven to 375˚F, stoke the campfire or heat a grill over medium-high.
Divide and arrange chicken, citrus, peppers, green onions and jalapeño in the center of two separate 12-inch-long pieces of heavy-duty foil. Top each with 5 or 6 strips of mango. Lift up edges of foil to form a bowl shape, leaving top open.
In a small bowl, whisk together the broth, balsamic, soy sauce, balsamic, curry paste, starch and ginger. Pour equally over chicken mixture.
To create a pack, bring the short edges of foil together, then fold inward a few times along each long edge to seal the packet.
Oven: Bake the packs on a rimmed baking sheet until chicken is no longer pink inside, about 15 to 18 minutes. Sprinkle with cilantro and serve.
Grill: Place packets on the grill, reduce heat to medium-low and close the lid. Cook until chicken is no longer pink inside, about 15 to 18 minutes. Sprinkle with cilantro and serve.
Campfire: Place the packs on a grill rack over the coals or nestle them in among the coals. Cook until the chicken is no longer pink, about 15 to 18 minutes, depending on fire heat. Sprinkle with cilantro and serve.