Everything Bagel Fromage Blanc on a Toasted Baguette with Tomato & Microgreens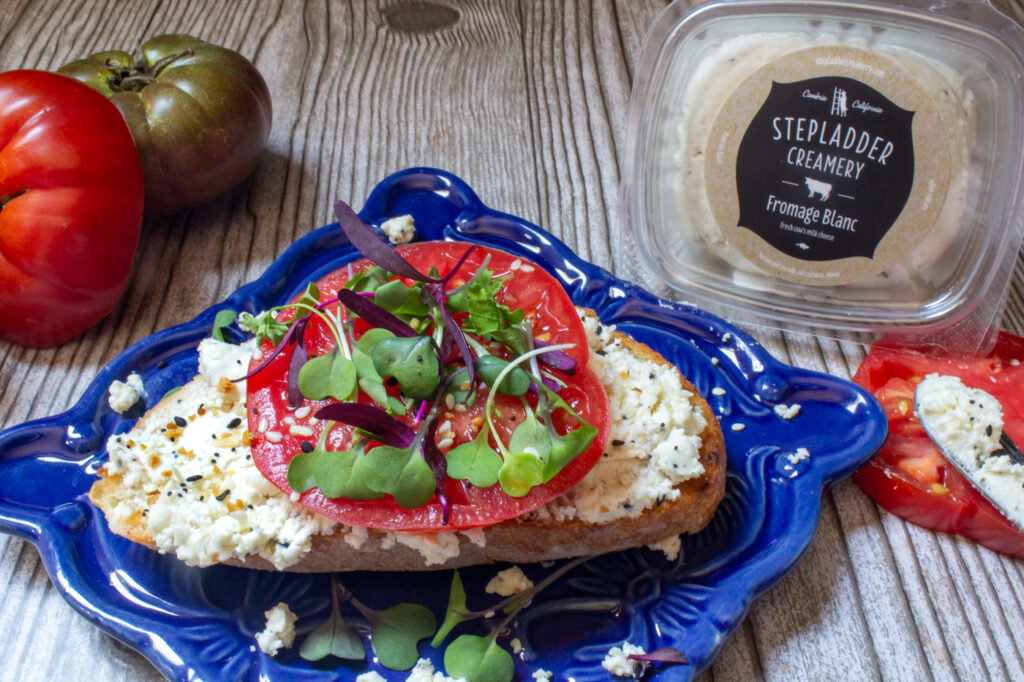 Our friends Jack & Michelle Rudolph, owners of Stepladder Ranch & Creamery in Cambria, Calif., supply our markets with fresh, artisan cheeses made from cow's and/or goat's milk, and locally grown produce. Big Sur, Ragged Point and Lumber Jack are a few of the cheeses we carry, in addition to their cherimoya and avocados, when in season.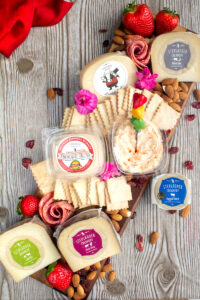 We've worked with Stepladder to create a few cheeses that are available only at Sigona's, too! Truffle Button, a triple creme, bloomy rind cheese that is topped with shaved black truffles which Robbie Sigona, our produce buyer, selects especially for this cheese. We've also asked them to fold in some of our sweet red pepper relish into their Fromage Blanc to make what we call Fromage Blush. It's fantastic!
Often referred to as the French answer to yogurt or cream cheese, Fromage Blanc is a cheese made from fresh, soft curds that have been slightly drained of whey. It has the tangy lactic flavor of cow milk without the goaty twang of Stepladder's fresh Chèvre.
Another Fromage Blanc creation from Stepladder Creamery is their Everything Bagel Fromage Blanc, It is made with a unique blend of spices that adds a delightful pepper-garlic-fennel flavor with a touch of dill seed and smoky sea salt. This isn't made exclusively for Sigona's but you can most definitely find it in our cheeseshop. It is an outstanding, flavorful cheese that we hope you love this cheese as much as we do!
Here is a simple serving suggestion: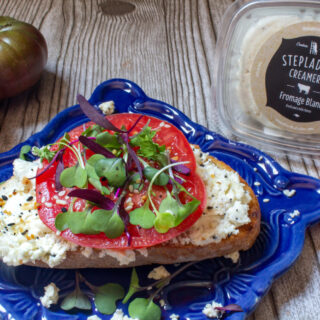 Everything Bagel Fromage Blanc on a toasted Baguette with Tomato & Microgreens
This is a delicious lunch or afternoon snack as you're winding down during happy hour. The Fromage Blanc from Stepladder Ranch & Creamery is whipped together with savory spices and herbs that add fantastic flavor to this light and fluffy cheese.
Ingredients
1

slice

baguette

cut on a bias

Sigona's Fresh Press extra virgin olive oil

for brushing and drizzling

2

Tbsp

Stepladder Ranch & Creamery's Everything Bagel Fromage Blanc

1

slice

ripe tomato

salt and pepper

to taste

1

Tbsp

microgreens
Instructions
Heat an indoor grill pan or skillet over high heat.

Brush both sides of the baguette slice with olive oil.

When grill pan is hot, add the baguette and toast for 1 minute per side. This creates a nice, toasted outside yet leaves the inside soft.

Allow baguette slice to cool to the touch. Spread on the Everything Bagel fromage blanc, top with a tomato slice, season with salt and pepper and top with the micro greens.

Finish with a drizzle of olive oil.