Mango-Orange-Habanero Chicken with Coconut Cauliflower "Rice"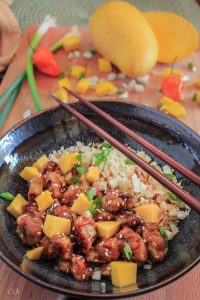 The sweet-tart flavors in this dish pair well with the subtle heat from the ginger and sparingly-used habanero pepper. Sautéing the cauliflower with shredded coconut adds the perfect touch. Using wheat and dairy alternatives makes this a paleo & Whole30 approved meal! Adapted from Food, Faith, Fitness. Serves 2.
Sauce:
1 Manila or Champagne mango, peeled, fruit sliced away from seed
Fresh-squeezed orange juice, at least a 1/2 cup
2 Tbsp Sigona's Fresh Press Extra Virgin Olive Oil
1 large clove garlic, minced
Half a small habanero pepper, seeded and minced (about 1/2 to 1 tsp)
1 Tbsp Sigona's Honey Ginger Balsamic
1/2 Tbsp coconut aminos or soy sauce (if diet-approved)
1 tsp Tapioca flour or cornstarch
Chicken
3 Tbsp tapioca flour (or other flour or flour-alternative)
8 oz. Chicken breast, cut into 1-inch cubes
Salt and pepper, to taste
Cauliflower Rice:
1/4 cup shredded, unsweetened coconut
3 cups plain riced cauliflower (we recommend Cece's Veggie Co. or make it yourself)
Optional garnishes:
Diced mango
Sliced green onions
Sesame seeds
Directions: In a food processor or blender, puree the mango. Transfer puree to a 3/4 cup measuring cup. Add orange juice as needed to reach a full 3/4 cup. Set aside.
Heat olive oil in a saucepan over medium-high heat. Add the garlic and habanero; sauté, stirring, for about 1 minute. Add the balsamic and allow it to reduce until the liquid is nearly gone (it won't take long). Add the mango-orange mixture and the coconut aminos. Bring the mixture to a boil then scoop out 2 tablespoons of the mixture to a small bowl. Reduce heat to low.
Add tapioca flour to the 2 tablespoons of the mango mixture and whisk until smooth. Stir that mixture into the sauce, increase heat to medium-high and whisk until incorporated. Reduce again to low and cook, stirring frequently, until the sauce has reduced by about a 1/4 and is thick and shiny, about 3 minutes. Transfer sauce to a large bowl and set aside to thicken.
Season chicken with salt and pepper. Toss chicken with tapioca flour until well coated. Heat oil in a large skillet over medium-high heat. When hot, add the chicken, being careful not to overcrowd the pan (work in batches if necessary, transferring cooked pieces to paper-towel-lined plate). Cook for about 2 to 3 minutes a side, flipping once until cooked through. Set aside and keep warm.
For the cauliflower rice, heat the olive oil in a medium skillet over medium-high heat. Add the coconut and cook, stirring, until it just turns toasty brown. Stir in the riced cauliflower and cook, stirring for about 3 minutes or until heated through.
To serve, divide coconut rice between two bowls. Toss the chicken in the mango sauce until well coated then divide between rice bowls. Top with diced mango, green onions and sesame seeds as desired.