Recipe Roundup: Sigona's Honey Ginger Balsamic
Honey and ginger play well together and bring a gentle, spicy heat, which balances perfectly with the moderate, natural acidity of our white balsamic. This balsamic is fantastic when paired with our Persian Lime Olive Oil and used to dress a Chinese chicken salad. It also makes for an outstanding flavor combination when mixed with our roasted sesame oil.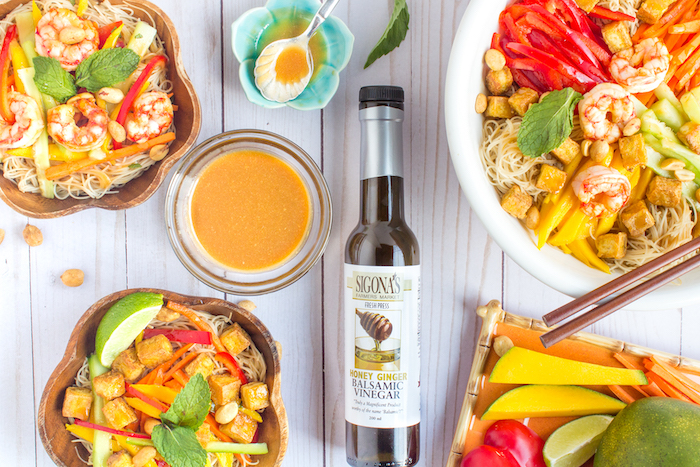 Rice Noodle Salad with Red Argentine Shrimp (or Tofu) and a Honey Ginger & Basil Vinaigrette
This salad is simply bursting with flavors and color. If you want to go the vegetarian route, use tofu and up the measurements of the veggies and fruits. Red Argentine shrimp are fantastic – they have a lobster-like texture and cook up in just minutes. Adapted from The Olive Oil & Vinegar Lover's Cookbook. Serves 4 to 6.
Ingredients:
2/3 cup Sigona's Basil Oil, divided
2 limes; one zested and juiced, the other sliced into wedges
A pinch of red pepper flakes
20 to 24 red Argentine shrimp, shelled and deveined OR about 14 oz. extra firm tofu, cubed*
**Cornstarch, if using tofu
1 large carrot, cut into 3" long matchsticks
About half a red bell pepper, seeded and cut into 3" long matchsticks
Half a cucumber, halved, seeded and sliced into 3" long matchsticks
Half a large mango, peeled and sliced into 3" long matchsticks
2 Tbsp smooth peanut butter
2 tsp soy sauce or aminos
1 to 2 tsp Sriracha or similar chili sauce
Salt, to taste
8 oz. thin rice noodles, such as Annie Chun's Maifun brown rice noodles, available at Sigona's
Fresh mint leaves, slivered and whole, for garnish
1/3 cup peanuts
Directions: In a large bowl, whisk together 1/4 cup of the basil oil, the lime zest and juice and the red pepper flakes. Add the prawns or tofu and toss to coat. Marinate in the fridge for at least 15 to 30 minutes, tossing occasionally.
In a medium bowl, whisk together the honey ginger balsamic, peanut butter, soy sauce, sriracha and salt, to taste.
Meanwhile, prepare rice noodles according to package, rinse with cool water and fluff with a fork. Gently toss the noodles with about 1/4 cup of the honey ginger vinaigrette. Set aside.
If using shrimp, heat a medium skillet over medium-high heat. Add shrimp and marinade to the skillet; sauté for 1 to 2 minutes a side until the shrimp are curled and pink (be careful not to overcook). Remove and set aside.
If using tofu, remove the cubes from the marinade and carefully toss with cornstarch. Add 2 tablespoon of the marinade to a skillet over medium-high heat. When hot, add the tofu cubes and sauté for about 1 to 2 minutes per side until all sides are nicely browned and toasted. Add remaining marinade for the last minute of cooking; toss to coat. Set tofu aside.
Transfer the noodles to a serving dish. Top with the veggies, fruits and shrimp/tofu. Garnish with mint and peanuts. Add one lime wedge per guest. Drizzle with a tablespoon of the vinaigrette and toss to incorporate all ingredients. Serve remaining on the side.
*Tofu is often very watery and should be drained and pressed so it cooks properly and retains its shape. Before or after cubing, place the tofu on a few layers of paper towels, cover with another layer of paper towels and then set something heavy on top, such as a skillet with a bag of rice or a large food can set in it. Allow the tofu to drain this way for at least 30 minutes.
**To help get a nicely browned and crisp tofu, toss the cubes in about 1 to 2 tablespoons of cornstarch before pan frying.
---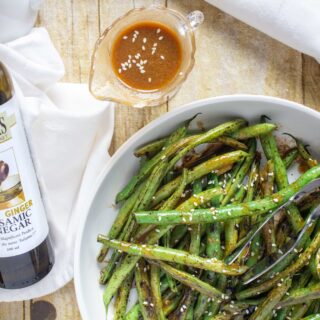 Honey-Ginger Balsamic Sautéed Green Beans
These cook all in the same skillet. There is no need for parboiling or blanching before they're sautéed with the balsamic. Serve these alongside our recipe for One Skillet Chicken with a Satsuma-Vanilla & Marmalade Glaze to make it a complete meal! Serves 4 to 6.
Ingredients
Ingredients:
1/2

Tbsp

Sigona's Fresh Press Extra Virgin Olive Oil

such as Galega

1

lb.

fresh green beans

such as Blue Lake beans, ends trimmed

Kosher salt

to taste

1

tsp

Sigona's Honey-Ginger infused balsamic

2

Tbsp

soy sauce

2

Tbsp

tahini

1

Tbsp

honey

1

clove

garlic

minced

Sesame seeds

for garnish
Instructions
Heat olive oil in a large skillet over medium heat. Add the green beans and the balsamic and sauté until tender, about 6 minutes.

Season lightly with salt to taste and remove from heat.

In a bowl, combine the soy sauce, tahini, honey, roasted sesame oil and garlic. Whisk together thoroughly. Drizzle over the green beans and lightly toss to combine. Sprinkle with sesame seeds, if desired.
Notes
You can find the olive oils and the infused balsamic in both our markets and online at www.sigonas.com
---
Mango-Orange-Habanero Chicken with Coconut Cauliflower "Rice"
The sweet-tart flavors in this dish pair well with the subtle heat from the ginger and sparingly-used habanero pepper. Sautéing the cauliflower with shredded coconut adds the perfect touch. Using wheat and dairy alternatives makes this a paleo & Whole30 approved meal! Adapted from Food, Faith, Fitness. Serves 2.
Sauce:
1 Manila champagne mango, peeled, fruit sliced away from seed
Fresh-squeezed orange juice, at least a 1/2 cup
2 Tbsp Sigona's Fresh Press Extra Virgin Olive Oil
1 large clove garlic, minced
Half a small habanero pepper, seeded and minced (about 1/2 to 1 tsp)
1 Tbsp Sigona's Honey Ginger Balsamic
1/2 Tbsp coconut aminos or soy sauce (if diet-approved)
1 tsp Tapioca flour or cornstarch
Chicken
3 Tbsp tapioca flour (or other flour or flour-alternative)
8 oz. Chicken breast, cut into 1-inch cubes
Salt and pepper, to taste
Cauliflower Rice:
1/4 cup shredded, unsweetened coconut
3 cups plain riced cauliflower (we recommend Cece's Veggie Co. or make it yourself)
Optional garnishes:
Diced mango
Sliced green onions
Sesame seeds
Directions: In a food processor or blender, puree the mango. Transfer puree to a 3/4 cup measuring cup. Add orange juice as needed to reach a full 3/4 cup. Set aside.
Heat olive oil in a saucepan over medium-high heat. Add the garlic and habanero; sauté, stirring, for about 1 minute. Add the balsamic and allow it to reduce until the liquid is nearly gone (it won't take long). Add the mango-orange mixture and the coconut aminos. Bring the mixture to a boil then scoop out 2 tablespoons of the mixture to a small bowl. Reduce heat to low.
Add tapioca flour to the 2 tablespoons of the mango mixture and whisk until smooth. Stir that mixture into the sauce, increase heat to medium-high and whisk until incorporated. Reduce again to low and cook, stirring frequently, until the sauce has reduced by about a 1/4 and is thick and shiny, about 3 minutes. Transfer sauce to a large bowl and set aside to thicken.
Season chicken with salt and pepper. Toss chicken with tapioca flour until well coated. Heat oil in a large skillet over medium-high heat. When hot, add the chicken, being careful not to overcrowd the pan (work in batches if necessary, transferring cooked pieces to paper-towel-lined plate). Cook for about 2 to 3 minutes a side, flipping once until cooked through. Set aside and keep warm.
For the cauliflower rice, heat the olive oil in a medium skillet over medium-high heat. Add the coconut and cook, stirring, until it just turns toasty brown. Stir in the riced cauliflower and cook, stirring for about 3 minutes or until heated through.
To serve, divide coconut rice between two bowls. Toss the chicken in the mango sauce until well coated then divide between rice bowls. Top with diced mango, green onions and sesame seeds as desired.
---
Steak and Citrus Salad with Creamy Avocado and a Simple Honey Ginger Vinaigrette
I just love the combination of citrus and avocado, and when it's served together with steak — either in taco or salad form — it's simply excellent. The sweetly aromatic honey-ginger vinaigrette gives the salad another delicious layer of flavor that ties everything together. Serves 2.
Ingredients:
1 large petite sirloin steak
Salt and pepper, to taste
2 Tbsp. Sigona's Persian Lime Olive Oil
1 1/2 Tbsp. Sigona's Honey Ginger Balsamic
2 Satsuma mandarins, peeled and broken into pieces (remove as much of the white pith as possible)
1 Rio Star grapefruit, supremed*
Half a cucumber, halved lengthwise, seeds removed, sliced
1/4 a red onion, thinly sliced**
Half a large avocado, cubed
About 3 to 4 oz. salad greens, your choice (red leaf lettuce is nice)
Cook's Notes
*Supreming citrus: Cut the top and bottom off of your grapefruit. Slice the peel from the fruit, top to bottom, getting as close to the flesh as possible. Once the peel is removed slice any remaining pieces of pith from the fruit so no white remains. Then, slice closely along the sides of each membrane to neatly remove the sections in between (these are the supremes). Set the supremes aside, discard the rest.
**For the red onions: To take the heat out of the off-season red onion, slice ahead of time and set in cold water for about 10 minutes. Drain and pat dry.
Directions: Season the steak with salt and pepper. Grill over high heat for about 3 to 4 minutes a side or until cooked to your liking. Remove from heat and allow the steak to rest while you prepare the salad.
In a small bowl, whisk together the olive oil and balsamic; season with salt and pepper. Set aside.
Prepare the citrus, cucumber, onion and avocado, placing them in a large bowl. Add the salad greens and a tablespoon or two of the vinaigrette. Toss well to coat then divide among two individual serving plates.
Slice the steak into strips and arrange on top of the salad. Serve with remaining vinaigrette on the side.
---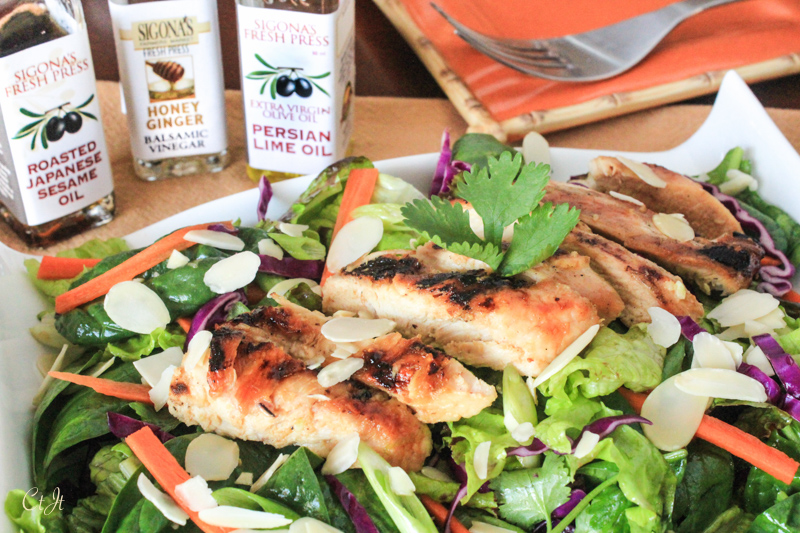 Chinese Chicken Salad with a Honey Ginger, Roasted Sesame and Persian Lime Vinaigrette
Light, flavorful and packed with good veggies, this salad is fantastic as a main entree for lunch or dinner. For more substance and protein, toss in up to two cups of cooked quinoa in with the greens. Serves about 4.
For the dressing:
For the salad:
2 cooked chicken breasts (we like them grilled)
About 1/2 to 3/4 of a head of red leaf lettuce, torn to bite-sized pieces (may use romaine if desired)
1/2 to 1 cup shredded red cabbage
About 3 oz. baby spinach
1 carrot, cut into matchsticks
2 to 4 green onions, sliced on the bias
1/4 cup cilantro leaves (optional)
1/4 cup blanched, sliced almonds (look for them in our dried fruit & nut section)
Directions: Prepare the vinaigrette by whisking together all the ingredients in a small bowl. Set aside to allow the flavors to meld together.
In a large bowl, add the lettuce, spinach, cabbage, carrot, green onions and cilantro leaves, if using.
Slice the cooked chicken into long strips and place in a bowl. Add 2 tablespoons of the vinaigrette to the chicken and toss to coat.
Drizzle 2 tablespoons of the vinaigrette over the greens and toss, toss, toss to coat well. Transfer the greens to a serving bowl or dish.
Arrange the sliced chicken on top of the salad, sprinkle with desired toppings and serve with any remaining vinaigrette on the side.
---
Parchment Packet Chicken & Mango Baked with Jalapeño and Sigona's Honey Ginger Balsamic
Parchment-packet baking infuses the chicken with the flavors in which its wrapped, creating a fantastic taste explosion. Clean up is easy, too, which might be the best part. You can substitute fish for the chicken; snapper or salmon would work well. Adapted from Martha Stewart. Serves 4.
Ingredients:
1 Kent mango, peeled, pitted, and cut into 1/4-inch wedges
8 chicken cutlets (about 1 3/4 lbs. total)
4 tsp. Sigona's Honey Ginger Balsamic, divided
1/3 cup fresh cilantro leaves
1 medium jalapeño, thinly sliced (shake the seeds out, or leave them in for more heat)
Salt and pepper, to taste
2 Tbsp plus 2 tsp Sigona's Fresh Press Persian Lime Olive Oil, divided
4 Lime wedges, for serving
4 (18-inches long) sheets of parchment paper
Directions: Preheat oven to 400°F.
Dice 4 of the mango wedges and set aside.
Place an equal amount of the remaining mango wedges in the center of each of the four parchment sheets, running lengthwise. Top each with 2 chicken cutlets, some jalapeño and cilantro; season with salt and pepper. Drizzle on top of each 2 teaspoons olive oil and 1 teaspoon balsamic.
Bring the long sides of the parchment together and fold down three times, creating a seam. Fold the ends a couple times in and tuck them under, creating neat packets.
Place the packets on a rimmed baking sheet and bake for 18 to 20 minutes, or until chicken is cooked through.
To serve: Place the packets on dinner plates, slice open along the seam with scissors. Top each with a little diced mango and a lime wedge.
---
Page Mandarin and Spinach Salad with Almonds, Avocado and a Honey Ginger Vinaigrette
This healthy salad is simple yet flavorful. While the vinaigrette presents a sweet side, the mandarins add a bright, juicy punch. Make it an entrée by simply adding cooked chicken. Inspired by Pinterest. Serves 2 to 4.
Ingredients:
2 or 3 Pesticide-free Page mandarins
Pinch or so of salt
1 Tbsp brown sugar
About 5 oz. baby spinach
3 green onions, sliced diagonally
1 large avocado, peeled and cubed
1/2 cup sliced almonds
Directions: Zest one of the mandarins to yield about 1 teaspoon of zest. Place zest in a small bowl and set aside. Peel the mandarins and separate the segments. Set aside.
To the zest, add the balsamic, brown sugar, salt and olive oil. Whisk well until emulsified. Set aside.
Place the spinach in a large serving bowl. Top it with the mandarin segments, sliced green onion, avocado cubes and almonds. When ready to serve, drizzle about half of the dressing on top of the salad and toss to combine. Add more dressing if desired; toss. Serve immediately with remaining dressing on the side.
---
Local Heirloom Cantaloupe Gazpacho
Gazpacho is a simple, often fruit-based soup that's served chilled. It's refreshing, light and great for summer parties, either in soup bowls or in smaller cups as an appetizer. Makes 4 to 6 larger servings.
Ingredients:
1 medium local heirloom cantaloupe, about 3 ½ lbs
1 small cucumber
1/3 cup water
2 Tbsp diced shallot
2 tsp salt, or to taste
1/2 cup Sigona's Fresh Press Olive Oil (Mix it up! Use an infused oil for more flavor, such as Persian Lime, Blood-Orange Fusion or Meyer-Lemon Fusion.
About 3 Tbsp Sigona's white balsamic, divided, such as Golden Pineapple White Balsamic, Honey Ginger White Balsamic, or Summertime Peach White Balsamic
Black pepper, to taste
Fresh mint or basil leaves, thinly sliced, for garnish
Directions: Halve the melon, scoop out and discard the seeds. Slice the melon from the rind, and then cut the fruit into chunks.
Peel the cucumber, slice in half lengthwise and scoop out the seeds. Chop the cucumber into chunks.
To a blender or food processor, add the melon, cucumber, water, shallot and salt. With the blender running, pour in the olive oil. Blend until the mixture is smooth or until you reach your desired consistency.
Pour gazpacho into 4 to 6 soup bowls. Season each dish with salt and pepper, drizzle on a bit of balsamic and garnish with ribbons of mint or basil. Enjoy chilled.
---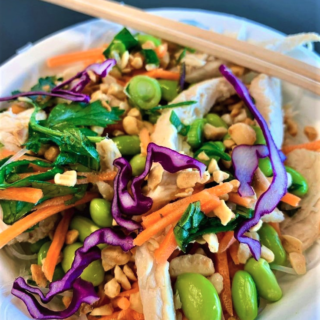 Noodle Bowl with Slow Poached Chicken, Veggies and a Key Lime Balsamic & Miso Dressing
This veggie-packed meal will sharpen your knife skills and satisfy your craving for something savory and flavorful. Two chicken breasts will serve about 4 people, so prepare enough bowl ingredients accordingly. Recipe and photo courtesy of Veronica Foods. Makes 1/2 cup of dressing.
Ingredients
Key Lime Balsamic Miso Dressing
Noodle Bowl Suggestions
Glass noodles or rice vermicelli

prepared according to package directions

Slow poached chicken

*see chef's note, sliced

Shelled edamame

Grated carrots

Diced cucumber

Chopped green onions

Thinly sliced red cabbage
Optional Toppings
Chopped roasted peanuts

Cilantro

for garnish
Instructions
For the dressing: Blend all ingredients or whisk together all the ingredients in a medium bowl until, smooth, thickened and slightly emulsified.

For the bowls: To individual serving bowls, add desired portions of noodles and top with the remaining ingredients. Drizzle with the dressing and garnish with roasted peanuts and cilantro, if using. Serve remaining dressing on the side.

*Chef's note: To slow poach chicken breast, combine together in a medium saucepan, 4 cups of cold water, 2 chicken breasts and about 3 tsp kosher salt. Bring to a gentle boil over medium heat. Once boiling, flip the breasts over in the water, remove the pot from the heat and cover it with a lid. Allow chicken to continue to stay in the water until an instant-read thermometer registers at least 150°F. Remove from water, allow breasts to rest for 5 minutes and then slice.
Notes
Sigona's olive oils and balsamics are available in our markets and online at www.sigonas.com.