June Oil & Balsamic Sale: Must-Try Recipes!
Vanilla Bean Balsamic-Roasted Strawberries with Pistachios and Honeyed Mascarpone
Roasted strawberries soften a little as their natural sugars caramelize, creating a flavor that is matched well by our vanilla bean balsamic, whose flavor also intensifies as it reduces in the oven. A scoop of honeyed mascarpone served with a spoonful of these balsamic-roasted strawberries makes for a lovely, easy dessert. Serves about 4 to 6.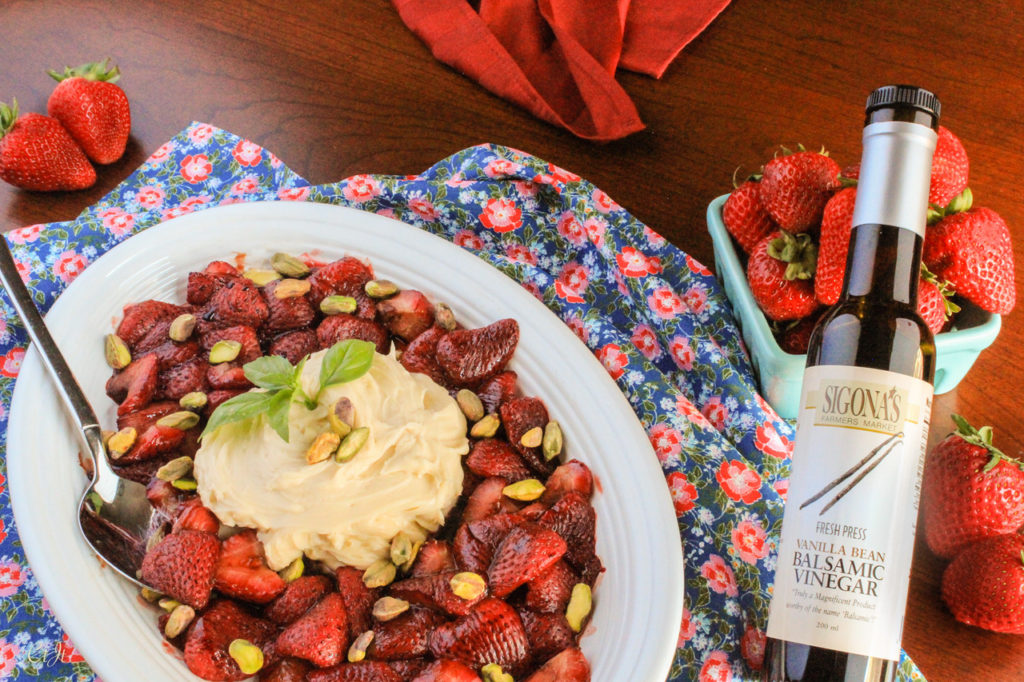 Balsamic Strawberries:
1 1/2 lbs. strawberries, rinsed, patted dry, stemmed, hulled and halved (large berries quartered)
3 Tbsp Sigona's Vanilla Bean Balsamic
Honeyed Mascarpone:
1 cup mascarpone
1/4 cup honey, such as local, raw & unfiltered orange blossom honey from Honey Hole Honey Co., available only at Sigona's
1/2 tsp vanilla extract, optional
Optional garnishes:
1/2 cup shelled, raw pistachios
Fresh basil or mint, julienned, depending on flavor preferences
Directions: Preheat oven to 400°F. Line a rimmed baking sheet with parchment paper.
In a large bowl, toss the strawberries with the balsamic until well coated. Dump out the berries and balsamic onto the prepared baking sheet and spread out in a single layer. Roast for 12 to 15 minutes, shaking pan once.
Meanwhile, in a medium bowl, whip together the mascarpone and honey until well combined.
Serving options: A). Scoop the mascarpone onto the center of a serving tray. Surround the mascarpone with the berries, top with pistachios and/or other desired garnish and serve. B). Scoop a couple tablespoons of the mascarpone into individual serving dishes. Top each serving with some of the strawberries, finishing with desired garnish. Serve & enjoy!
Cauliflower Roasted with Garlic Oil & Calabrian Chiles
Using the calabrian pepper paste gives this dish a little kick, but it's not overwhelming. The lemon juice gives a fresh flavor and garnishing with parsley brings a brightness to the palate as well. Serves 4 to 6 as a side.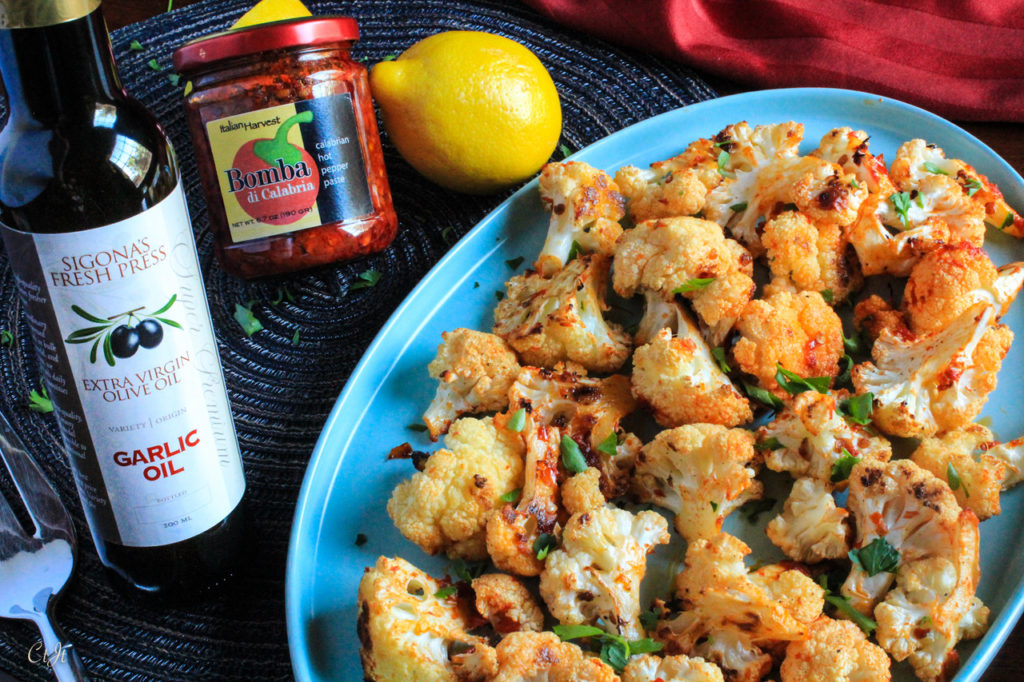 Directions:
1 large head cauliflower, stem and core removed, large florets broken or sliced into smaller florets
3 Tbsp Sigona's Garlic Oil
1 Tbsp Calabrian hot pepper paste, such as a jar of Bomba di Calabria by Italian Harvest, available at Sigona's
Juice of half a lemon, about 1 1/2 Tbsp
Salt and pepper, to taste
Optional: 2 Tbsp capers, drained
Parsley, for garnish
Directions: Preheat oven to 425°F. Line a rimmed baking sheet with parchment paper or foil.
In a large bowl, toss the cauliflower with oil, chilies, lemon juice, salt and pepper. Spread it out in a single layer on the baking sheet and roast, stirring and flipping the cauliflower once, for about 25 minutes or until the florets are tender and have nice golden-brown spots.
Transfer to a serving dish, top with capers, if desired, and garnish with parsley. Serve warm or at room temperature.
Seared Scallops with a Lemony Chimichurri
The lemony notes from the actual lemon (peel and all), as well as our Sicilian lemon balsamic, give this chimichurri sauce the absolute best flavor for seafood. Chimichurri is traditionally a grilled-meat sauce starring parsley and cilantro, but we were inspired by a recipe from Bon Appetit to serve it with our fantastic, jumbo-sized scallops. Serves 4 to 6 as a side.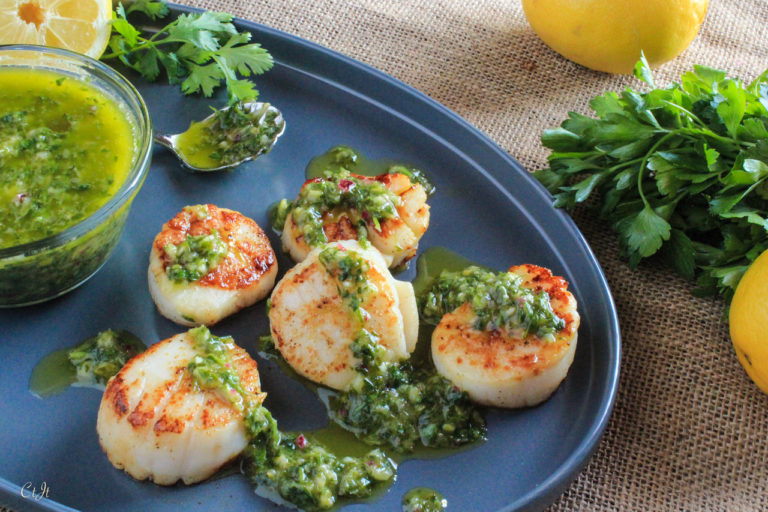 Lemony Chimichurri
Half a lemon, seeded and roughly chopped
1 heaping Tbsp Sigona's Sicilian Lemon White Balsamic
1 to 2 cloves garlic
2 Tbsp diced red onion or 1 shallot, roughly chopped
3/4 cup fresh parsley
1/2 cup fresh cilantro
1/4 cup fresh chives
Salt and pepper, to taste
1/2 cup Sigona's Fresh Press Extra Virgin Olive Oil

Scallops:
8 to 12 wild sea scallops
Salt and pepper, to taste
2 tsp. Sigona's Fresh Press Extra Virgin Olive Oil
2 tsp. unsalted butter


Directions: To a food processor, add the lemon (peel and all), balsamic, garlic and onion/shallot. Pulse until ingredients are roughly chopped. Add the herbs, salt and pepper; pulse a few times. With the blade running, drizzle in the olive oil and process until ingredients are all about the same size and the oil in the mixture is emulsified. Taste; adjust seasoning if needed.
Allow mixture to sit while scallops are prepared to allow the flavors to meld, at least 10 minutes.
Rinse and pat dry the scallops. Season both sides with salt and pepper. Add the oil and butter to a large skillet over medium-high heat. When the butter has melted and the combination is just starting to smoke, add the scallops, being careful not to over crowd the pan (work in batches if needed). Cook for just 1 minute 30 seconds each side, flipping once. Scallops should have a nice golden-brown sear that is about 1/4 inch deep on each side, and the middle should still be slightly translucent.
Transfer the scallops to a serving dish and serve the chimichurri on the side. Enjoy!