Recipe Roundup: Baklouti Green Chili Oil
Fresh Peach, Grilled Corn and Arugula Quinoa Bowl with a Peach and Baklouti Green Chili Vinaigrette
Fresh sweet peaches, creamy avocado, smoky grilled corn and so much more. All the flavors in this salad play well together and simply scream summer. Baklouti oil packs a punch…you've been warned! Using quinoa provides the protein part of this macro bowl, with the avocado and olive oil covering the healthy fats, and the corn checking off the carbohydrates box. For more protein, add some beans, grilled chicken or even tempeh. Inspired by Half Baked Harvest. Serves 2 to 4.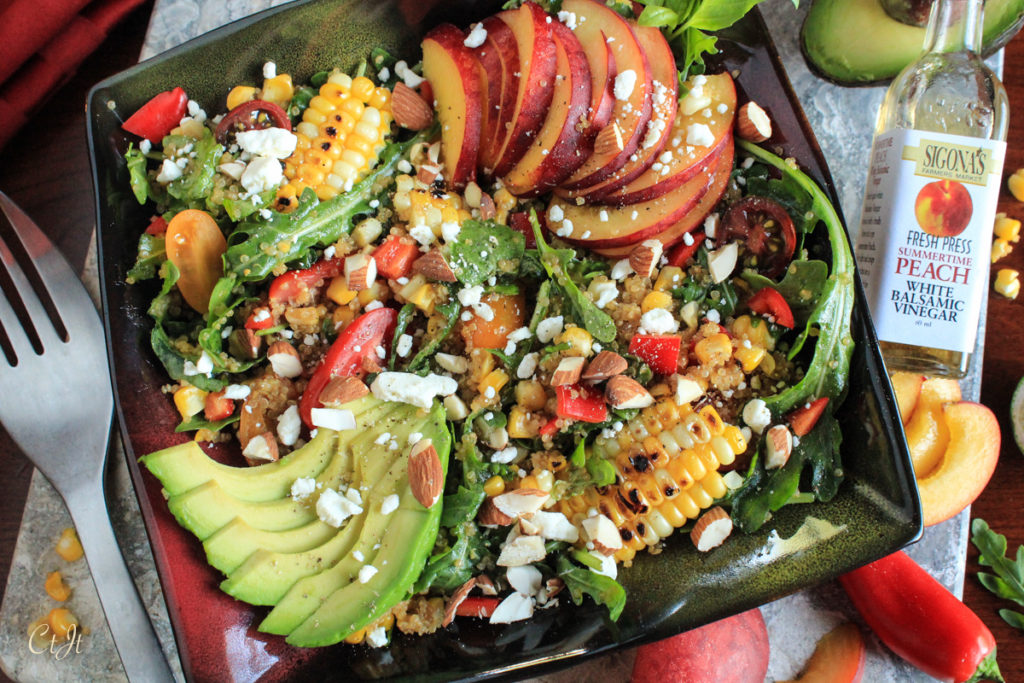 Ingredients:
1/2 cup uncooked quinoa,
3 Tbsp. Sigona's Baklouti Green Chili Olive Oil (Baklouti oil is spicy! Try it first; to tame the heat, mix Baklouti oil with regular Sigona's olive oil.)
1 Tbsp. soy sauce, liquid aminos or coconut aminos
2 tsp. honey, such as local, raw Avocado Sage honey from Honey Hole Honey Co., available only at Sigona's
Juice of half a lime
1 tsp. fresh ginger grated
2 ears grilled or roasted corn, kernels removed
About 1/2 cup fresh basil, roughly chopped, plus more leaves for garnish
Optional: 1/4 cup fresh mint, roughly chopped
2 green onions, sliced on the bias
2 Sweet mini peppers, seeded and diced
1/2 cup cherry tomatoes halved
About 2 big handfuls arugula
1 or 2 ripe yellow peaches, pitted and thinly sliced
Optional: A couple Tbsp. crumbled goat cheese or feta (leave it off for a dairy-free bowl)
1 avocado, peeled, pitted and thinly sliced
1/3 cup almonds, roughly chopped
Freshly ground black pepper
Directions: Cook quinoa according to package directions.
In a large bowl, whisk together the olive oil, balsamic, soy/aminos, honey, lime juice and ginger.
To the vinaigrette, add the quinoa, corn, basil, mint (if using), green onions, peppers and tomatoes; stir to combine. Add the arugula and toss until well incorporated.
Transfer mixture to a serving bowl or divide among 2 to 4 smaller bowls. Top the dish with the sliced peach and avocado, sprinkle on the almonds and feta, and finish with freshly ground black pepper. Serve immediately.
---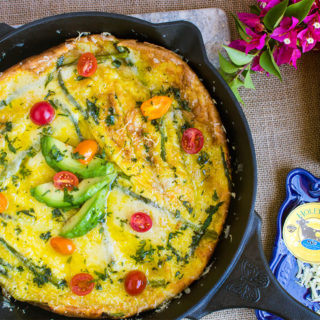 Cheesy Asparagus Popover with Basil-Infused Baklouti Green Chili Oil
This is a work of art when it comes fresh out of the oven! It's light and fluffy, yet flavorful and filling. Holey Cow cheese, made locally by Central Coast Creamery, is an excellent melting cheese that has a smooth, creamy texture and a crisp, buttery finish; it adds excellent flavor to this dish! For more layers of flavor, consider adding sautéed bacon and/or onions and bell peppers to add in with the asparagus. Adapted from Food Network. Serves about 6.
Ingredients
For the oil:
3

Tbsp

Sigona's Baklouti Green Chili Oil

warning, this is HOT! If desired, cut the Baklouti with another of Sigona's regular olive oils

1

Tbsp

minced fresh basil

Salt and freshly ground pepper

to taste
For the popover:
Kosher salt

8

ounces

asparagus

ends trimmed

Optional: Chopped sautéed bacon or lardons

onions and/or bell peppers

4 to 6

large eggs

1/2

cup

whole milk

at room temperature

1/2

cup

all-purpose flour

Freshly ground black pepper

1 ½

cup

coarsely shredded Holey Cow cheese

divided

2

Tbsp

butter

1/4

cup

freshly grated Parmigiano Reggiano

1/2

cup

sliced grape tomatoes

1

avocado

sliced
Instructions
For the oil: In a small bowl, mix together the oil/oils and minced basil. Season with salt and pepper, mix well and set aside to allow the flavors to meld.

For the popover: Preheat the oven to 425°F. Place a 10- or 12-inch cast-iron skillet in the oven to heat. Add about 3 inches of water to a medium pot of water and bring to a boil. Meanwhile prepare an ice bath in a medium bowl. When water is boiling, add salt and the asparagus. Parboil the asparagus for 1 to 2 minutes, depending on the thickness of the asparagus. Use tongs to transfer the asparagus to the ice bath. When chilled, drain and pat dry. Set aside.

Whisk together the eggs and milk in a large bowl until smooth. Slowly whisk in the flour and whisk until smooth; season with salt and pepper. Stir in 1 cup of the Holey Cow cheese.

Use oven mitts to carefully remove the hot skillet from the oven. Add the butter to the skillet and stir until melted. Arrange the asparagus (and any additional sautéed add-ons) in the bottom of the skillet, season with salt and pepper. Slowly pour the egg mixture over the top of the asparagus then bake the mixture until puffed and golden brown, about 15 minutes.

Carefully remove the hot skillet from the oven. Sprinkle the remaining Holey Cow cheese and the Parmigiano Reggiano on top. Carefully return the skillet to the oven to bake another 3 minutes or until the cheese is melted, then use oven mitts to remove the skillet from the oven for the final time.

Top the popover with the tomatoes and avocado, then drizzle the top of the popover with 1 to 2 tablespoons of the basil-infused baklouti oil. Serve immediately with the remaining infused oil on the side.
---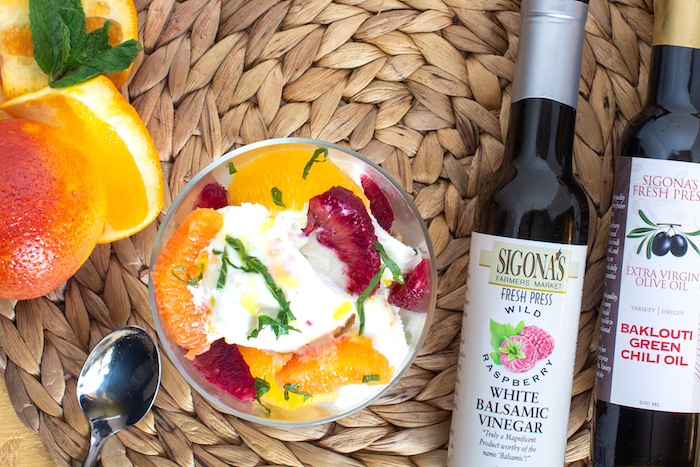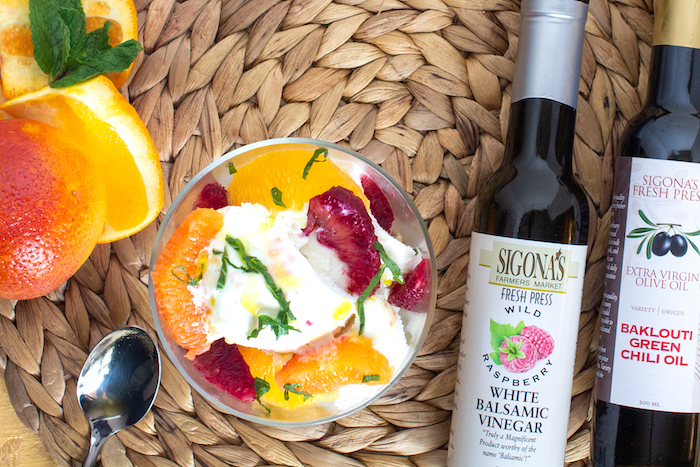 Vita's Citrus Sundae with a Wild Raspberry & Baklouti Drizzle
Sigona's crew member Vita introduced us to the combination of our wild raspberry white balsamic and the spicy baklouti oil, and man, oh man, are we glad she did! At first we thought, yes, it would be excellent as a vinaigrette or dipper, but Vita said wait until you try it drizzle on a citrus sundae [insert mind-blow emoji]. As Vita says, the tang of the wild raspberry pairs well with the citrus, but it's the baklouti oil that introduces a whole new level of wow. Baklouti is SPICY, but the acid from the wild raspberry white balsamic cuts it a little, and when paired with creamy vanilla gelato or ice cream, the combination is outrageously amazing. Each bite introduces layers of bright citrus flavor, creamy vanilla and sweet-tangy raspberry, finishing with a lingering heat that makes you dive right back in for another bite. Serves 2.
For the Citrus Sundae
1 blood orange
1 cara cara orange
1 navel orange
Vanilla or vanilla bean gelato or ice cream
Fresh mint for garnish, julienned
For the Wild Raspberry and Baklouti Drizzle
Directions: Begin by supreming the citrus: cut the top and bottom off your citrus fruit. Slice the peel from the fruit, top to bottom, getting as close to the flesh as possible. Once the peel is removed, slice any remaining pieces of white pith from the fruit so no white remains. Then, working over a bowl to catch the juices, slice closely along the sides of each membrane to neatly remove the citrus segments in between. Set supremes aside.
In a small bowl or jar, combine equal parts of the balsamic and the oil (start with a tablespoon of each or increase measurements if you wish to save the mixture for another use). Whisk or shake until combined; taste and adjust as needed (remember, the baklouti is spicy so you may want to add more balsamic).
Add gelato to two individual bowls and top evenly with citrus supremes. Drizzle about a teaspoon of the balsamic mixture over each dish; garnish with mint and serve immediately.
---
White Turkey Chili with Swiss Chard and Poblano Peppers
This hearty chili will warm your bones on a brisk fall evening. It's also a nice way to incorporate some greens into your meal. Serve with corn muffins, warm tortillas or even naan bread. Inspired by Food Network. Serves 4 to 6.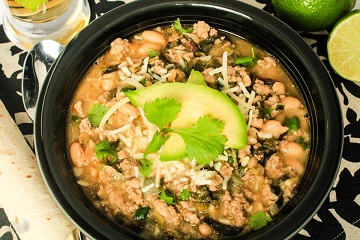 Ingredients:
1 large onion, chopped
2 medium poblano peppers, seeded and diced
4 garlic cloves, minced
Salt and pepper, to taste
2 Tbsp. ground cumin
2 tsp. ground coriander
1 Tbsp. dried oregano
2 tsp. ancho chili powder
1.5 lbs. ground turkey
2 (15 oz.) cans white beans, drained and rinsed
1 bunch locally grown Swiss chard, stems removed, leaves chopped into 1-inch pieces
4 cups low-sodium chicken stock
2 limes, juiced, plus lime wedges, for serving
1/4 cup chopped fresh cilantro, plus more for serving
1/2 cup freshly grated cheese, such as white cheddar, pepper jack or Parmigiano Reggiano cheese, for serving
1 avocado, sliced, for serving
Optional: Sigona's Smokey Chipotle Olive Oil or Sigona's Baklouti Green Chili Oil (hot, hot, hot!), for serving
Directions: In a large soup pot, warm the olive oil over medium-high heat. Add the onion and poblano pepper and sauté until softened, about 5 minutes. Season with salt and pepper. Add the garlic, cumin, coriander, oregano and chili powder and cook, stirring, for 1 minute.
Add the ground turkey and cook, breaking up the large pieces, until it is no longer pink. To the mixture add the beans, Swiss chard, chicken stock and lime juice. Bring to a boil then reduce to a simmer. Cook for about 45 to 50 minutes, stirring occasionally, or until the liquid has reduced by about half and the mixture has thickened. Stir in the cilantro and simmer for about 5 minutes more while you slice avocado and grate the cheese.
To serve, ladle the chili into individual serving bowls, top with a sprinkling of cheese, a couple slices of avocado and some cilantro. If desired, finish the dish with a drizzle of smokey chipotle or baklouti green chili oil. Serve chili with lime wedges on the side.
---
Crisp Organic Celery, Cucumber & White Bean Salad with Tomato, Baklouti Green Chili Oil and Avocado
This protein-packed salad is crisp, light and refreshing, yet it packs some heat as a result of the Baklouti Green Chili Oil. It's a nice side for a spicy meal, such as pork carnitas. Inspired by Sunset. Serves about 6.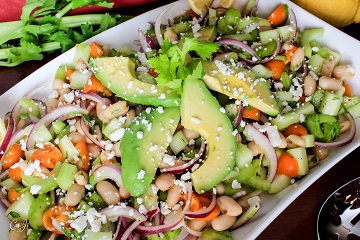 Ingredients:
1 (15 oz.) can white beans, such as Cannellini, drained and rinsed
1 cucumber, peeled, seeded and cut into 1/2-inch cubes
4 to 5 stalks celery, leaves removed and chopped; stalks trimmed and thinly sliced
Half a red onion, thinly sliced*
Half a pint of grape tomatoes, quartered
Salt and pepper, to taste
2 Tbsp. Sigona's Baklouti Green Chili Oil** (it's spicy!)
1 lemon, halved
Half an avocado, sliced
Optional: crumbled Cotija or Feta cheese, for sprinkling
*To take some of the heat out of an off-season red onion, place the sliced onion in a bowl of ice water and allow to soak for about 10 minutes. Drain and pat dry before adding to the salad.
**The Baklouti Green Chili Oil packs a punch, so if it's too spicy, use 1 tablespoon regular Sigona's Extra Virgin Olive and 1 tablespoon of the Baklouti (or any other ratio that will please your palate).
Directions: In a medium bowl, mix together the beans, cucumber, celery, about 3 tablespoons chopped celery leaves, red onion and tomatoes. Add the salt, pepper, oil and juice of half the lemon; stir gently until combined, taking care not to break up the beans.
Transfer the salad to a serving dish. Top with slices of the avocado, squeeze on the juice from the remaining half of the lemon and sprinkle on the cheese, if using. Serve.
---
Oyster Mushroom & Roasted Potato Monster Breakfast Burritos with Southwestern Salsa
Please consider using Sigona's Baklouti Green Chili Oil or Sigona's Smokey Chipotle Olive Oil to give these burritos some heat and flavor you can't match any other way. You won't regret it! Serves 1.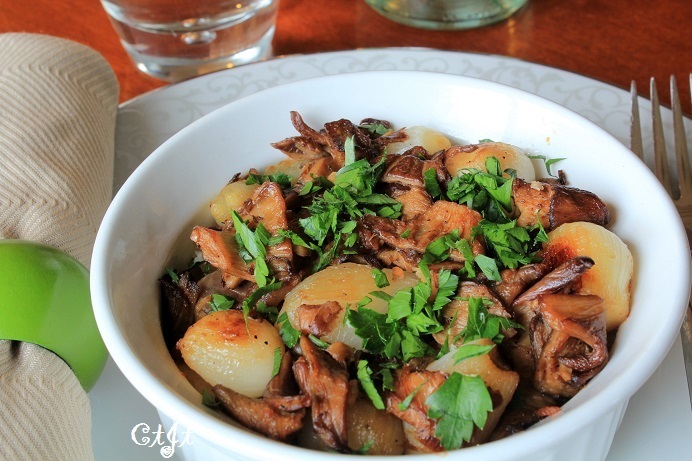 Ingredients:
2 tsp, plus 1 Tbsp, Sigona's extra virgin olive oil, divided (such as Sigona's Baklouti Green Chili Oil (it's spicy!!) or Sigona's Smokey Chipotle Olive Oil)
1 large Russet potato
5.5 oz. oyster mushrooms
A pinch red pepper flakes (if not using an infused oil)
Salt and pepper, to taste
1 tsp fresh thyme, or 1/2 tsp dried thyme
1 large whole wheat tortilla
1/4 – 1/3 cup shredded cheese, such as Sigona's Moo-Net white cheddar
A few sprigs of cilantro or parsley, for garnish, if desired
Southwestern Salsa
Now, you can make your own salsa, but since we know most of you are in a hurry come breakfast time, why not use a shortcut and pick up one of our pre-made salsas!
Ingredients:
1/4 cup prepared salsa, such as Casa Sanchez
1/4 cup black beans, drained and rinsed
1/4 cup corn kernels
1 Tbsp BBQ sauce, such as The Pepper Plant Original BBQ Sauce
Directions: Peel the potato and dice into 1/2-inch cubes. Toss with about 2 teaspoons olive oil (try half regular and half Sigona's Baklouti Green Chili Oil!) and season with salt and pepper. Spread out in a single layer on a rimmed baking sheet and roast at 375°F, tossing half way through, for 20 to 25 minutes, or until cooked through and just turning crisp on the outside.
Meanwhile, add the salsa to a small skillet over medium heat. Add the black beans and corn kernels, and then stir in the BBQ sauce. Season with salt and pepper. Let boil lightly, stirring occasionally, for about 3 minutes. Remove from heat.
Add 1 tablespoon olive oil (seriously, try Sigona's Baklouti Green Chili Oil!) to a medium skillet over medium heat. If not using the Baklouti, add a pinch of red pepper flakes to the olive oil. Add the mushrooms, season with salt, pepper and thyme. Sauté for about 5 minutes, then add the roasted potatoes and stir to incorporate. Turn off heat.
Warm a tortilla for about 15 seconds in the microwave. Sprinkle cheese down the center of the tortilla, and then add the potato and mushroom mixture.
Fold up the tortilla to make a burrito, tucking in the ends. (Check out this how-to, if needed).
Slice the burrito in half, if desired, and serve with the salsa. Garnish with cilantro or parsley, if you're looking to impress.