Zucchini Arbosana Cacio e Pepe
This dish is traditionally made with pasta, but we used zucchini noodles to introduce a healthier element. Translated, cacio e pepe means cheese and pepper; the dish itself is made from just a handful of simple ingredients: water, noodles, olive oil, cheese and lots of cracked pepper. The starchy water from cooking pasta, or zoodles in this case, mixes with cheese and olive oil to create a simple sauce. Add a little lemon juice, if desired. Serves 2.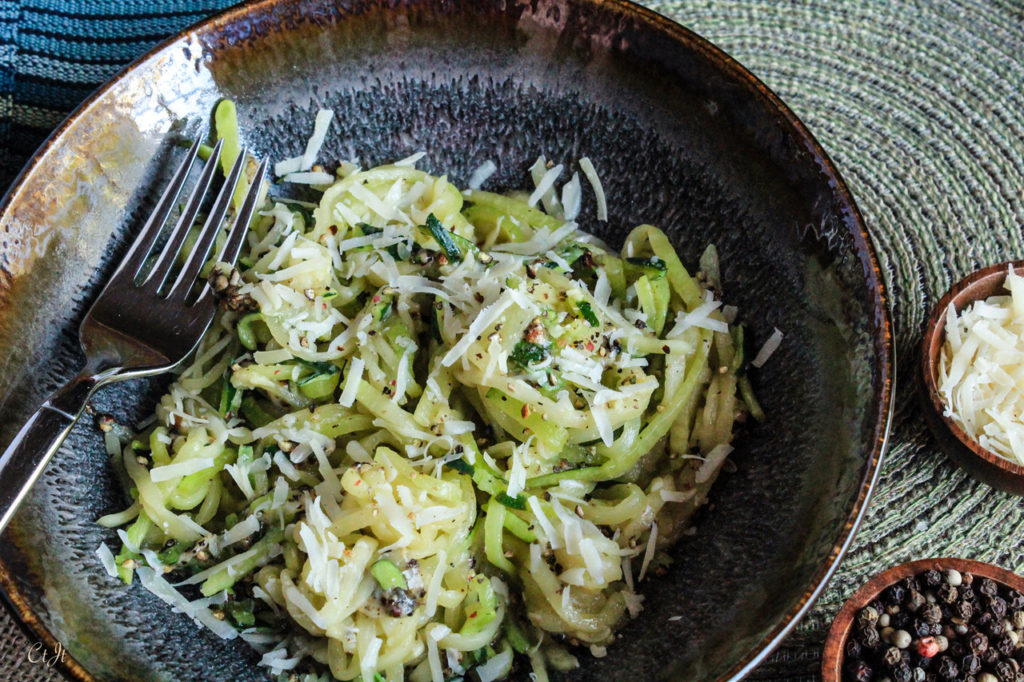 Ingredients:
About 1/2 to 1 Tbsp *peppercorns, coarsely crushed with a mallet; add more or less to taste
1 pkg (10.7 oz) Cece's organic zucchini noodles, or about 3 zucchini (about 12 oz total) zucchini, run through a spiralizer
A scant tablespoon water
3 Tbsp Sigona's Fresh Press Arbosana Olive Oil, more if needed
1/3 cup grated pecorino romano, plus more for sprinkling
Optional: a squeeze or two of fresh lemon juice, to taste
Directions: Place the crushed pepper in a small skillet over medium heat to toast for about 1 minute or until fragrant. Remove from heat and set aside; scoop out a little to save for finishing.
In a medium skillet, add the zucchini noodles and a little water. Cook, tossing occasionally, for about 2 to 4 minutes so they're warmed through but still al dente.
Drizzle in the olive oil and add about two thirds third of the pepper. Toss to incorporate and then add in the cheese. Toss and toss to incorporate then transfer to a serving dish.
Finish with with a generous sprinkling of cheese. Taste and add more pepper or olive oil, if desired. Option: Squeeze on a little lemon juice. Serve immediately.
*We like bigger pieces of peppercorns in our cacio e pepe, so we crush whole peppercorns with a mallet. If you like the pepper taste, but want smaller pieces, you can use a peppermill; grind about 1 to 1 1/2 teaspoons, more or less to taste.